---
Geology Roadtrips - - - - - - - - - - - - - - - - -
---
New England and Mid-Atlantic States:
Connecticut, Vermont, New York, West Virginia, Virginia and Maryland, Pennsylvania and New Jersey
Dinosaur State Park, Rocky Hill, Connecticut
Probably the most interesting and unique geological site in Connecticut is Dinosaur State Park. Its main attraction is a large trackway under a dome — home to 500 fossil dinosaur tracks. It also offers good exhibits on the geologic history of Connecticut. The arboretum features living representatives of plant families that appeared in the Age of Dinosaurs. You can even make your own cast of a footprint if you bring your own materials (10 pounds plaster of paris, one-fourth cup vegetable oil, large plastic bucket, cloth rags and paper towels).
Nancy W. McHone, environmental analyst,, Connecticut Geological and Natural History Survey

Details:
Phone: 860/529- 8423 for a recording. 860/529-5816 for a person.
Web: www.dinosaurstatepark.org
Directions: One mile east off Exit 23 from Interstate 91
---
Champlain Thrust Fault, Vermont
The Champlain Thrust Fault, exposed in western Vermont along the shores of Lake Champlain, extends for about 199 miles from Canada south to the Catskill Plateau in New York. The thrust is a late Taconian, east-dipping fault that places older Cambrian rocks on top of highly deformed, Middle Ordovician shale, with an estimated throw of 8,850 feet at Lone Rock Point. Displacement along the fault is estimated to be 35 to 50 miles. The upper plate is composed of the Lower Cambrian Dunham Dolostone, a resistant carbonate rock exposed throughout the Champlain Valley. The lower plate of the fault is the Middle Ordovician Iberville Formation, a dark-gray shale with white calcite veins.
Fault zone characteristics are evident in outcrop. The fault contact is a sharp contact visible as a continuous planar surface. Most of the motion on the fault was along this slip surface. The fault zone between the upper and lower plates is marked by a breccia made of fragments and crushed rock from the plates as they moved against each other. Limestone fault slivers also occur in the fault zone. Slickenlines, grooves and fault mullions are also visible on the lower surface of the dolostone.
Laurence R. Becker, Vermont State Geologist

Details:
Get to the fault via the Episcopal Diocese of Vermont near the Burlington High School off North Avenue in Burlington, Vt. But first, get permission and a grounds pass from The Diocese of Vermont, 5 Rock Point Road, Burlington, VT 05401. 802/863-3431.
The thrust is also visible from the Shelburne boat access area off Bay Road in Shelburne, VT, or by taking a cruise on the lake through the Lake Champlain Transportation Co., 802/864-9804. Visit www.anr.state.vt.us/geology/vgshmpg.htm for more on Vermont's geology.
---
Niagara Falls and the Niagara River Gorge, New York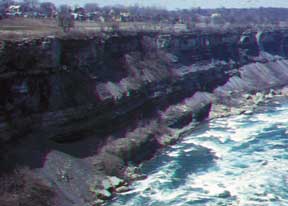 [View of the Niagra River Gorge. Photo courtesy of New York State Parks.]
Niagara Falls and the Niagara River Gorge are spectacular natural features. The gorge exposes a classic section of lower Paleozoic rock. It is also a significant locality for studying the glacial history of the area, because the gorge is post-glacial, so the sides of the gorge exposed buried valleys. The geomorphology gives a history of the backcutting rate of the falls. Both bedrock and glacial geology are exposed in a very deep gorge with spectacular outcrops. The falls are 167 feet from the top of Horseshoe Falls to the top of the Maid of the Mist pool, and the gorge reaches 200 feet from its top to the river surface. At peak flow, 100,000 cubic feet of water fall over Horseshoe and American Falls over the Lockport Dolomite that forms the Niagara Falls cliff.
Robert Fakundiny, New York State Geologist

Details:
Phone: Schoellkopf Geological Museum: 716/278-1780; Niagara Reservation State Park: 716/278-1796
Web: www.nysparks.com
Directions: Start your hike of the gorge from the museum, which is off the Robert Moses Parkway a half-mile from the falls.

---
Popular with rock climbers, Seneca Rocks, in the Monongahela National Forest, is a Tuscarora quartzite formation rising 900 feet above the North Fork River. The rock is composed of fine grains of sand that were laid down 440 million years ago in a sheet at the edge of an ancient ocean.
Phone: Seneca Rocks Discovery Center: 304/567-2827
Web: www.fs.fed.us/r9/mnf and www.fs.fed.us/r9/mnf/sp/senrcks_txt.html
Directions: From Washington, D.C., take I-66 West to I-81 South; then take the exit for 55 West. At Seneca Rocks, 55 West merges with 28 South. After this intersection, follow 28 South about 10 miles to the Seneca Rocks Discovery Center on your left.
---
Hickory Run Boulder Field, Pennsylvania
An easily accessible example of periglacial activity, the Hickory Run Boulder Field sits in the Hickory Run State Park, which is in the Kidder and Penn Forest townships of Carbon County. Call the Hickory Run State Park Department of Conservation and Natural Resources at (717) 443-0400.
---

Great Falls National Park in Virginia and Maryland

Great Falls on the Potomac, on either the Maryland or Virginia side, is a spectacular location, has great geology and geomorphology, and is very close to Interstate 95 and the Capital Beltway. So for a quick half-day, folks get a look at typically complex Appalachian piedmont geology and geomorphology. Additionally, several great geology guides are available.

Art Schultz, U.S. Geological Survey in Reston, Va.

Details:
Phone: 703/285-2965
Web: www.nps.gov/grfa/
Directions: Take Georgetown Pike exit (exit 44, Route 193) off I-495. Turn right at Old Dominion Drive. Go straight 1 mile to entrance station.
---
State Geologist Karl Muessig recommends the Sterling Hill Mine and Museum in Ogdensburg (Geotimes, June 2000). "It was one of the first underground mines that many geoscientists in the region visited early in their careers and remains a unique locality for collecting fluorescent minerals of the famous Franklin/Sterling suite," Muessig says. For details, call (973)209-7212 or visit www.sterlinghill.org.
---