---
Geology Roadtrips - - - - - - - - - - - - - - - - -
---
ROCKY MOUNTAIN STATES:
Colorado, Utah and Wyoming
Dinosaurs! — Colorado and Utah
by James Kirkland, Utah State Paleontologist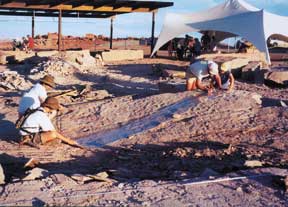 [Johnson Track Site near St. George, Utah. ]
Grand Valley, western Colorado
The Bureau of Land Management in Colorado has been a leader in protecting paleontological resources through the development of Paleontological Research Natural Areas (RNA). These designations have both protected the resource and provided a framework for ongoing scientific research, education and interpretation.
Along the Colorado River on the south side of the Grand Valley, the intersection of the Uncompahgre Uplift and the Piceance Basin provide outstanding opportunities to see the real Jurassic Park. In addition to dinosaur bones, the Fruita Paleontological Area (FPA) of western Colorado preserves the best record of small Jurassic vertebrates in the world. Deeply dissected badlands expose numerous fossil sites preserved in a variety of distinct floodplain lithofacies, making the FPA the best-understood square mile of Jurassic terrestrial strata in North America and a natural laboratory for future studies of the Morrison Formation.
Nearby Dinosaur Hill was the 1901 excavation site of an Apatosaurus now on display at the Field Museum in Chicago and provides a number of unique interpretive opportunities.
The Split Rock area in Rabbit Valley is a backcountry area where several natural exposed dinosaur skeletons may be seen along a well-marked trail. The Rabbit Valley Research Natural Area has one of the few active dinosaur quarries (Mygatt-Moore Quarry) with its own highway exit (I-70 Exit 2). The quarry is wheelchair accessible and located at the start of the Trail through Time, a well developed interpretive trail where several in situ dinosaur skeletons are exposed.
Bring good walking shoes, a camera, lunch, and with all this to see, you might want to plan on camping at either the Colorado National Monument or the State Park in Fruita.
Details:
All of these localities are located a short distance from Interstate 70, off either Exit 19 or 2. For detailed information on these sites contact BLM Colorado, Grand Junction District, 2815 H. Road Grand Junction, CO 81506, 970/244-3000 or Dinosaur Journey, 550 Crossroads Court, Fruita, CO 81506 970/858-7282
Web: www.dinosaurweb.com/guide-fruita-gj.htm

The Colorado Plateau in Utah preserves the most continuous sequence of Mesozoic terrestrial rocks in all of North America and are exquisitely exposed in the many parks and monuments as well as along any road in the area. These many canyons and mesas have been yielding a surprisingly unstudied wealth of dinosaur tracks and skeletons north of Moab Utah. Many of these sites can be visited by the pubic.
Starting in the north is Dinosaur National Monument. Spanning the Utah/Colorado state line, the dinosaur quarry is seven miles north of Jensen, Utah, along Utah Highway 149 and on the flank of Split Mountain. Standing nearly vertical, the quarry is unrivaled as the most spectacular in situ exhibit of dinosaur bones in the world.
To the south, and west of Arches National Park north of Moab, a number of trackway sites may be visited. The Upper Jurassic Morrison Formation tracksite has been interpreted by the Bureau of Land Management and includes a trackway for both a limping allosaur and a huge sauropod. The trackway takes a 90-degree turn and may be reached by a two-wheel drive dirt road to the east off U.S. Highway 191, 23 miles north of Moab. The middle Jurassic megatracksite extends around nearly the entire Arches National Park at the top of the Entrada Formation. There are also Upper Triassic dinosaur tracks right at the spring on the north end of Moab, where countless mountain bikers fill their water bottles while they stand on the wet tracks. The Moab area also has an interpretive trail where one can see Upper Jurassic bones exposed in a Morrison river channel. The Mill Canyon Trail starts off a dirt road that runs west off Highway 191 13 miles north of Moab.
Following the Cretaceous coastline sequence of the Book Cliffs landward to the northeast and around to northwest side of the San Rafael Swell ,the Cleveland-Lloyd quarry has been set aside by the Bureau of Land Management as a National Historic Site. The site is still being researched by the University of Utah, abut wealth of dinosaurs has have been collected from this Late Jurassic predator death trap, which has yelded more the 50 specimens of Utah's State Fossil, Allosaurus. Exhibits, the quarry, and an interpretive trail on the flank of one of the most spectacular geological features in Utah make this wonderful site to visit. The quarry is open only in the spring and fall, and visitors are reminded that the dirt roads leading to the site are impassible when wet. Because of the number of turns on the roads leading to the site, visitors are recommended to stop by the College of Eastern Utah Prehistoric Museum in downtown Price, Utah, to see the finest paleontology exhibit between Denver and Salt Lake City and to pick up a map.
Finally, in the extreme southwestern corner of Utah in the City of St. George, a wonderfully preserved dinosaur tracksite was discovered in February. 2000 by resident Shelden Johnson, whose family has worked tirelessly ito protect the site for science and public education. Located near the base of the Jurassic section in the Moenave Formation, hundreds of deeply impressed footprints are preserved on the underside of a sandstone bed that has been turned over for all to see. In addition to the tracks, the bed preserves mudcracks, triclinic salt casts, and flute casts at the base. In just a year, more than 100,000 people have visited the site. Located on River Road on the east side of St, George the Johnson Tracksite can be reached by either taking the Washington exit on I-15 north of St. George or taking Exit 6 off I-15 on the south end of town.
Details:
Track sites and Mill Canyon Trail.
Moab Field Office, 82 East Dogwood, Moab, UT 84532; 435/259-6111
www.utah.com/places/public_lands/mill_canyon.htm
Cleveland-Lloyd Quarry
BLM, Price Field Office, 125 South 600 West, Price, UT 84501; 435/636-3600
CEU Prehistoric Museum, 155 East Main Street, Price, Utah 84501; 435/637-5060
www.blm.gov/utah/price/quarry.htm
Dinosaur National Monument
St. George Tracksite: contact Leisure Services Dept., City of St. George, 86 South Main, St. George UT 84770; 435/634-5850; www.dinosaurweb.com/guide.htm


Wyoming
by Dan Hausel, senior geologist, Wyoming Geological Survey
South Pass, southern Wind River Mountains, western Wyoming
I discovered the pleasures of walking at South Pass after I first sunk my field vehicle in a bog near the old ghost town of Lewiston. It was quite impressive (not the walk, but the vehicle): only the windows and roof were visible.
The South Pass region is part of an Archean (>2.5 billion year old) granite-greenstone belt with several old gold mines and a few ghost towns. It might even be a great place mountain bike (although I prefer to use a motorcycle), as large portions are accessible by dirt and graded roads. But take several tire patches, intense folding and deformation resulted in most rock units sitting on end. The sharp rock edges are tough on the tires.
To get there, drive 30 miles south of Lander along Highway 28. Just before reaching the turnoff to Atlantic City and South Pass City, you will see a spectacular, man-made lake on the west side of the highway – this was the Atlantic City iron ore open pit mine, which operated in the 60s and 70s and closed in 1983. Whoever said mines were ugly, not only had no imagination, but also never saw this mine.
South Pass consists of rolling hills on a gradual sloping pediment. Near the foothills, you will be about 8,500 feet above sea level where a portion of the granite-greenstone terrain lies within the national forest. However, much of the terrain is a high semi-desert administered by the Bureau of Land Management, which maintains two fee campgrounds near Atlantic City. South Pass gradually slopes to the south and east, reaching a low of 7,200 feet above sea level near the Sweetwater River, where one will find sparse grass, sagebrush, and prickly pear cactus along south-facing slopes. Sagebrush, grass, willow, aspen, and pine are found on some north facing slopes and creek valleys in the region. Only a few creeks including the Sweetwater River are perennial; most other creeks and gulches tend to dry by August.
Take sunblock, hiking shoes, a gold pan, and snowshoes. While mapping the greenstone belt, I was buried under a foot of snow on June 25th, 1985. You will find good use for the gold pan in the creeks - this is a historic gold district. As you hike around, you will see evidence of several lode and placer gold mines – be sure to visit the Miners Delight ghost town, as it is a nice, short, walk in the aspen. If you are interested in a geological tour of the area, plan to tag along on a field trip listed on our website http://www.wsgsweb.uwyo.edu/metals/metals.htm. Or take along one of the following geological and mining history guides (these are available through the Wyoming State Geological Survey's (WSGS) publication office, and can be ordered over the phone (307/766-2286).

Guide to the Geology and Mineralization of the South Pass Area: WSGS Reprint 49, 20 p., by W.D. Hausel and J.D. Love, 1991.
Tour Guide to the Geology and Mining History of the South Pass Gold District, Fremont County, Wyoming: WSGS Public Information Circular 23, by W.D. Hausel, 1984.
Economic Geology of the South Pass Granite-Greenstone Belt, Wind River Mountains, Western Wyoming: WSGS Report of Investigations 44, 129 p. (includes a 1:48,000 scale geological map of the greenstone belt) by W.D. Hausel, 1991.

Snowy Range Scenic Byway and Medicine Bow Mountains, Southeastern Wyoming
The Snowy Range Scenic Byway in the Medicine Bow Mountains of southeastern Wyoming, is accessible from Laramie. Just drive west along Highway 130 from Laramie, and you'll soon be in a high mountainous region with several good places for day hikes. Spectacular rock faces of Proterozoic quartzite and metaconglomerate form a backdrop for scattered alpine lakes making this a must for camera buffs. If you know where to look, you'll see some excellent Proterozoic stromatolites and some spectacular folds near the Mullen Creek-Nash Fork shear zone. This is also a great place for an encounter with a moose, or a herd of Elk.
Take your gold pan, and keep your eyes open for diamonds – a few nice diamonds have been found in the area in the past, and diamond indicator minerals are not uncommon. The Medicine Bow Mountains are riddled with prospects and mines, particularly in some of the lower elevations near Douglas Creek to the south. A great place for a day hike if you enjoy old mining districts is the Centennial Ridge district just outside the village of Centennial. Several old gold and platinum mines are scattered along this ridge, and good specimens with visible gold are periodically found on the old mine dumps. Again, look at our website for information on an upcoming field trip to the district, or just take a copy of:

Guide to the Geology, Mining Districts, and Ghost Towns of the Medicine Bow Mountains including the Snowy Range Scenic Highway: WSGS, Public Information Circular 32, 53 p., by W.D. Hausel, 1993.

Kirwin Mining District, Absaroka Mountains, Northwestern Wyoming
The Kirwin Mining district lies within the Absaroka Mountains along the eastern margin of Yellowstone National Park. Access is by the Wood River trail, 33 miles southwest of Meeteetse, Wyoming. Take a backpack and some good shoes. You will also be in bear country, so take some pepper spray, as the bears will appreciate the spice. This deeply dissected plateau is cut by numerous streams and rivers surrounded by steep mountains formed primarily of Tertiary volcanic rock. You should be in good shape for this hike as you have several miles of hiking before you reach Kirwin, but it is all along the Wood River trail.
The Kirwin district is underlain by a large, copper-silver porphyry that was initially prospected in the 1800s for silver, copper, and lead. Some of the old lode mines in the area still yield some spectacular silver specimens. For instance, channel samples collected at some mine faces by AMAX in the 1960s and 1970s assayed at more than 100 ounces/ton of silver, which makes one wonder why more mining didn't occur in the district. In the 1960s and 1970s, Kirwin was a target for open pit mining by AMAX, which had identified a major porphyry at Bald Mountain with considerable potential for expansion.
Little remains of the old ghost town of Kirwin, but several old mines can still be seen in the area. Some publications you might want to take along include:

The Kirwin Mineralized Area, Park County, Wyoming: WSGS Preliminary Report 2, 12 p., by W.H. Wilson, 1964.
The Geology of Wyoming's Copper, Lead, Zinc, Molybdenum, and Associated Metal Deposits in Wyoming: WSGS Bulletin 70, 224 p., by W.D. Hausel, 1997.
General Geologic Setting and Mineralization of the Porphyry Copper Deposits, Absaroka Volcanic Plateau, Wyoming: Wyoming Geological Association 33rd Annual Field Conference Guidebook, p. 297-313, by W.D. Hausel, 1982.

Sweetwater Rocks, Granite Mountains, Central Wyoming
The Granite Mountains in central Wyoming provide an impression of an old mountain range submerged in a sea of young (Tertiary) sediments. Some of the rocks in this ancient craton of the Granite Mountains are reportedly as old as 3.6 billion years
This is a great place to hike if you like to search for mineral specimens. Just drive down Highway 287 north of Rawlins until you run into Jeffrey City. Then go north across the Sweetwater River, and you'll get the impression that you just drove into the outback of Africa or Australia, without the kangaroos.
Just a little west of Jeffrey City, the Graham Ranch road will take you into some very interesting areas. You can find rubies, sapphires, jasper, and jade, as you hike around the outcrops. Take lots of water, this area is hot and dry. A good guide to the area is:

The Tin Cup District, Central Wyoming - A Rock Hound's Paradise. International California Mining Journal, v. 65, no. 8, p. 65-68, by W.D. Hausel, 1996.
---