---
Geology Roadtrips - - - - - - - - - - - - - - - - -
---
SOUTHWEST STATES:
Nevada, Arizona, Texas and New Mexico

Red Rock Canyon National Conservation Area, Nevada

The Red Rock Canyon National Conservation Area is in the Mojave Desert and sits about 17 miles west of Las Vegas. The Bureau of Land Management administers the area and charges $5.00 per vehicle to access a 13-mile scenic loop and visitor center. Features include: the Keystone Thrust that brings Cambrian to Permian carbonate rocks over Jurassic cross-bedded sandstone; spectacular cliff exposures of red, brown and mottled Aztec Sandstone; fossil-bearing Paleozoic rocks; many hiking trails from easy to difficult; landslides of Tertiary and Pleistocene age; alluvial fan exposures, springs and dry washes; and views of gypsum mining operations continuously operated since 1927. To name a few!

John H. Peck, consulting geologist, Las Vegas

Details:
Phone: 702/363-1921
Web: www.redrockcanyon.blm.gov
Directions: The conservation area is about 15 miles west of Las Vegas. From the city, take I-15 South to 160 West. Follow 160 to 159 north into the conservation area. Access the Scenic Drive from 159 and hike from there.
---
Santa Catalina Mountains, Arizona

Rising to 9,157 feet and forming the northern skyline of the Tucson basin, this mountain range is one of Arizona's geologic treasures. Beneath the trees of the Santa Catalina Mountains is a metamorphic core complex. In the summer one might want to drive up Catalina Highway to higher and cooler elevations and enjoy the gneiss through the car window. A good stop to take in the view is Geology Vista at 6,700 feet, which offers a spectacular view of the Rincon Mountains to the southeast, also part of the Catalina metamorphic core complex. The broad northwest side of Tanque Verde Ridge makes up most of this view.

Jon Spencer, senior geologist, Arizona Geological Survey

Details:
Phone: 520/749-8700
Web: www.fs.fed.us/r3/coronado
Directions: From downtown Tucson, head west and get on the Catalina Highway, also known as the Mount Lemmon Highway. The highway will lead you up through the Coronado National Forest and the Santa Catalina Mountains.

---
Padre Island National Seashore, Texas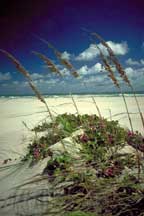 [South Padre Island, Texas. South Padre Island Convention and Visitors Bureau & Visitors Bureau]

Extending some 100 miles along the Texas Gulf Coast, the Padre Island National Seashore near Corpus Christi is one of the world's largest undeveloped barrier island coastlines. It is rich in fauna and flora unique to the arid southern Texas coastal plain. The barrier island system along the Texas coast was built up over the last 10,000 to 12,000 years since the current high stand of sea level. The National Seashore is an important outdoor laboratory for research on active sedimentary environments.

Marcus E. Milling, American Geological Institute

Details:
Phone: 361/949-8068
Web: www.nps.gov/pais
Directions: From Corpus Christi, take 358 east to 22. Follow 22 south to the park headquarters.

---
New Mexico
The New Mexico Museum of Natural History and Science opened in the early 1980s in Albuquerque. It has been remodeled and expanded, and features a collection of mineral samples. Phone: 505/841-2800. Web: www.nmmnh-abq.mus.nm.us

The Hyatt Tamaya Resort near Bernalillo is a good place to see the results of riparian habitat restoration. It is owned by the Pueblo of Santa Ana and leased to Hyatt as operators. Treat yourself to a nice lunch at one of the restaurants in order to gain access to the one-mile loop walk that runs along the Rio Grande. Call 505/867-1234 or visit the resort's Web site.

---