---
Geology Roadtrips - - - - - - - - - - - - - - - - -
---
WEST COAST:
California, Washington, Oregon, Alaska and Hawaii

In southern California, geoscientists may want to visit Red Rock Canyon in the western Mojave desert. Red Rock Canyon features spectacular exposures of the Ricardo Formation, a thick section of Miocene sedimentary rock with a rich assemblage of vertebrate fossils. A field guide by Joan E. Baldwin entitled, "A Geological Journey Through Red Rock Canyon and the El Paso Mountains, Kern County, California" appeared in the February 1990 issue of California Geology.

David L. Wagner, senior geologist for the California Division of Mines and Geology

Details:
Phone: 661/942-0662
Web: www.parks.ca.gov
Directions: Start by visiting the California State Parks and Mojave Desert Information Center located at 43779 15th St. West in Lancaster, CA off Highway 14 at Ave K. Red Rock Canyon is on Highway 14, 18 miles north of Mojave and about 45 minutes past Lancaster.

Touring San Francisco

The late Clyde Wahrhaftig of the University of California, Berkeley, and the U.S. Geological Survey assembled an excellent field trip for a geoscientist visiting Northern California. The trip highlights the features of the Franciscan Complex, considered to be the type subduction complex. Most of the outcrops are on the San Francisco peninsula but there are also stops on the scenic Marin Headlands at the north end of the Golden Gate Bridge and elsewhere in the Bay area. A unique aspect of this trip is that all of the stops can be visited on foot or by public transportation. The American Geophysical Union published Clyde's 1984 field guide: A Streetcar to Subduction and Other Plate Tectonic Trips by Public Transportation in San Francisco.

D.L. Wagner

Web: www.agu.org
Special Publication, 1984; 76 pages, softbound, ISBN: 0-87590-234-0, AGU Code: SP0092251. List Price $16.00
---

The North Cascades Highway, Washington

Choosing one site over another is no easy task in Washington state where the scenery and geology are both incredible. The choice is personal. Geologists interested in volcanoes would want to visit Mount St. Helens National Monument and Mount Rainier National Park. A paleontologist may want to visit the Tertiary sedimentary units along our coastlines. My preference is the scenic North Cascades Highway, also known as Washington State Route 20. The scenery is spectacular with deep U-shaped valleys and glacier- covered mountain peaks. The geology is complex and interesting, covering the Paleozoic, Mesozoic, and Cenezoic eras. For those interested in structural geology and metamorphism, the North Cascades have it all. For an excellent field guide, consult Rowland Tabor and Ralph Haugerud's Geology of the North Cascades, published in 1999 by The Mountaineers, 1001 SW Klickitat Way, Suite 201, Seattle, WA 98134.

Ray Lasmanis, Washington Department of Natural Resources Southwest Region Manager

Web: http://www.gorp.com/gorp/resource/us_national_park/wa/drv_nor.htm
---
Extensive Miocene mammal and plant fossils can be found at the John Day Fossil Beds National Monument in the John Day Formation near the town of John Day. Visit: www.nps.gov/joda/ or call 541/987-2333.
Spectacular cliffs formed from the John Day Formation ash flows rise above the Crooked River in Smith Rock State Park, north of Redmond. The cliffs are also a good place to watch bald eagles and many, many rock climbers.
Climbers visit www.smithrock.com. Day hikers visit: www.oregonstateparks.org/park_51.php
Newberry Crater National Monument, run by the Forest Service south of Bend along Hwy 97, features Newberry caldera, fossil tree molds, long accessible lava tubes and a spectacular landscape of very young lava flows.
Call 541/593-2421 or visit vulcan.wr.usgs.gov/Volcanoes/Newberry/framework.html
---
The Granite Tors trail, northeast of Fairbanks, looks out over the tors: craggy spires 100 feet high that the Pleistocene glaciers missed. The drive is about 45 miles northeast from Fairbanks, following the Chena Hot Springs road. There is very little water on the 15-mile loop trail. The closest tor is about a five-mile climb starting from the west fork of the trail. Visit: www.alaskafrontieradventures.com/Hiking/Interior/Granite%20Tors.html
Drive up the Haul Road, Dalton Highway, which follows the Trans-Alaska Pipeline using the Alaska Division of Geological and Geophysical Surveys (DGGS) geologic guidebook. Contact Milton A. Wiltse, Director and State Geologist, 794 University Avenue, Suite 200, Fairbanks, AK 99709. Phone: 907/451-5000, fax: 907/451-5050. Or visit www.dggs.dnr.state.ak.us.
---
Hawaii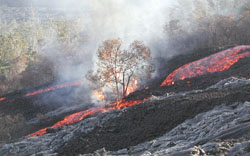 [In April, a lone `ohi`a tree fought a valiant but ultimately futile battle against the `a`a. Courtesy of the USGS, Hawaii Volcano Observatory]
Crater Rim Drive is an 11-mile loop around Kilauea Volcano. Check out the evening views of the Pu'u O'o lava flows. The best opportunity for viewing volcanic activity is from the end of Chain of Craters Road. Visit: www.nps.gov/havo/home.htm
For current activity, see hvo.wr.usgs.gov/kilauea/update/
---