---
Geophenomena
---
Tornado rips through Maryland
Au Sable Forks earthquake rattles Northeast
Undergrads map natural hazards
---
Tornado rips through Maryland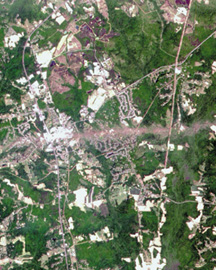 On April 28, a tornado traveled 110 kilometers through Maryland with winds reaching between 207 and 260 miles per hour. The tornado was one of 17 twisters that weekend that stormed across the country, killing eight people. While originally given a preliminary ranking as Maryland's first F5 tornado, a category including the most damaging and powerful tornadoes possible, a follow-up investigation showed the damage and wind speed rated the tornado more as an F4 on the Fujita Tornado Damage Scale.

The powerful F4 tornado that touched down in southern Maryland on April 28, ripped through the town of La Plata, pictured at right. The Advanced Land Imager (ALI), flying aboard NASA's EO-1 satellite, acquired this band-sharpened color image on May 1. La Plata is situated toward the left side of the image. The bright stripe of the twister's swath passes through the town and runs east 10 kilometers toward the Patuxent River beyond the righthand side of the image. The F4 twister flattened everything in its path along a 39-kilometer swath running west to east through the state.Image courtesy of NASA

"The Fujita scale attempts to equate wind speed with damage. But as you can imagine it is a tremendous challenge," says James Travers, meteorologist in charge of NOAA's National Weather Service Washington/Baltimore forecast office in Sterling, Va. "How strong a building is and how well it is built is in many respects really subjective. The only way to truly understand what's going on would be to go inside a tornado with an anemometer that could withstand those kind of winds or have a tornado go over it without the anemometer being blown away."

About 1,000 tornadoes are reported around the United States each year with F5 and F4 twisters accounting for only 2 percent. "But that 2 percent of tornadoes cause 70 percent of the fatalities," says meteorologist John Ogren, team leader of the special damage assessment team from NOAA's National Weather Service.

Two other F4 tornadoes have passed through Maryland in the past. The state's first recorded F4 killed 14 schoolchildren on Nov. 9, 1926, in La Plata. A second F4 struck Frostburg on June 2, 1998, destroying 30 buildings and causing $5 million in damage. Five people reported minor injuries.

In a move to help those in Charles, Calvert, Dorchester and Cecil counties, Governor Parris N. Glendening has committed $3.1 million in state funds to help business owners and residents rebuild. On May 1, President Bush declared Maryland a national disaster area eligible for federal funding.

Christina Reed
back to top

---
Au Sable Forks earthquake rattles Northeast
On April 20, shortly before 7 a.m., an earthquake of magnitude 5.3 on the Richter scale jolted northern New York near the Vermont and Canadian borders. The quake struck 29 kilometers southwest of Plattsburgh, N.Y., and about 3 kilometers north of the town of Au Sable Forks.
The quake was felt as far as Baltimore, Md., and in Ottawa and Montreal, Canada. "Following the mainshock, scientists and staff at the Lamont-Doherty Earth Observatory of Columbia University in Palisades, N.Y., immediately went to the epicentral region with six digital, portable seismographs to monitor aftershocks," wrote Lamont scientists Won-Young Kim and Leonardo Seeber in a state-requested letter to the Federal Emergency Management Agency. Three aftershocks followed on the same day with magnitudes between 1.7 and 3.7. Two more aftershocks of magnitude 2.2 and 2.3 occurred on April 21. No one was injured or killed.
The earthquake's occurrence in the Northeast, away from a plate boundary margin, is not surprising, Kim says. "We have a lot of earthquakes, about 95 percent of which strike along tectonic boundaries, at mid-oceanic ridges, subduction joints and these kind of things. But in many parts of the world, including most of the continental U.S., in what we call stable continental regions we have some of the largest earthquakes," he says. "The problem is they are a lot more difficult to study because they don't occur along a known seismic pattern."
The Au Sable quake follows a similar earthquake in the Adirondacks in 1983, of magnitude 5.1 that hit about 70 kilometers away. The region has experienced at least seven large earthquakes of magnitude 4.0 or greater since 1944.
The greatest damage from the Au Sable Forks earthquake occurred on route 9N in New York along the Au Sable River and on Route 22 near the Plattsburgh Air Force Base, says Jennie Cleary, assistant to the regional director of the New York Department of Transportation. Fifty personnel from the NYDOT Region 7 took to the roads and assessed 130 state bridges along with 20 local bridges.
On route 9N a half mile of the road's shoulder gave way in three areas of about 150-250 feet in length. On Route 22, two 15-foot high embankments collapsed. "It will probably cost $350,000 to $400,000 to re-stabilize the side slopes, all three areas of route 9N and the two areas on Route 22," says civil engineer Glenn Martin of the NYDOT in charge of repairs.
Visit the National Earthquake Information Center for more.
Christina Reed
---
Undergrads map natural hazards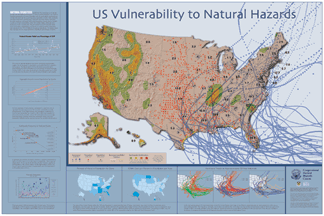 On April 25, eight Princeton University undergraduate students gave congressional staffers a sneak-peak at a new map of U.S. vulnerability to natural hazards. Part of a 12-member research team that took a natural-disasters course this past fall, the students formally announced their findings at the American Geophysical Union spring meeting, also in Washington.
The map, prepared as part of a poster for the Congressional Natural Hazards Caucus, superimposes population density with predicted ground shaking from earthquakes, as well as historical data for hurricane tracks, tornado locations, and areas within flood plains. "Never before has there been this sort of integrated approach," said Gregory van der Vink, who teaches the course "Investigating Natural Disasters" in Princeton's geoscience department.
Since 1962, costs of natural disasters have tripled, largely because of increased population growth, said student T.J. Pray. The student research team used population density as a proxy for wealth and societal infrastructure in order to calculate "the best depiction of actual disaster costs to the United States over the past 40 years," he said. With that population data in hand, the students could then map where natural events are most likely to cross paths with people and infrastructure.
Overall, the map shows that, statistically speaking, natural disasters are not random events, says student David Gail. They hope that their work will help the U.S. government take preventative steps to mitigate the effects of natural hazards.
To view a small version of the poster prepared for the Congressional Natural Hazards Caucus, visit the Natural Hazards Caucus Work Group or click on the above image. A copy of the map appears in the print edition of Geotimes.
Lisa M. Pinsker
---