---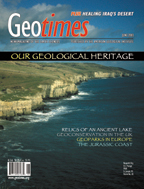 What's in the print version of Geotimes this month ...
---
June 2003
vol. 48, no. 6

FEATURES

14 Geology for the Record
Utah's glacial Lake Bonneville left behind signatures of its Pleistocene existence: deltas, sandbars, shoreline deposits. These relics contain valuable information about the area's changing climate over the past 28,000 years. But that information could be lost to urban growth and the need for resources unless people understand their geologic value.
Marjorie A. Chan et al.


Click the image above to view a high resolution version of the cover.

18 The British Framework for Geoconservation
With roots in 19th-century fascination for natural history, Great Britain has a solid legal framework for protecting sites large and small based on geologic significance.
Peter Doyle

22 European Geoconservation
They are all over Europe: Geoparks, places set aside for their unique geology.
Compiled by Lisa M. Pinsker
---
NEWS & VIEWS


---

5 COMMENT
Iraq's Desert Also Needs Healing
The desert is protected by a delicate layer of gravel pieces, sorted and placed over time by wind. With the recent war in Iraq, military vehicles and digging destroyed this layer; but the military can take measures to begin to heal it.
Farouk El-Baz


6 NEWS NOTES
Legal victory for mining * A new fire in tiger's eye * Amazon's ancient rain forest * Raining hydrocarbons in the Gulf * Cannibal dinosaurs * Debating the fastest evolution on record


13 POLITICAL SCENE
Congress Re-examines Earthquake Policy
It should not take a catastrophe for us do the right thing and make the minimal investments needed to deploy existing technology where it can do the most good.
David Applegate


26 GEOPHENOMENA
Evidence for Dust Bowl dust in Greenland * New sinking rates for Louisiana


44 GEOLOGIC COLUMN
The Springhill Mine Disaster
Remember your first time in a cave or an underground mine? Now, think back to the moment when all the lights were turned off.
Lisa A. Rossbacher


DEPARTMENTS


---

2 From the Editor
4 Letters: Perspectives from readers
24 Where on Earth?
28 Profiles: Mary Lou Zoback and James Dieterich
30 Energy & Resources: Geothermal energy * Germanium
34 Benchmarks: Looking back in Geotimes
36 Geomedia: Ten years of mapping Utah
38 GeoMarketplace
40 Classified Ads: Career Opportunities
47 Contributors Page

Want to attend a geoscience meeting? Visit the online Calendar.







---