---
Web Extra Tueday, June 14, 2005
---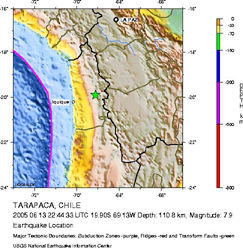 Quake shakes Chile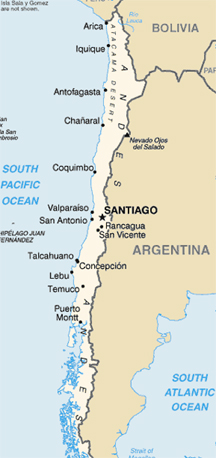 At 6:44 p.m. local time on Monday, a magnitude-7.8 temblor rocked northern Chile and was felt throughout parts of Peru and Bolivia, including in the capital city of La Paz, according to the U.S. Geological Survey (USGS). The quake was centered in the remote and mostly unpopulated northern Andes region of Tarapaca, about 115 kilometers northeast of the port city of Iquique (with about 250,000 residents) and 1,515 kilometers north of the capital, Santiago.
At right, the green star marks the epicenter of a magnitude-7.8 earthquake that struck northern Chile at dinnertime on Monday. Reports suggest shaking was felt as far away as Santiago, Chile, 1,515 kilometers south of the epicenter. Images courtesy of USGS.
The earthquake has resulted in at least eight deaths and an untold number of injuries, according to an Associated Press report. Because of the remoteness of the mountainous area, injury and damage reports are slow to come in. Although residents in La Paz took to the streets in panic when the earthquake struck, no damage has been reported there. In Iquique, power supply and communications were interrupted.
On the USGS "Did you feel it?" Web site, people have reported shaking as far away as Santiago and Sao Roque, Brazil, which is about 2,310 kilometers away.
According to USGS, the earthquake resulted from the release of stress from the subduction of the Nazca plate beneath the South American plate. Subduction zones, such as the one involved in the large Dec. 26 Sumatra quake, produce the planet's largest earthquakes. The largest temblor of the past century is the 1960 magnitude-9.4 quake that ruptured 900 kilometers along the Peru-Chile subduction zone, about 2,000 kilometers south of Monday's quake. That event killed more than 2,000 people.
Compiled by Megan Sever
Links:
USGS National Earthquake Information Center
USGS "Did you feel it?"
Associated Press story on CNN.com


---