---
Education & Outreach
---
Golfer Phil Mickelson on Science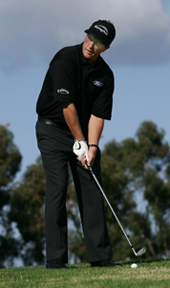 A couple of years ago, Phil Mickelson was playing golf with several government officials who were lamenting the state of science in the United States today. The number of science and engineering graduates, they told him, had been dropping in this country, while growing rapidly in other countries; the United States' status as a scientific leader was headed toward trouble. "That really stuck with me," says Mickelson, one of the world's preeminent professional golfers. "My wife Amy and I had both been brought up with the importance of education instilled in us, and now, with three kids of our own, we're even more interested in educational issues," he says.

Enter ExxonMobil, an oil company with a history of supporting science education, and one of Mickelson's sponsors. In 2004, the Mickelsons and ExxonMobil teamed up to create the Mickelson Teachers Academy, to be launched next month in Fairfax, Va.

Golfer Phil Mickelson and his wife Amy recently partnered with ExxonMobil to create a week-long workshop to help third- through fifth-grade teachers gain the necessary tools to excite their students about math and science. The Mickelson Teachers Academy will be held next month in Virginia. Courtesy of Callaway Golf.

The Teachers Academy is a five-day program designed to provide third- through fifth-grade teachers with the knowledge and skills necessary to motivate kids to pursue careers in science and math, says Truman Bell, education and diversity program manager with ExxonMobil in Irving, Texas. "As a science- and technology-based company with 14,000 scientists and engineers, we know that it takes getting kids interested in science at a young age" to turn out science professionals, he says. Research has shown that students first start making decisions about which classes to take in middle school — decisions that will affect their career choices and entire futures, Bell says. "So unless we get kids interested in science before then, we're not going to have any future engineers or scientists."

Mickelson says that he majored in psychology in college "because I had such a great psychology teacher in high school who made it so much fun." And his favorite class in college was physiological psychology, again because of his teacher. Although he passed on a career in psychology to become a professional golfer, he says, any student can be swayed toward a field by the presence of a terrific teacher. It is this excitement that the Teachers Academy is trying to capture.

To be energized about a topic requires a good grasp of the material, says Frank Owens, visiting associate executive director at the National Science Teachers Association (NSTA), which is one of the partners in the Mickelson Teachers Academy. Most elementary school teachers have degrees in elementary education, he says, but "we expect [them] to be experts in every field — science, math, reading, writing, music, physical education and more." At NSTA, "we hear from elementary school teachers all the time that they need help," Owens says. They want a better grasp of the concepts that they are asked to teach.

When Sarah Modrak, a first-grade teacher in Richmond, Va., began teaching, she says that "honestly, I didn't feel prepared to teach math and science at all." In college, like the majority of her peers in the elementary education program, she had majored in psychology and education, and the only math and science courses she took were general education requirements. Her program also had mandatory courses on how to teach science and math — "basically teaching us how to do hands-on activities and experiments, which was helpful, but they didn't teach us the material or ensure we understood it," Modrak says.

The topics teachers are asked to teach in elementary school today, especially Modrak's colleagues in third through sixth grades, are subjects that a generation or two ago were taught in middle and high schools, she says. And most of her colleagues have not thought about these topics since they were in middle or high school themselves. "We could all benefit from a week-long crash course in science and math. After all, the better you understand things, the better you can teach them," she says.

That's exactly why the academy's curriculum will focus primarily on reinforcing teachers' content knowledge in physical science and math, Owens says. In addition, he says, the teachers will work on finding innovative ways, such as new experiments and activities, to capture students' interest.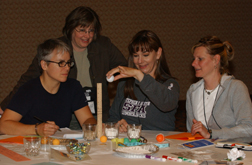 "Our goal is to make the teachers more confident and excited about what they're teaching and for them to bring that confidence and excitement back to their classrooms," says Rich Hogen, a fourth-grade teacher in Arizona and NSTA division director for preschool and elementary school teachers. Hogen and NSTA have been working with Math Solutions, which is a math-based professional development organization for elementary school teachers, and ExxonMobil and the Mickelsons to create the curriculum for the academy. They based the curriculum around Newton's three laws of motion, which are common to national educational benchmarks for the third- through fifth-grade range.

Motivating kids' interest in math and science at a young age — and keeping that interest through adulthood — requires hands-on learning through experiments. Elementary school teachers, such as those shown here, will get practice with those types of activities at the Mickelson Teachers Academy. Courtesy of National Science Teachers Association.

One example of a classroom activity centers around the motions of a pendulum, Hogen says. The teachers will learn how pendulums work, how the physics and laws of motion act to create the movement, and then at a math-based graphic representation of how it works. "We're looking for that 'ah-ha' moment where suddenly it all makes sense and the kids want to ask more," Hogen says. "Inquiry is the very foundation of all the sciences," and the purpose of the academy is to equip the teachers to answer kids' further questions, he says.

Approximately 200 teachers from 20 communities around the country will be participating in the Teachers Academy in July, with all expenses paid by ExxonMobil. The 20 school districts that were invited to participate are communities in which Mickelson plays on the PGA Tour or where ExxonMobil has businesses, Bell says. ExxonMobil tries to be a partner in the communities in which it operates, and the Mickelsons want to recognize the people who have supported him on tour, he says, which is why they chose to "give something back" to these communities.

For example, one school district that was chosen to participate is the Irving Independent School District in Irving, Texas, where ExxonMobil's corporate headquarters are located and which is the site of the Byron Nelson PGA Tour tournament, held in May. Each district can send up to 10 third- through fifth-grade teachers, who are chosen by the district superintendents, Bell says. Reaching 10 teachers in one district can make an impact in that particular district, he says, versus one teacher in 200 different districts. "This is a focused effort to make a difference where we can," Mickelson says.

Everyone involved in the academy hopes that it will be an annual event, but that remains to be seen, Bell says. After the program ends in July, the partners will sit down to evaluate its successes and lessons learned. Most likely, Bell says, if the academy becomes annual, it will keep the same format for teacher selection but expand to more PGA and ExxonMobil communities.

"Amy and I are thrilled to be a part of this program. We see it as an opportunity to really make a difference. We hope that we can be instrumental in bringing awareness to the plight of science in America today," Mickelson says.

Megan Sever

Links:
Phil Mickelson's Web site
Mickelson Teachers Academy (ExxonMobil)
National Science Teachers Association

---