---
Education & Outreach
---
Geoscience Training in Full Force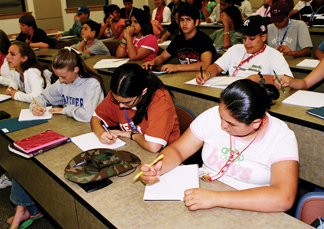 Sabrina Cervantez, a ninth grader at Del Rio Middle School in Texas, "loves learning about Earth" and "how our planet actually is," she says. "I want to know how and why things work, how they function, how they do things and why they do it."
Last year, as an eighth grader, Cervantez entered the school science fair with a geology demonstration of plate tectonics, "but it didn't really get me that far," Cervantez says, who at that point had never traveled outside the state of Texas. That soon changed, however, after a teacher encouraged her to apply for GeoFORCE Texas, a new summer program designed to shape the next generation of earth scientists.
First-year GeoFORCE students take a look at geology by learning about the rock cycle. Throughout the program, students learn about geology in classrooms, at museums and in the outdoors. Photos are courtesy of University of Texas at Austin, Jackson School of Geosciences.
In summer 2005, Doug Ratcliff, assistant dean of the Jackson School of Geociences at the University of Texas in Austin, and colleagues launched GeoFORCE. Modeled after the Mathematics, Science and Engineering Academy, created by Isaac Crumbly at Fort Valley State University in Georgia, GeoFORCE selects 40 new students per year who will spend about a week every summer from 9th through 12th grade learning about careers in geology.
Ratcliff hopes that the intense program will address a key issue affecting the geosciences: the declining number of students pursuing degrees in math and science in "non-medicine-type" careers. Medicine is "pumped up by TV and movies," Ratcliff says. "We don't have a show about geologists driving Ferraris." And among Cervantez's classmates interested in math and science careers outside of medicine, Cervantez says that most want to pursue jobs in technology and engineering, not in the geosciences.
After reviewing statements from the students and recommendation letters, Ratcliff and colleagues selected 40 students, including Cervantez, from a pool of top math and science students from school districts across South Texas. "I was screaming my head off, I was so happy," Cervantes says, when she found out she was chosen for the program. The students gathered in Uvalde, Texas, before embarking on a 12-day cross-country trip to meet geoscientists, tour national parks and learn about career opportunities in the geosciences.
Nestled within the busy 12 days was a stop at the U.S. Geological Survey (USGS) in Reston, Va. There, GeoFORCE students explored career options through exhibits presented by participants such as the National Oceanic and Atmospheric Administration, the U.S. Environmental Protection Agency, and of course, USGS.
"The goal is to try to get more students into that math-science pipeline that the nation is really thin on," says Stephen Hammond, a USGS hydrologist who worked to recruit exhibitors. A "huge bubble" of job vacancies will affect almost all federal government jobs, from research to service, as baby boomers prepare to retire, he says.
Cervantez says that prior to GeoFORCE, she was not aware of the "amazing" variety of geoscience careers. She always knew she wanted to be a geologist, but says she thought the field was limited to "certain categories." After visiting USGS, "I just got so excited," she says, "there's hydrology, mineralogy — all these different fields."
Also to help increase numbers of math and science students, Ratcliff and colleagues targeted GeoFORCE toward the mostly Hispanic and underrepresented region of South Texas, from which students have not tracked into the Jackson School in high numbers. Hispanics make up about 87 percent of the population living in the Lower Rio Grande Valley, one of the regions in southern Texas targeted by GeoFORCE, according to Steve Murdock, a demographer for the Texas State Data Center. And from the total population in that area, almost 80 of percent of people over 25 years old had not pursued a post-high school degree. Part of the reason, Ratcliff says, could be that the region is rural and not usually on the trail of college or industry recruiters.
Ratcliff hopes that after four summers of GeoFORCE, the University of Texas, and the Jackson School of Geosciences in particular, will be among the choices of the college-bound students, but knows that there is no guarantee. "I cannot tell you what a kid who is entering the ninth grade will do in four years," he says. "All we're trying to do is make an impression on them and show them what opportunities exist in the geosciences."
Getting students into the field helps to make a lasting impression, says Leon Long, a geologist at the Jackson School who led some of the GeoFORCE field trips. A current college student recently told Long that after attending the introductory geology class trip to study uplift, he decided to major in geological sciences. Getting out into the field "has an enormous impact on these people," Long says.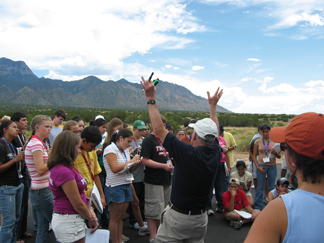 Last year's program included a trip to Carlsbad Caverns in New Mexico, the deepest limestone cave and the fourth longest in the United States. A guide led a walk through the cave, showing different types of limestone and where the area had once been under the ocean. Cervantez admits she already knew some of the information from reading about different types of geology, "but actually seeing it and actually being able to go out there and get hands-on experience really made it stick in my mind," she says.
A geological field trip outside Taos, N.M., allows students to apply classroom learning to the world around them. GeoFORCE took students, some of whom had never traveled outside of Texas, to get an up-close look at mountains, caves and other geologic features.
Funding for GeoFORCE comes from the program's corporate sponsors, including Shell, ConocoPhillips and BP, among others. The program is an all-expenses-paid event for the students, and the sponsors hope that down the road, they will see returns in that investment with more students deciding to enter geoscience fields.
In addition to providing the funding, however, the sponsors also participate. This summer, when the same group returns for year two of GeoFORCE, they will go river rafting in Glen Canyon in Arizona and Utah, and geologists from the sponsor companies will give presentations about the types of careers in geology.
At the same time, a new incoming class of 40 ninth graders will follow a similar journey that students took the previous year, but pared back from 12 days to one week. And those who do not make it into the GeoFORCE academy can apply to Young Geoscientists, a two-day course that takes students hunting for fossils and digging through quarries that are closer to their homestate, Texas.
After the first summer of GeoFORCE, Cervantez seems to have made up her mind and says that she wants to become a planetary geologist. "It just blows my mind to see that there is this whole other world out there outside our own that we can explore." Time will tell, however, if rafting in Glen Canyon this summer will reveal to Cervantez another yet-undiscovered and equally captivating geoscience career.
Kathryn Hansen


---