Society Page
---
News about people and
announcements from
AGI's 39 member societies
______________________
Christina Reed
To post news in Society Page, send e-mail to geotimes@agiweb.org with the subject: Society Page.
Contents:
Christopher Chyba, an astrobiologist and science policy specialist on international security, answered the phone at his home in the San Francisco Bay area one morning, about six weeks after September 11. John Holdren, a distinguished science policy professor at Harvard University, was on the line. It was 7:30 a.m.
"I know John well enough to recognize his voice. He told me he had important news," Chyba says. "My first thoughts were: What's happening? Why would John be calling me?"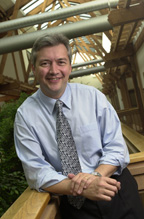 Holdren told Chyba the John D. and Catherine T. MacArthur Foundation had selected him as a 2001 recipient. "It's a tradition on the MacArthur board that members who know the awardees have the honor of calling them," Holdren says. The MacArthur Foundation gives each fellow $500,000 over five years to do with as they please — no strings attached.
A similar call went out to 22 other fellows who "provide the imagination and fresh ideas that can improve people's lives and bring about movement on important issues," says Jonathan Fanton, president of the MacArthur Foundation.
MacArthur fellow Christopher Chyba.
For Chyba that means: influencing public policy on nuclear nonproliferation, modeling the conditions for life on other planets and early Earth; aiding in designing a spacecraft to explore Jupiter's moon Europa; and investigating the impact of preparing for biological terrorism on public health. "I'm working on the question of the re-aerosolization of anthrax spores," he says. "Once they fall down onto a table top, for example, how much breeze is needed to put them back up into the air again? The behavior of windblown dust is directly relevant to this question: I know about the latter from work I did a dozen years ago looking at windblown dust on Neptune's moon Triton."
The foundation praised Chyba as someone who is "dedicated to the idea that scientists share a dual responsibility for enhancing our understanding of the natural world and for participating in the public discourse that affects our collective futures."
Chyba began with a bachelor's degree in physics from Swarthmore College in Pennsylvania, then pursued theoretical physics at the University of Cambridge in England for another bachelor's degree, and continued on there for a master's in history and philosophy of science. He earned his doctorate in astronomy in 1991 from Cornell University in Ithaca, N.Y. Shortly afterward, Chyba received a White House fellowship and served on the national security staff for two years.
Now at the SETI Institute and Stanford University, Chyba, 42, is the co-director of Stanford's Center for International Security and Cooperation and is an associate professor (research) of geological and environmental sciences. Chyba defines international security to broadly include global environmental issues. "Climate change and coral reef die-off are in the broadest sense security issues, because they affect human welfare."
He is a member of the American Geophysical Union and holds the Carl Sagan Chair for the Study of Life in the Universe at the SETI Institute in Mountain View, Calif.
Chyba blends science and security issues with a simple philosophy. "Planetary scientists and astronomers take part in exploring the answers to long-standing questions. For example: the origin of life. And with respect to our own solar system, whether other planets have life, we should know the answer this century. We have wonderful opportunities, but all of that is not so terribly important if civilization doesn't face the challenges addressing it."

Accolades for aquifer scientists
One of the most satisfying jobs Bill Wilson took on during his 45 years as a hydrogeologist was a seven-year stint working for an international group of groundwater scientists on one of their biggest challenges: sharing their research.
In 1994, Wilson started as the first managing editor of the Hydrogeology Journal for the International Association of Hydrogeologists (IAH). Wilson is a member of the IAH U.S. National Committee. During the IAH general meeting in Munich last September, the society voted to give Wilson honorary membership.
The society began in 1956 as "a worldwide forum on the management of groundwater for the benefit of mankind and the environment." Wilson's efforts to aid authors from developing and non-English-speaking countries in publishing their peer-reviewed research in professional scientific English made the society's journal a larger part of that goal. "The improvements in appearance and content resulting in a journal of professional scientific quality are largely a result of his efforts," said IAH President Emilio Custodio.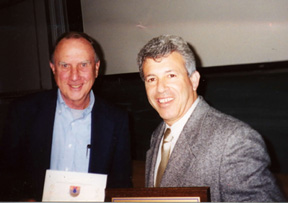 At the same meeting, Custodio presented the 2001 President's Award to Leonard Konikow, president of the IAH U.S. National Committee, for his work on groundwater contamination models. Every year IAH honors the achievements of an outstanding groundwater scientist with the President's Award.
Bill Wilson and Leonard Konikow at the IAH awards ceremony in Munich.
"Konikow has made critical evaluations of model predictions, and this research has generated much interest and opened the eyes of many hydrologists to the limitations and accuracy of models," Custodio said. Konikow has worked for 29 years with the U.S. Geological Survey Water Resources Division in Reston, Va. Like Wilson, Konikow enjoys communicating with scientists from around the world about issues in groundwater research. He has presented short courses in Europe, participated in the IAH United States/Spanish cooperative hydrogeologic research program and worked for the U.S. Agency for International Development on hydrogeologic problems in Morocco and Gaza.
"IAH is a unique organization in that it offers an international network and global perspective on the science and practice of hydrogeology," Konikow says.

The American Geophysical Union (AGU) and the Federation of Earth Science Information Partners (ESIP) announced on Nov. 27 the creation of the Charles S. Falkenberg Award and memorial fund to support the cash prize accompanying this recognition.
AGU member Charles Falkenberg died with his wife Leslie Whittington and daughters Zoe, 8, and Dana, 3, when American Airlines Flight 77 crashed into the Pentagon on September 11. They were on their way to Australia where Whittington, an associate professor of public policy at Georgetown University in Washington, was to be a visiting fellow for two months at the Australian National University in Canberra.
A computer scientist, Falkenberg, 45, focused on enabling practical applications of earth science through visualization and information technology. He was the director of research for ECOlogic Systems Corp. in Lanham, Md., where he worked on the company's projects with NASA.
Charles Falkenberg, his wife Leslie Whittington, and their daughters Zoe and Dana died in the events of September 11.
The award is dedicated to his memory in the hope of fostering global cooperation in advancing science. "This is how the [ESIP] Federation is working to help build something lasting and positive from the tragedy of Charlie and his family's loss," says Bruce Caron of the ESIP Foundation. At the time of this writing, the memorial fund had received more than half of its goal of $50,000 that will allow the award to carry a cash prize of $2,000 each year. The annual Falkenberg award will be presented to scientists age 45 or under who have made original contributions to earth science and strive to achieve significant public awareness of the importance of understanding Earth.
To contribute to the Charles S. Falkenberg Fund visit www.agu.org/givingtoagu or call AGU's Development Office at 202-777-7514. More information about the award is available at esipfed.org/donation.jsp.
The American Geophysical Union (AGU) announced in February the election of John Orcutt, a professor of geophysics at Scripps Institution of Oceanography, as AGU's president-elect. He will become president in July 2004.
Orcutt, who is currently AGU's general secretary, earned his Ph.D. from Scripps, his master's degree from Liverpool University and his bachelor's from the U.S. Naval Academy. The former director of Scripps, Orcutt was also a member of President Clinton's Ocean Exploration Panel, which released a 2000 report recommending ambitious exploration of the oceans.
Starting as AGU president this summer will be Robert Dickinson, an atmospheric science professor at Georgia Tech in Atlanta. The current AGU president is marine geophysicist Marcia McNutt, who is president of the Monterey Bay Aquarium Research Institute and who chaired the Ocean Exploration Panel.
---