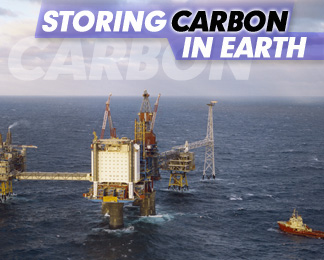 Storing Carbon in Earth
The rapid growth in energy demand in the United States and abroad makes fossil fuels essential for continued economic growth and human well being. But using these fuels produces the greenhouse gas carbon dioxide. Geologists have much to contribute to one possible solution.
S. Julio Friedmann
Demonstrating Carbon Sequestration
A saline aquifer in the North Sea is one of two large projects in action for storing carbon dioxide in geologic formations. At the same time, companies and governments in several countries are teaming up to understand a range of storage methods, from burial in coal seams to making carbonate rock.
Geotimes staff
Coming Soon...
April: Geoscience policy: science at the state surveys
May: Geology on Mars





Students:


And, read our special careers page.





March 20
Congress confronts a depleting aquifer
March 14
Pictures of snow from the Red Planet
March 4
Effects of sound on marine mammals still noisy
February 24
Deadly quake hits remote China

Webextras Archive
News Notes
No lockup on gas in the West


New stature for Canadian oil sands
Io's salty atmosphere
Terrorism puts foreign students in spotlight
Trading water pollution
Stone patterns

Comment
Milestones in Earthquake Research
A look back at the National Earthquake Hazards Reduction Program on its 25th birthday.
Robert M. Hamilton

Political Scene
Scientist on the Hill: An Introduction
This year's American Geological Institute Congressional Science Fellow brings his background in economic geology to the policy arena.
Larry Kennedy

Geoscience Education
Early Impact: EarthComm Lands in Los Angeles
A new partnership will bring an earth-science curriculum and valuable teacher training into Los Angeles schools.
Jan Childress

Geophenomena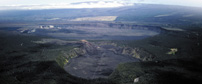 Conversations between volcanoes
Bending thoughts about the Hawaiian chain

Energy & Resources
Naturally Occurring Asbestos: An Introduction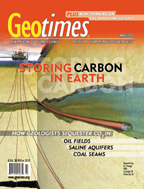 ON THE COVER
This illustration shows how carbon dioxide is injected into a saline aquifer beneath the Sleipner West gas field in the North Sea. Natural gas is extracted, carbon dioxide is produced and, in turn, the carbon dioxide is injected back into the underlying aquifer. Learn more from this month's two feature stories. Photo supplied courtesy of Statoil.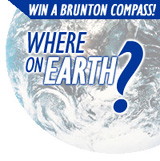 Print Table of Contents
From the Editor
Where on Earth?
Profiles: Dick Fiske
In Memoriam
Geomedia: New map for North America
Calendar
Classifieds
On Exhibit