---
In Memoriam
---
Clifford Frondel
John A. Reinemund
---
Clifford Frondel

Clifford Frondel was a Harvard giant in the world of mineralogy who helped further the use of quartz for radio communication during World War II and was among the first people to encounter the rocks brought back from the Apollo lunar missions. He died peacefully at age 95 after complications from Alzheimer's on Nov. 12, 2002. Frondel is known by his friends and colleagues for his humor even under difficult circumstances.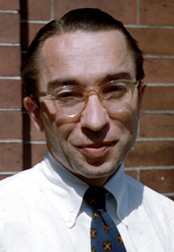 "He was a high-energy guy and loved research; he was always involved on the cutting edge," says Carl Francis, curator of the Harvard Mineralogical Museum. "He worked on national priorities. He wrote the USGS [U.S. Geological Survey] bulletin on uranium and thorium that represented the pinnacle of knowledge for what we knew of natural sources of uranium for the atomic age."

Photo courtesy of Harvard Mineralogical Museum.

Frondel began teaching at Harvard in 1939, but during World War II served as a civilian in the Signal Corps of the War Department and as director of research at Reeves Sound Laboratories in New York. During the war, Frondel instructed companies on how to cut quartz crystals for quartz oscillator-plates used to control radio frequencies. In 1942 and 1943, he traveled to England to assist companies there pursuing the same technology. Through his work at the Signal Corps, he met his wife, Judith Weiss, also a mineralogist, who collaborated with her husband on numerous reports. "We came together because of our profession and were married for 53 years," she says.

Dave Stewart — a retired mineralogist at the U.S. Geological Survey in Reston, Va. — is grateful for the guidance Frondel and Cornelius Hurlbut, now an emeritus professor at Harvard, provided him straight out of high school. In 1946, Stewart was working in a mineral store in Maine when Hurlbut came through to buy minerals for Harvard's Mineralogical Museum. Frondel was the curator at the time. "That fall I ended up working with Cliff on the minerals accumulated during the war," Stewart says. "There were roomfuls of boxes with specimens that Harvard graduates had sent back from their military travels all over the world." Frondel described 48 new species of minerals during his career and had two named after him: frondelite, the manganese analogue of rockbridgeite named in 1949 and cliffordite, a uranium tellurite named in 1969. For 32 years, Frondel worked as curator for the museum until his forced retirement at age 70.

Stewart, who worked with Frondel as an undergraduate and graduate student at Harvard until his doctorate in 1956, kept in contact with his mentor. In the late 1960s, Frondel spent part of his time with NASA working to design the rock boxes and receive lunar samples from the Apollo missions. "After each group came back he assembled a crew of mineralogists to look at samples in a secure facility designed to protect the world in case of a breach," Stewart says. After a glove burst while looking at the rocks brought back from the Apollo 12 mission, Frondel and his team, along with the astronauts, were quarantined for two weeks. "In effect they were incarcerated until the lunar samples were tested to determine if they were fatal to plants or if they had any organisms," Stewart adds. "You had 15 to 20 guys that were passed food through an airlock while they waited for bean plants to grow in soil contaminated with lunar dust. In the middle of all that, Cliff was teaching the group to play poker and robbing them systematically of money passed through the airlock. When they were finally released, Cliff came out with two bags of coins, tuition for the poker lessons. He was a jovial fellow and a lot of fun."

Christina Reed

---
John A. Reinemund
John A. Reinemund, executive director of the Circum-Pacific Council for Energy and Mineral Resources for more than 18 years, passed away on Dec. 8, 2002. Reinemund became a member of the Council when it was established in 1972.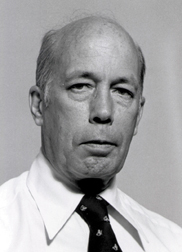 Reinemund's numerous contributions, leadership and dedication to his duties before and after his executive directorship were major factors in the success and continuance of the Council and its many projects. He was the organizer and first chairman of the Circum-Pacific Map Project. His worldwide acquaintance with earth scientists and his extensive experience in the US Geological Survey with map-making and compiling, made him a natural for this demanding assignment. Hundreds of earth scientists from more than 25 countries provided the data and informative geologic and geophysics generated by the project. As a non-profit international organization, the council aims to develop and promote research and cooperation among industry, government and academia for the sustainable utilization of earth resources in the Pacific region.

Photo courtesy of USGS.

Reinemund's reputation as a willing performer was known worldwide in geologic agencies and societies. He was a valued member of the guiding boards of such organizations as the International Geologic Correlations of UNESCO, and the International Union of Geological Sciences of which he served as treasurer for several terms.

Reinemund's most outstanding qualities were his talent for recognizing and sifting the important from the inconsequential, his forte in searching for and finding viable solutions to problems, and his abiding optimism.

Reinemund was the recipient of an honorary doctorate from Augustana College (his alma mater), the Distinguished Service Medal of the U.S. Department of the Interior, the Circum-Pacific Council's Medal of Merit, and the American Association of Petroleum Geologists (AAPG) Human Needs Award.

John Reinemund was a distinguished earth scientist, leader, organizer, humanist and man-of-the-world gentleman. The Circum-Pacific Council for Energy and Mineral Resources attributes its many successes and accomplishments to the efforts of John A. Reinemund. He will be greatly missed by those of us who were fortunate to know and work with him.
Michel T. Halbouty
Founder of the Circum-Pacific Council

---