---
News Notes
---
Planetary Geology
Liftoff for New Horizons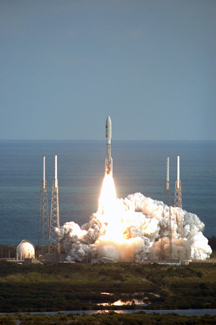 After a one-day delay due to windy weather, the New Horizons spacecraft successfully launched Jan. 19 aboard an Atlas V rocket, en route to Pluto. The first spacecraft to travel to the distant planet, New Horizons is a flyby mission that will take a closer look at the surface features that lie beneath Pluto's dense orange atmosphere and to capture images of Pluto's moon, Charon.

Image is courtesy of NASA/KSC.

On its way to Pluto, New Horizons will pass by Jupiter in 2007, where it will receive a "gravity assist" from the giant planet that will help push the craft on its way. Then, to conserve power, scientists will put many of the craft's systems "to sleep" for most of the remaining journey to Pluto.

Scientists hope that the mission will drastically increase what is known about the faraway planet. But that is unlikely to occur anytime soon: The New Horizons spacecraft will make its earliest Pluto-Charon flyby in July 2015.


---