---
Education & Outreach
---
Students sink into the Edmund Fitzgerald

The lake, it is said, never gives up her dead when the skies of November turn gloomy. With a load of iron ore twenty-six thousand tons more than the Edmund Fitzgerald weighed empty, that good ship and true was a bone to be chewed when the "Gales of November" came early.
- Gordon Lightfoot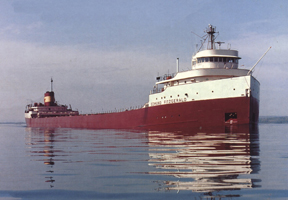 Around dinnertime on Nov. 10, 1975, the Edmund Fitzgerald sank in Lake Superior, taking with her 26,000 tons of ore and all 29 men aboard. Less than a year later, singer Gordon Lightfoot released the song, "The Wreck of the Edmund Fitzgerald," thus immortalizing the wreck and turning it into a legend.

The Edmund Fitzgerald famously sank in bad weather on Nov. 10, 1975. No one knows exactly what sank her, but new model simulations — being used in the classroom to draw students' interest — are showing more precisely what conditions the ship may have encountered. Courtesy of the Great Lakes Shipwreck Historical Society.

Although the National Transportation Safety Board (NTSB) never determined the specific cause of the wreck, weather was surely to blame. Today, in a growing trend of using human-interest stories to help students relate to science, new model simulations of the weather conditions surrounding the accident are providing students with an opportunity to understand the storm that caused the wreck.

The Edmund Fitzgerald, "the biggest ship at the time, sank in five minutes," says Steve Ackerman, a professor at the University of Wisconsin in Madison (UW) who uses the model simulations in an introductory course on weather and climate — a class filled with 400 non-science majors taking it to meet a general education requirement. Because no one really knows what brought her down, "there's still mystery and intrigue behind" the wreck, he says. Everyone likes a good story and a good mystery, "so intertwining this story and sequence of events with the weather models" seems to resonate with students.

Whether the ship was flooded by high waves or sunk by structural destruction, or whether it ran aground or capsized, "we don't know," says Robert Aune, a scientist with the National Oceanic and Atmospheric Administration (NOAA), stationed at the UW Space Science and Engineering Center, who developed the new model simulation used in Ackerman's class. "There's a lot of speculation, but we probably won't ever know" exactly what happened, he says. But using new models to create simulations of the weather at the time the ship went down, and comparing them to observations recorded at the time, will certainly help ascertain what conditions the ship encountered.

The Edmund Fitzgerald, a steel bulk freighter, was 222 meters (729 feet) long — only 30 meters shorter than the Titanic — and weighed 13,632 tons empty. She had been operating on the Great Lakes since 1958, and was helmed by a captain with 40 years of experience operating cargo ships. This trip was scheduled to be the last run of the year.

According to the NTSB accident report, on Nov. 9, 1975, the Edmund Fitzgerald, fully loaded with iron ore, left port at Superior, Wis., heading southeastward toward Detroit, Mich. About 30 minutes later, the National Weather Service issued a "gale warning" — winds higher than 63 kilometers per hour (39 miles per hour) — for Lake Superior, Aune says. By Nov. 10, the weather service had "pumped up the warning to storm force" (greater than 89 kilometers per hour), Aune says. Waves were undoubtedly growing higher as well, he says. The storm was growing stronger.

Radio communications between the Edmund Fitzgerald and nearby ships and land showed that "it was rough out there," Aune says, but the captain communicated that things were under control. "We are holding our own," Captain McSorley is quoted as saying to a nearby ship that had been following closely behind the Edmund Fitzgerald. Then suddenly, the ship was gone.

Observations from ships and weather stations in the area indicated that waves in the southeastern portion of Lake Superior where the ship sank were reaching 7.6 meters (25 feet) high, says Thomas Hultquist, a science and operations officer with the National Weather Service in Marquette, Mich. Additionally, wave periods on the lake are always relatively short, he says, which can be problematic for ships. Some observations indicate that the length between wave crests may have been as little as 61 meters, Aune adds, so a ship three times that long could easily be tossed about.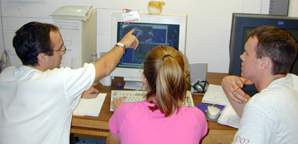 The winds and waves were "pretty bad for about 24 hours, but the most severe conditions only lasted six to nine hours and eerily only affected the one spot where the Edmund Fitzgerald went down," says Hultquist, who, independent of Aune, ran another high-resolution model to recreate and piece together the conditions on the lake (the results of which are being published next month in the Bulletin of the American Meteorological Society).

High school students at a University of Wisconsin-led summer workshop learn about a storm through a computer model. Using visualizations of everything from landslides to storms, such as the one that sank the Edmund Fitzgerald in 1975, is gaining ground as a teaching technique. Courtesy of the Space Science and Engineering Center.

"The ship couldn't have been in a worse spot at a worse time." If weather forecasters in 1975 had the same models that forecasters have today, he says, it's possible the ship could have avoided the worst conditions by switching paths or going through the area a few hours earlier or later.

Both Hultquist's and Aune's models rely on a high-resolution dataset of atmospheric conditions over the past half-century compiled by the National Center for Atmospheric Research and NOAA. Using this dataset, researchers could model a number of past events. "Back forecasting" was a fun exercise not only from a historical perspective, but also from an educational one, Hultquist says. He uses such model results to train employees new to the weather service in Michigan to illustrate the type of storms that arise over the Great Lakes, in much the same way that Ackerman uses Aune's model to tell the story of the Edmund Fitzgerald to his UW students.

All across the country, professors are turning more frequently to such visualizations to "teach from a storytelling point of view," says Cathy Manduca, director of the Science Education Resource Center at Carleton College in Northfield, Minn. In recent years, a wealth of "good research" has been done on how students learn, which unequivocally shows that students learn best when they are engaged, she says. "A student's ability to learn science can certainly be enhanced by grounding the scientific concepts in a narrative the students are interested in."

To that end, Manduca and colleagues have developed a Web site filled with visualizations — photos, graphs and animated models, for example — that universities and scientific organizations, such as NASA and NOAA, have put together to help explain complex topics. Anyone can download the images and animations for use.

Visualizations on several topics are available, including landslides (put together following a series of slides in California), plate tectonics, and the two most popular and newest topics — tsunamis, assembled following the Sumatra quake and tsunami in 2004, and hurricanes, put together following hurricanes Katrina and Rita last year. Manduca says that her group has heard from many professors who have used the visualizations in the classroom to help tell scientific stories.

There can be little doubt, Ackerman says, that coupling stories, such as that of the wreck of the Edmund Fitzgerald, with science is good. Students seem to enjoy a good tale, even if tragic, he says, and getting people to enjoy any aspect of science is a good thing.
Megan Sever

Links:
SSEC model simulation of the Edmund Fitzgerald storm
SSEC information on the sinking of the Edmund Fitzgerald
SSEC summer workshops for students
NWS Edmund Fitzgerald information
Visualizations collections
Great Lakes Shipwreck Historical Society

Back to top

---