---
What's in the print version of Geotimes this month ...
---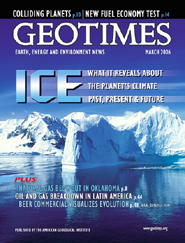 Click the image above to view a high-resolution version of the cover.
March 2006
vol. 51, no. 3

FEATURES

18 Drilling Back to the Future
A new Antarctic project will drill into the frozen southern continent to uncover its climate secrets.
Ross D. Powell, Robert M. DeConto and David Pollard
24 Earth's Fickle Climate: Lessons Learned From Deep-Time Ice Ages
Although Earth's ice is largely isolated at its poles, the planet is technically in an ice age — a condition that Earth has experienced in different ways many times throughout its history.
Isabel Montañez and G.S. (Lynn) Soreghan
Plus! Deep-Time Climate Is Here: A Comment
28 Ice Hunter: Q&A With Lonnie Thompson
Geotimes talks with a glaciologist who travels the world in search of ice and its past.
30 Arctic Amplification
Earth's northern latitudes provide early warning for global climate change.
Naomi Lubick
---
NEWS & VIEWS


---

7 COMMENT
Evolution Lessons From Infectious Diseases
Evolutionary biology is pivotal to scientists who are fighting to prevent disease.
Carl Bergstrom and Marc Lipsitch


8 NEWS NOTES
Gassy eruption in Oklahoma * Great lakes of Antarctica * Young planets collide * Starry lens * Marine critters record global warming * Soaking up carbon * Uncovering ancient harbors * Real-world fuel economy test * Liftoff for New Horizons

17 POLITICAL SCENE
Fueling America's Innovation Now
U.S. policy-makers are trying to spur the country into another "Sputnik moment," of rapid advancement in basic research and development.
Linda Rowan


36 GEOPHENOMENA
Less clouds, more haze for China
Augustine ash
Highlighting landslide risk


38 TRENDS & INNOVATIONS
Global Water Supply Takes Some Heat
Changing temperatures could change when and how much water from mountains is available for the world's drinking supply.
Megan Sever

40 EDUCATION & OUTREACH
Students Sink Into the Edmund Fitzgerald
New models are revealing the conditions that sank a legendary Great Lakes freighter and in the process teaching students about weather.
Megan Sever

44 ENERGY & RESOURCES
Turmoil in Latin America
Mineral Resource of the Month: Dimension Stone


46 GEOMEDIA
Antarctica through the eyes of writers and artists
TV: Brewing intelligent design
Books: Trapped in the ice: A review of Plows, Plagues, and Petroleum
On the Web: Stardust at home


52 PROFILES
Patrick Leahy: Traversing boundaries

53 BENCHMARKS
March 3, 1879: U.S. Geological Survey Created
Congress establishes a national geological survey to promote exploration and development in the western United States.

60 GEOLOGIC COLUMN
Can You Hear Me Now?
Oh, what a difference 100 years makes for intrepid Antarctic explorers communicating with the outside world.
Lisa Rossbacher

DEPARTMENTS

---

4 From the Editor
6 Letters: Perspectives from readers
34 Where on Earth?
54 GeoMarketplace
55 Classifieds: Career opportunities


Want to attend a geoscience meeting? Visit the online Calendar.



Click here to subscribe.

---