---
Society Page
---
News about people and
announcements from
AGI's 37 member societies
______________________
To post news in Society Page, send e-mail to geotimes@agiweb.org with the subject: Society Page.
Contents:
Paleomagnetic gold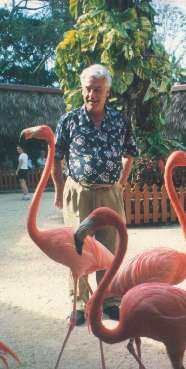 On April 26, the Franklin Institute will award Rob Van der Voo of the University of Michigan the Benjamin Franklin Medal in Earth Sciences for his contributions to the field of paleomagnetism. Van der Voo is a fellow of both the American Geophysical Union and the Geological Society of America. He will receive a gold medal as will other laureate winners in life science, physics, chemistry, engineering and computer and cognitive science.
ABC News anchor Cokie Roberts will host the evening's events, which also include giving the coveted Bower Award of $250,000 to Paul Baran, recognized for creating the technology for the "heart" of the Internet. Founded to honor one of the country's first scientists, Benjamin Franklin, the Institute is one of America's premier centers of science education and development.
At left: Rob Van der Voo and friends in Nassau, Bahamas. Tanja Van der Voo.
Van der Voo earned his doctorate in geology and geophysics from Utrecht University in the Netherlands in 1969. The next year, he started as a post-doc at the University of Michigan where he is currently director of Honors Program and a professor in the geological sciences department and honors program.
Van der Voo specializes in the rock records of ancient magnetic fields as they cool. His research areas include studying the tectonics of the Caribbean and the Mediterranean, and the environmental conditions of Neogene deposits in northeast Tibet and Gansu Province, China.
Van der Voo's students find his teaching challenging as well as inspiring. "His prodigious memory and comprehension of vast bodies of conflicting evidence is both frightening and awe inspiring," says graduate student Eric Tohver. "With a simple drawing, Rob can bring tectonic order to a previously chaotic jumble of continents."



In the meantime ...
The Geological Society of America (GSA) has appointed David Stephenson its interim executive director. "I want to assure GSA members that the store is being minded during the search for a new director," he says. Stephenson is a vice president and the Jackson Hole, Wyo., office manager for S.S. Papadopulos and Associates, an environmental consulting firm. He served as GSA president in 1995 and was president of the American Geological Institute in 1999. "My main goal is to be a facilitator of communication during the next few months between staff officers of GSA and the membership," he says. He plans to spend two days a week in Boulder, Colo., where GSA is headquartered and where Papadopulos has a second office. GSA has opened a search to replace past executive director Sara Foland, who resigned in February, and expects to fill the position by Sept. 1.

On March 20, the Association of American State Geologists presented its Pick and Gavel Awards for 2001 to Sen. Joseph I. Lieberman (D-Conn.) for enthusiastic support of the Congressional Science Fellows program, and to Rep. Ralph Regula (R-Ohio) for his enduring support of good geoscience and geologic mapping.
At left: The 2001 Pick and Gavel Awards display drusy quartz coating pseudo-cubic barite.
Hill staff and federal agency leaders, along with over half of the state geologists, attended the banquet ceremony in Washington at the Cosmos Club, founded by the renowned geologist and one-armed explorer John Wesley Powell.
Ohio State Geologist Thomas M. Berg introduced Rep. Regula as a distinguished educator, legislator and public servant.
"Regula understands the many-faceted responsibilities of the [U.S. Geological Survey] in today's world, and he is aware of the close interaction of the USGS with the state surveys and the Association of American State Geologists," Berg said.
"Through Mr. Regula's efforts last year, the USGS received the largest budget in its history, and the National Cooperative Geologic Mapping Program received a major increase," Berg added. "I am sure that the Association of American State Geologists will do everything it can to build on that legacy."
Ralph S. Lewis, Connecticut State Geologist, presented the citation for Lieberman: "Lieberman is a founding member of the Science and Technology Caucus, an informal group of senators committed to raising awareness of science and technology public policy issues in Congress. He has sponsored legislation in the last two congresses to double federal research funding over the next decade."
Bill Bonvillian, Lieberman's legislative director, accepted the award for the senator, who was celebrating his wedding anniversary. Below are excerpts from Lieberman's letter, which Bonvillian read:
"While I make frequent use of a gavel in the Senate, the last time I made use of a pick was as a teenager digging trenches for electrical lines on summer jobs. …
"I am fortunate to have accommodated 11 science fellows, including five geoscientists, while in the Senate. … These fellows have provided levels of experience and understanding that have been invaluable in developing and guiding the policies of my and other offices. I am grateful to have had the opportunity to enlist their talent."
Visit www.kgs.ukans.edu/AASG/pick.html for more about the Pick and Gavel Awards.

Treasured text
The Association of Earth Science Editors awarded Fossils of Ohio the Outstanding Publication Award for the year 2000. The book is edited by Rodney M. Feldmann and Merrianne Hackathorn and published by the Ohio geological survey. The AESE Board praised the publication for its beautiful drawings, fine photographs and excellent indexes. For award information, visit the AESE Web site at www.aese.org. Deadline for nominations for the 2001 Outstanding Publication award is June 15, 2001.

AAPG testifies on U.S. oil and gas resources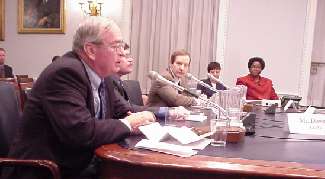 With energy policy a top priority on Capitol Hill, leaders of the American Association of Petroleum Geologists (AAPG) have been called to provide testimony on future hydrocarbon resources. On March 15, AAPG President Marlan Downey testified before the House Subcommittee on Energy and Mineral Resources at a hearing to examine how access restrictions on public lands and the Outer Continental Shelf (OCS) affect domestic natural gas resource development.
At left: AAPG President Marlan Downey testifies March 15 before a House Subcommitte. David Applegate.
The hearing proved to be contentious, in part because President Bush announced on March 14 that he would support opening some national monuments to petroleum exploration. In his testimony, Downey argued that growing demand for natural gas — particularly for gas-fired power plants — would outstrip supply not because the resource base is inadequate, but because of access restrictions.
Downey, currently the Bartell Professor of Geology at the University of Oklahoma, has held numerous positions in the petroleum industry, including tours as president of Arco International and of Shell's international subsidiary, Pecten International.
The subcommittee's second hearing on March 22 focused on assessing future oil and gas resources on federal lands. Naresh Kumar testified on behalf of AAPG's Committee on Resource Evaluation, which reviews the methodology of federal agencies conducting hydrocarbon resource assessments, specifically the U.S. Geological Survey (USGS), Minerals Management Service (MMS), and the U.S. Energy Information Administration. Other witnesses included USGS Associate Director for Geology P. Patrick Leahy and MMS associate director Carolita Kallaur.
Kumar testified that "the techniques and scientific methods used by both the MMS and USGS are sound and provide a good basis for discussion of a national energy policy." But he also noted that the agencies' estimates were conservative and that it was reasonable to expect that considerably more hydrocarbon resources would be discovered with future exploration. During a question-and-answer period that stretched more than an hour, Kumar helped subcommittee members understand the difference between reserves and resources, and he described the level of effort it would take to meet future U.S. demand for natural gas.
Kumar is currently president of Growth Oil and Gas, based in Dallas, Texas. During a long career with Arco, he held a number of key positions including North Slope Exploration Manager for ARCO Alaska.
On April 23, Downey and other AAPG leaders were in Washington for an AAPG-sponsored energy conference being held to engage policy-makers in a dialogue on the framework for a national energy policy.
David Applegate


---
Associate Editor Christina Reed compiles Society Page.