Exchanges between groundwater and surface water vary among different landscapes. What governs these exchanges are soils, geology and hydrology.
Urban runoff
Groundwater and surface water exchanges are significant in carbonate aquifers near San Antonio, Texas. Major streams lose substantial amounts of water to the Edwards aquifer as they flow across the highly permeable, faulted and fractured carbonate rocks of the aquifer outcrop. Fortunately, streams that recharge the aquifer originate in, and flow through, what is now mostly undeveloped rangeland. However, these streams also flow through northern San Antonio, which is being developed. Some contaminants that are typical of urban runoff are finding their way to the recharge zone. For example, a 1996 to 1998 study of wells in the recharge zone detected elevated concentrations of the herbicides atrazine, deethylatrazine, simazine and prometon. Water quality in the Edwards aquifer and in the recharging streams is a critical management issue for the region. The aquifer is the principal water supply for the more than 1.5 million people in the greater San Antonio region.
Finding the phosphorous
Groundwater and surface water interactions in the sand and gravel aquifers of the Albemarle-Pamlico Drainage Basin in North Carolina help to explain elevated phosphorus in selected streams. Deep groundwater underlying parts of the Coastal Plain has relatively high concentrations of phosphorus (a median concentration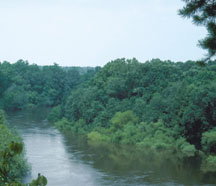 of 0.25 milligrams per liter), which likely originates from phosphate minerals, such as fluoroapatite, in the Cretaceous-age aquifer sands. Upward discharge of the groundwater results in elevated levels of phosphorus in streams, particularly in the Tar River and Neuse River drainage basins. Research indicated a significant correlation for 25 sites sampled during August and September 1995 between concentrations in discharging groundwater and in streams. Documenting this natural source of phosphorus in the Albemarle-Pamlico Drainage Basin has helped water-resource managers to better account for phosphorus sources, and has helped in making more accurate Total Maximum Daily Load estimates for some North Carolina streams.

The Neuse River at Cliffs of the Neuse State Park in North Carolina, during high flow in 1996. Photo by Douglas A. Harned, USGS
Farms and groundwater
Significant exchanges of water and contaminants from the land surface to the groundwater also can occur in permeable and well-drained alluvium and sand and gravel. Along the Platte River in central Nebraska, the chemicals farmers use for their crops can, during high streamflow, enter the adjoining sand and gravel aquifers. The results are elevated levels of nutrients and pesticides in the groundwater. A 1995 NAWQA study detected elevated concentrations of the herbicide atrazine in observation and public-supply wells in the Ashland well field, the source of almost all of the public-water supply for the city of Lincoln. These elevated concentrations, reported as high as 20 micrograms per liter, exceeded the Environmental Protection Agency's maximum contaminant level for atrazine of 3 micrograms per liter. The atrazine was traced to the Platte River.