---
Society Page
---
News about people and
announcements from
AGI's 40 member societies

By Christina Reed
To post news in Society Page, send e-mail to geotimes@agiweb.org with the subject: Society Page.
Contents:
---
Fleming to lead exploration geophysicists

When asked if she was the first woman executive director of the Society of Exploration Geophysicists (SEG), Mary L. Fleming wasn't sure. She had to ask her secretary. Fleming began the position on Jan. 16. After two months on the job, the fact that Fleming is the first woman to lead the society, founded in 1930, simply hadn't come up.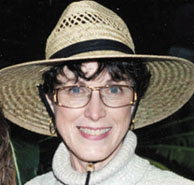 "I think the fact that my being the first woman executive director of SEG caused scarcely a ripple is a fine measure of where things have come," Fleming says. "In the past, that would have occasioned a great deal of comment. But last year our president was a woman; we have a woman on the executive committee and there are lots of women geophysicists in the field. I think it's wonderful that this wasn't even remarkable to the membership."

SEG Executive Director Mary Fleming

From the 63 applicants, the SEG Search Committee and Executive Committee chose Fleming "because of her well-rounded background and her analytical, communication and excellent managerial skills," says Walt Lynn, SEG president and chairman of the Search Committee. "We are excited to have her join SEG."

After directing surveys and research projects in earth science for eight years at the University of Oklahoma, Fleming tried her hand at teaching as a professor, now emeritus, in Eastern Kentucky University's Department of Mathematics, Statistics and Computer Science. She was chair of the department for more than five years. In 1998 she took a sabbatical to Washington, where she became Director of Programs for the American Statistical Association. "I went for four months and stayed three years," she says. Fleming has always looked for new opportunities and believes in following them to their fullest potential.
As an undergraduate at Midwestern University in Wichita Falls, Texas, Fleming majored in English and mathematics. She continued at Midwestern for a master's degree in math. Then in 1975 she earned a master's degree in public health, followed in 1978 with a Ph.D. in biostatistics from the University of Oklahoma.

Ironically, Fleming's decision to become a statistician may not have been as random as she once thought. Her father, who had died when she was 19, had worked for the federal government during World War II. "I was looking at my birth certificate 10 years ago and my father's title read 'statistician.' He had died when he was 42 so he never knew that I'd go on in a career in mathematics and statistics."

Fleming spent eight years with the Oklahoma Medical Research Foundation in Oklahoma City, Okla., before joining the University of Oklahoma's Geological Information Systems, where she worked from 1979 to 1987. Later, during her 10 years teaching at Eastern Kentucky University in Richmond, Ky., Fleming traveled on every geologic field trip that she could "because geologists have a larger vision of the world, and I loved that," she says.

"One of the reasons I'm excited about returning to this field is because I worked as a statistician with researchers in many fields and found those in the earth sciences have a perspective about life and an awareness of the mystery of the way things happen that makes them one of the most fascinating groups of people I've ever worked with," Fleming adds. "Statisticians, or accountants or mathematicians sit with their head down looking at a desk, doodling with a pencil and keying in formulas — all very small things. Earth scientists are looking at the big picture, studying the deposition from 10,000 years ago. Their eyes just see things differently."

While Fleming is still learning the processes and procedures at SEG, she says her long-term goal is to enlarge her own vision so that it is appropriate for the scope of an international association. She plans on brushing up on her French, and she hopes to establish an atmosphere "where people feel free to take risks and are happy to express different viewpoints." She believes a willingness to look at different solutions is important for any position, and is something she has strived to achieve since graduate school when she was director of a girls camp for two summers. "I'm really pleased with all the various opportunities I've had. It creates a complicated mosaic."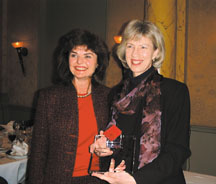 The Association of American State Geologists (AASG) presented its 2002 Pick and Gavel Award to Secretary of the Interior Gale Norton in Washington on March 19. Norton was sworn in as the 48th Secretary of the United States Department of Interior in January of last year.

Norton is "a lifelong conservationist, public servant and advocate for bringing common sense solutions to environmental policy," Vicki Cowart, state geologist of Colorado and president of AASG, said during the ceremony. "Through her creation and implementation of our national public policy, Norton both affirms and supports geosciences."

Vicki Cowart (left) presented Gail Norton with AASG's Pick and Gavel Award. Photo by Don Hoskins, Pennsylb\vania State Geologist (ret).

Norton also hails from Colorado and admitted during her speech that she and her husband weighed down the back of their car with quartz for their new home in Virginia. "It preserves a bit of the West for us," she said. "I guess you could say I'm somewhat in awe of those of you who are geologists."

The AASG award recognized Norton for encouraging partnerships among states and DOI agencies. Cowart applauded the Secretary for her support of the National Cooperative Geologic Mapping Program. The cooperation over the last decade among federal, state and university partners has succeeded in delivering state-of-the-art digital geologic maps to the nation, Norton added.

Prior to becoming Secretary of the Interior, Norton served as Colorado's Attorney General in Washington, as Associate Solicitor of the U.S. Department of the Interior and as Assistant to the Deputy Secretary of Agriculture.
China's top ten honors American geologist
The Chinese Ministry of Science and Technology's top ten list for scientific reports last year heralded nine Chinese achievements and one American discovery. Geologist Tim Kusky of St. Louis University shared fourth place with Jianghai Li of Peking University for identifying "the oldest marine crustal debris in China."

In fact, the oceanic rocks Kusky and colleagues reported on last May in Science might be the oldest known complete ophiolite complex in the world, dating back to the Archean, 2.5 billion years ago (Geotimes, July 2001). Ophiolites are record books for geologists identifying the history of plate tectonics. As the ocean floor subducts into the mantle, traces of its existence can get pushed onto the continent as ophiolites.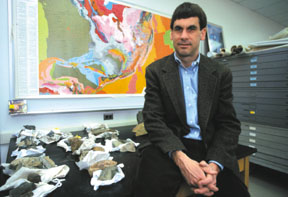 Kusky, a member of the Geological Society of America and the American Geophysical Union, searches for ophiolites and other good examples of the geologic record around the world in places where the rocks are still a mystery. "Tim is resourceful and energetic," says Kevin Burke of the University of Houston. "He goes in the field to remote and inaccessible places and is rewarded because, with remarkable rocks, if you don't go in the field you're not going to find the unusual rocks. In geology there are few places where the part of the record is really good. Tim's energy in traveling widely has led him to these places."

Tim Kusky of St. Louis University searches the globe for ophiolite samples. Photo courtesy of St. Louis University

Kusky grew up in Albany, N.Y., listening as a teenager to adults converse about plate tectonics. "I lived close to Kevin Burke and saw a lot of people who taught geology and heard discussions like you do when you're a kid playing with other kids while the grown-ups are having their party."

At the time, Burke taught at the State University of New York (SUNY) at Albany. "Tim was in high school with my eldest son," Burke explains. "The Kusky family ran a bowling alley and my son used to work on the pin-setting machine with Tim." The high school had one general course in earth science, but no geology. Kusky talked a teacher into making a course for him and another friend of his.

Then, as an undergraduate at SUNY in Albany, Kusky started working on problems in plate tectonics, "I thought that something didn't seem right about existing models of Precambrian tectonics and I began getting very excited," he says. After graduating magna cum laude, he earned his master's degree in 1985 and the same year published four papers and six abstracts.
Working in the Bay of Islands with his advisor Bill Kidd, Kusky saw his first ophiolite. "I was initially amazed that such large blocks of crust that formed on the sea floor could be thrust onto the continents," Kusky says. "I was also excited about all the things we could learn about the sea floor spreading process, and the evolution of the interior of the Earth by learning more about ophiolites."

Since Newfoundland, Kusky, 40, has worked on relatively modern or Phanerozoic ophiolites, including several in the Appalachians and Alaska. He has spent nine months in the field working on the Cretaceous Semail ophiolite in Oman and in the United Arab Emirates, including a trip earlier this year.

For his Precambrian studies, Kusky has investigated Proterozoic ophiolites in Saudi Arabia and elsewhere in the East African orogen. "At the same time I've been working in Archean greenstone belts in Canada, southern Africa, Asia and Australia and have been impressed by the many similarities between younger ophiolites and some Archean greenstone belts," he says.

"However, it was not until Jianghai Li and I started working on the Dongwanzi ophiolite that I recognized all of the components of the ophiolite suite in a single Archean greenstone belt."

Kusky was surprised to receive the honor from China. "There is a lot of very good scientific and technical research going on in China," he says. "It has helped open some doors that were previously nailed shut. For instance, we have now been given some fairly detailed maps that not too long ago would have been impossible to obtain. We are also working on more open exchanges of visitors, data and collaboration that we were not able to do before."
---