---
Web Extra Thursday, May 1
---
Turkey quake kills school children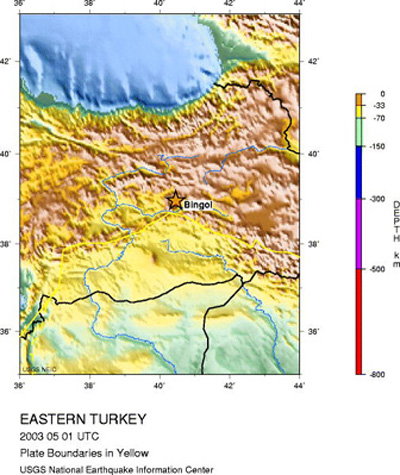 A magnitude-6.4 earthquake rumbled through southeastern Turkey today, collapsing a school building and burying more than a hundred students. Prime Minister Recep Tayyip Erdogan said that at least 84 people died in the earthquake, and officials expect the death toll to rise, according to the Associated Press (AP). The quake struck at 3:27 a.m. local time. Its epicenter was just outside of Bingol, a city of roughly 250,000 people that is 430 miles east of Ankara.
The headmaster of Celtiksuyu Boarding School said that 198 students - ages 7 to 16 - were sleeping in the school's dormitory when the quake hit, according to the AP. Rescue workers have been trying frantically to rescue the students; so far, five students and one teacher have been found dead, said Bingol Mayor Feyzullah Karaaslan.
According to the AP, the prime minister said that the Celtiksuyu Boarding School had not been properly inspected and had been built with shoddy materials. "Investigations will be launched and the guilty will be prosecuted," he is quoted as saying.
Earthquakes are common in Turkey, which lies on the active North Anatolian fault. A 1971 quake in Bingol killed 900 people. And two massive earthquakes hit western Turkey in 1999, killing some 18,000 people.

Compiled by Greg Peterson
Links:

AP news story

USGS Earthquake Hazards Program description of the earthquake

ReliefWeb: Turkey, information about relief efforts in Turkey.
---