---
Web Extra Monday, May 5
---
Old Man of the Mountain is down
New Hampshire's venerable profile of the Old Man of the Mountain fell last weekend as a result of erosion beating almost a century of human efforts to secure the granite overhang to Cannon Mountain. Beginning as early as 1916, the state has used steel buckles to prevent the rock precipice from falling off the cliff face. In 1937, the state began using epoxy to help seal cracks as they developed. But the freezing and thawing cycle, which originally helped to form the profile that became the state symbol, ultimately also caused its demise.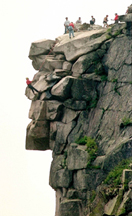 At left, the current view of the scarp face and, at right, the Old Man of the Mountain with climbers working in the 1990s to help secure the granite profile (AP Photos).
State geologist David Wunsch of New Hampshire explained that most granite features are smoothed down over time and that the Old Man had become the exception rather than rule. "It was only matter time before physical processes would loosen him up to become unstable," he says. Rock climbers that spent Friday night at the base of a trailhead to Cannon Cliffs later told local reporters that they had heard a rumble between midnight and 2 a.m.

Upon learning of the fall from park officials Saturday morning, Wunsch and Brian Fowler, president of the engineering and geology consulting firm North American Reserve, flew by helicopter to investigate the scarp site. In 1980, Fowler had reported that the granite feature had an equal amount of driving forces acting upon it to bring it down as it had resistant forces helping to keep it up. "We concluded after a year's worth of measuring and analyzing the granite, that the stability of the profile was very delicate and even fragile," Fowler says. His team's work at the time helped prevent destructive blasting that would further damage the structure during highway construction through the town of Franconia.

"Fortunately this didn't happen because of blasting, but because of the natural processes of weathering of granite," Fowler says. The freezing and thaw cycles on mountainside he explains, "changed the strength and characteristic of the rock underneath the profile which compromised its structural support." He called the collapse a "toppling failure and not a sliding failure." Based on the evidence of fine granite debris, or grus, still remaining on the scarp face, the Old Man of the Mountain toppled off of the cliff with its forehead falling first and the rest rolling with it rather than the chin giving way and the whole head sliding down the cliff.

Visitors to the geologic site are leaving flowers in remembrance to the Old Man of the Mountain.
Christina Reed
Links:

New Hampshire Division of Parks and Recreation
---