---
Web Extra Friday, May 23
---
Death toll approaches 1,500 in Algeria quake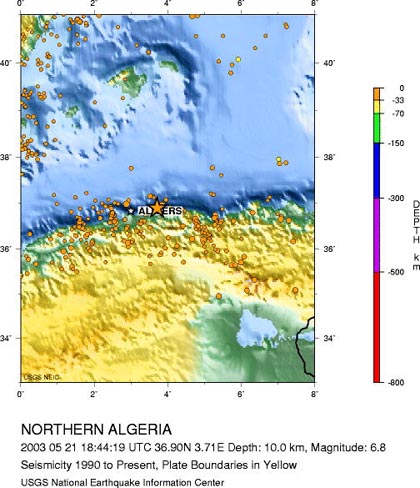 Algeria's most devastating earthquake in two decades hit at 7:44 p.m. on Wednesday. Its epicenter was about 45 miles east of Algiers, the North African country's capital. Nearly 1,500 people died in the magnitude-6.8 earthquake, and more than 7,000 were injured, according to the country's Interior Ministry.
In Boumerdes, one of the worst-hit districts, bodies have been lined up outside hospitals and patients are being treated in the open air, according to a BBC News report.
While most of the damage occurred east of Algiers, officials say that at least 400 people died in the capital itself.
Rescue workers are still searching through the rubble for survivors, although the chances of finding any have grown slim. One official said that rescue workers in the Boumerdes area have switched from listening for calls from survivors to honing in on scents emanating from decaying bodies, according to the Associated Press.

The earthquake was so powerful and far-reaching that it sparked seven foot waves in the Mediterranean more than 150 miles from the qauke's epicenter, damaging boats off of Spain's Balearic Islands.
Earthquakes occur frequently in this region, which sits at the boundary between the Eurasian and African plates. According to the U.S. Geological Survey in Denver, Colo., the African plate is moving northwest against the Eurasian plate at about 6 millimeters each year, triggering both thrust faults and strike-slip faults. An analysis of seismic waves from the recent quake reveals that it resulted from thrust faulting.

On Oct. 10, 1980, a magnitude-7.1 earthquake struck the city of El Asnam (known today as Ech-Cheliff), killing at least 5,000 people. That quake hit about 135 miles west of the recent quake. And on Oct. 29, 1989, a magnitude-5.9 earthquake struck about 70 miles west of the recent one, killing at least 30 people.

Compiled by Greg Peterson
Links:

USGS Earthquake Hazards Program — description of the earthquake

ReliefWeb: Algeria — information about relief efforts in Algeria
---