---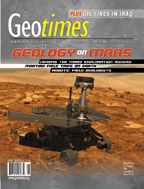 What's in the print version of Geotimes this month ...
---
May 2003
vol. 48, no. 5

FEATURES

18 Landing the Mars Exploration Rovers
Deciding where on Mars to land each of the two exploration rovers has occupied more than two years of research and analysis.With the help of the planetary sciences community, mission planners have narrowed the field from hundreds to two.
Matthew P. Golombek, et al.


Click the image above to view a high resolution version of the cover.

24 Martian Field Trips on Earth
From dunes in the western United States to acid lakes in Australia, planetary geologists are looking here on Earth for clues to Mars' geologic past and present.
Geotimes staff



30 Technology: Robotic Geologists Take to Mars
Next month, the first of two twin robotic geologists will head to the Red Planet, armed with a suite of tools for conducting geology on the harsh martian surface.
Lisa M. Pinsker
---
NEWS & VIEWS


---

5 COMMENT
We Can All Go to Mars
Human exploration or robotic? Two leaders of the Planetary Society suggest how to realize a combination through the Mars Outposts proposal.
Louis D. Friedman and Bruce C. Murray


6 NEWS NOTES
The drilling footprint on the North Slope * A new trigger for Ice Age retreat * Molten martian core * Mayan drought * Managing freshwater around the world


13 POLITICAL SCENE
Another Stab at Energy Legislation
With Republicans now in control of both chambers, energy legislation is a top priority of the House and Senate leadership.
David Applegate

14 GEOSCIENCE EDUCATION
A Profile of U.S. Geoscience Faculty
An annual survey provides detailed demographic data for exploring trends among faculty at U.S. universities.
Nick Claudy


34 GEOPHENOMENA In Iraq
Burning assets * Navigating dust

48 GEOLOGIC COLUMN
All About Steve (and Darwin)
This just in: Almost 300 Ph.D. scientists named Steve support evolution education.
Glenn Branch and Skip Evans

DEPARTMENTS


---

2 From the Editor
4 Letters: Perspectives from readers
32 Where on Earth?
33 Profiles: Carolyn and Barb Tewksbury
36 Benchmarks: Looking back in Geotimes
37 Energy & Resources: Salt
38 Geomedia
42 GeoMarketplace
44 Classified Ads: Career Opportunities
47 Contributors Page

Want to attend a geoscience meeting? Visit the online Calendar.






---