---
Web Extra Monday, May 24, 2004
---
Today's volcano risks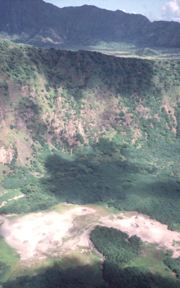 At any given time, 20 volcanoes are erupting somewhere in the world. Some, such as Italy's Stromboli, have been erupting for more than a thousand years. Others, like Anatahan in the Mariana Islands and Karymsky in Russia, are relative newcomers. And according to this week's volcanic activity report, produced by the Smithsonian National Museum of Natural History and the U.S. Geological Survey (USGS), Anatahan and Karymsky are only two of 18 volcanoes continuously erupting today.

Although the 18 erupting volcanoes are concentrated in the Pacific Rim, they pose no small threat, considering thousands of passengers and millions of dollars in cargo fly over the North Pacific each day, according to USGS. And with the Federal Aviation Administration (FAA) projecting that air traffic over the Pacific will continue to rise more than 5 percent annually, scientists are working to develop a reliable system to divert planes around erupting volcanoes.

Recently, Anatahan Volcano in the Mariana Islands has rumbled to life. Prior to the eruption, the volcano was covered in hot springs and fumeroles. Photo courtesy of the Hawaiian Volcano Observatory, USGS.
About 25,000 large commercial planes fly over or near the Mariana Islands each year, where the Anatahan volcano began erupting on March 30, according to USGS. In April, the Emergency Management Office of the Mariana Islands placed the 9-kilometer-long island, which is located about 320 kilometers north of Guam, "off-limits" until further notice and directed aircraft to pass upwind of the volcano. Ash and steam clouds have risen several hundred meters above the 788-meter-high volcano, according to the Smithsonian/USGS weekly volcanic activity report. Additionally, explosions have spewed volcanic materials, including lava, hundreds of meters out of the crater. The greatest potential risk from Anatahan's eruption is to aircraft passing downwind of the stratovolcano, according to USGS, as conditions can change rapidly and the volcano could suddenly erupt.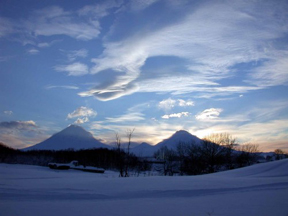 Aircraft are also being diverted around Karymsky volcano on the Kamchatka Peninsula in Russia. Karymsky is the most active volcano of Kamchatka's eastern volcanic zone — a highly active volcanic region — along the Pacific Rim, a ring of active volcanoes surrounding the Pacific Ocean. Since early May, seismicity has been well above background levels, with 330 to 450 shallow earthquakes occurring daily. On May 8, an ash plume extended more than 16 kilometers northeast of the volcano, according to the weekly volcanic report, and intermittent explosions have occurred with no warning, sending ash 5,500 meters into the air. USGS classified Karymsky, a stratovolcano, as a "code orange," meaning that the volcano is erupting or an eruption may occur at any time.

Karymsky, a stratovolcano on Kamchatka Peninsula in Russia, began erupting the first week of May. Since then, planes flying over the north Pacific have been diverted. Photo courtesy of the Alaska Volcano Observatory, USGS.

In the past 20 years, more than 80 commercial aircraft have unexpectedly encountered volcanic ash clouds in flight, according to the National Oceanic and Atmospheric Administration (NOAA) and USGS. The planes have suffered extensive and costly damage, including abrasion to the forward-facing parts of the plane — cockpit windows, leading edges of wings and engines — and some have had all engines fail, with near-catastrophic consequences. One reason for the ash-cloud encounters is that to pilots in flight, ash clouds can resemble normal clouds, said Milton Garces, an oceanographer and volcanologist at the University of Hawaii, in a previous interview with Geotimes.

In order to avert ash-cloud fly-throughs, nine regional volcanic ash advisory centers monitor volcanic ash plumes within their airspace and alert airlines of potential danger. The centers use seismic equipment to monitor volcanic unrest and divert planes around any volcanoes exhibiting such signs of activity. Frequently, however, volcanic unrest does not culminate in an ash cloud eruption so planes are expensively diverted, somewhat unnecessarily, Garces said.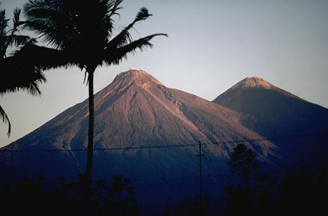 To that end, some scientists are developing another technology, called infrasound, to further help determine when there's a potentially dangerous ash plume. By measuring low-frequency sound waves traveling through the atmosphere, the technology may be able to detect ash clouds with more accuracy than traditional seismic instruments, Garces said.

Fuego Volcano in Guatemala, one of three active volcanoes that overlooks the heavily populated city of Antigua, continues to show signs of unrest. The volcano has produced several large ash plumes reaching nearly 2 kilometers above the volcano, as well as lava and a hot mudflow (lahar). Central America is a hotbed of volcanoes. Photo courtesy of the Global Volcanism Program.

This June, USGS, NOAA and the FAA, among other agencies and airline companies, will be meeting in Alexandria, Va., to discuss volcanic ash and aviation safety and possible beneficial new technologies, including infrasound. The theme: avoiding airborne volcanic ash anywhere in the world.

For now, scientists keep monitoring the world for erupting volcanoes and commercial airplanes are being diverted around potential danger spots in the Pacific and Central America. They have their hands full, with four new volcanoes entering eruptive phases — showing increased seismic activity, ash or steam releases or other eruptive behavior — only last week.
Megan Sever

Links:
Volcanic Ash Advisory Centers
USGS Volcano Hazards Program
Volcanic Activity Report

---