---
News Notes
---
Environment
More mercury in unexpected places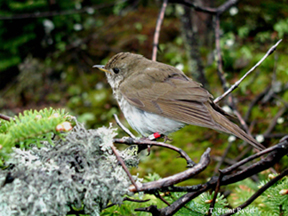 The Northeast contains known mercury hotspots and power plants that burn mercury-laden coal, so it should come as no surprise to researchers that ecosystems in the region hold many telltale signs of mercury accumulation. But, as policy-makers debate new control measures for mercury emissions, a series of studies has painted a picture that shows mercury contamination reaches even further than previously documented.

Scientists have found that Bicknell's thrush, pictured here, and other animals that live in mountain forests in the northeastern United States and Canada have unexpectedly high levels of mercury in their tissues. Image courtesy of the Vermont Institute of Natural Science. Copyright T. Brant Ryder.

Some of the most important results include mapping "biological hotspots," where high levels of mercury have been documented in nonaquatic birds and other unexpected animals, says Dave Evers of the BioDiversity Research Institute, in Gorham, Maine, who helped organize the publication of 21 papers in the March issue of Ecotoxicology. Most mercury research has focused on aquatic systems, where methylmercury, a toxic form of the metal, accumulates in fish tissues and can ultimately affect people who eat the fish. But the recent work has shown that terrestrial systems require more attention, Evers says.

For example, high levels of mercury in insect-eating songbirds, such as Bicknell's thrush, show that mountain forest ecosystems have a high amount of mercury accumulation, most likely from deposition in soils and plant material. The birds could be taking up mercury from insects that picked it up in detritus or elsewhere in the ecosystem — in a nonaquatic-ecosystem example of bioaccumulation, with higher and higher concentrations of the toxin in the tissues of animals at the top of the food chain.

The newly amassed research — gathered by authors from federal and state organizations, private research companies and universities — provides a baseline of mercury levels for the northeastern United States and Canada, says Tom Clair of Environment Canada in Sackville, New Brunswick, also involved in shepherding the papers' publication. That baseline also shows that mercury is accumulating in areas that are far away from point sources, Clair says. Most point sources, such as paper-making plants that once discharged mercury-containing waste into rivers or power installations that used to release the metal into the atmosphere, have been cleaned up in the past 30 years, he says. Still, sites near current point sources are "not necessarily where you are going to get the most deposition or accumulation," Clair says, as shown by the newly gathered data, which maps downwind effects far from urban centers and other sources.

The new work also shows long-term trends of deposition in the Northeast, which peaked in the 1980s and have since waned and then plateaued, with the introduction of technologies, such as scrubbers in power plants, to comply with clean air regulations. But the researchers have found short-term seasonal trends for the Northeast that include higher deposition rates in late spring and summer.

Michael Aucott, an environmental scientist at the New Jersey Department of Environmental Protection, says the studies confirm some recent findings in New Jersey, including peak deposition rates in the 1960s and 1970s, and a large overall increase in deposition in the 20th century, as indicated by sediment samples. New Jersey seems to have similar seasonal variations in deposition, he says, only shifted to summer and early fall. "I don't know if anyone really knows why that is," Aucott says, and the group's findings "should generate good future research."

"This is a monumental effort that this rather large group of scientists undertook to compile and synthesize it all," says Mark Brigham, who coordinates nationwide mercury studies for the U.S. Geological Survey. And, Aucott says, the body of work should be useful for future environmental policy-making.

Authors of one paper in the suite review the strategies that an association of New England states and Eastern Canadian provinces have been developing since 1998, noting that their goals for mercury cuts have been "more aggressive" than those of the federal government. The association has aimed to reduce anthropogenic mercury releases by 75 percent by 2010.

Meanwhile, the U.S. Environmental Protection Agency signed a new rule on March 15, setting out the United States' goals for mercury reductions of 70 percent of 1999 levels, by 2018 (see story). Nine states filed a lawsuit on March 29 challenging the rule, which uses a cap-and-trade system to reduce emissions, rather than rules requiring use of the best available technologies already recommended under the Clean Air Act.
Naomi Lubick

Links:
"Clear Skies Clouded in Legislative Discontent," Geotimes, May 2005

Back to top

---