---
News Notes
---
Science policy
Yucca mountain e-mails reviewed

The content of e-mails sent by U.S. Geological Survey (USGS) employees that raised concern over work at Yucca Mountain — site of the controversial future nuclear waste repository in Nevada — should not affect the final scientific assessments of the site, according to an analysis released Feb. 17.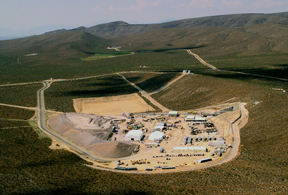 After decades of geological work assessing Yucca Mountain for storing nuclear waste in Nevada, the official federal review process for opening the site began in 2002. An accompanying examination by the Department of Energy (DOE), as part of a required U.S. Nuclear Regulatory Com-mission review, revealed a series of e-mails sent by USGS employees from 1998 to 2001 that threw the quality of their work into question — and even suggested sabotage (see Geotimes, May 2005). After more than a year of analysis, DOE's Office of Civilian Radioactive Waste Management has released its report on the potential impact of the e-mails.
A recent report says that some controversial e-mails sent between scientists working on water infiltration issues at Yucca Mountain in Nevada should not affect the scientific assessment of the nuclear waste repository planned there. Image is courtesy of DOE.
The DOE review shows that the science remains valid with regard to technical issues on modeling and measuring net infiltration of water into the rocks at the site. Although the DOE team did not rerun the USGS models, the report found that the scientists' results fell within the same range of other outside researchers' results in the region, despite statements that could be construed that they fabricated data or other information pertinent to the work. The USGS employees' sentiments expressed in the e-mails, however, could still impact several key problems DOE must address, to complete permitting for Yucca Mountain, including scientific standards and the underlying causes of the employees' attitudes toward the work.
"I think the e-mails had more to do with frustration at the scientists' situation, versus any actual falsification of data results," says Allison Macfarlane, a geologist and policy specialist at MIT in Cambridge, Mass., who has followed Yucca Mountain proceedings closely. "They were frustrated with the lack of funding, lack of personnel and really short time frames that the schedule demands."
Still, Macfarlane also thinks that "there are issues with infiltration rates that haven't been answered yet," which are outside the work done by these particular geologists and "a bigger deal" than the e-mail messages. Additional scientific problems include radiation standards and a nuclear waste packaging redesign under way for the site.
The Department of the Interior continues its own investigation into the USGS employees' e-mails and their potential impact, expected to be completed later this year. A USGS spokesperson said that the agency "is pleased that the DOE recent finding supports the technical soundness of the infiltration modeling work."
Naomi Lubick

Links:
"Falsification alleged at Yucca Mountain," Geotimes, May 2005

---