---
Society Page
---
News about people and
announcements from
AGI's 35 member societies
______________________
To post news in Society Page, send e-mail to geotimes@agiweb.org with the subject: Society Page.
Contents:
On Nov. 12, the American Geological Institute (AGI) will present its Legendary Geoscientist Award to Konrad Krauskopf of Stanford University. Krauskopf earned his doctorate in chemistry at the University of California, Berkeley, in 1934 and his second doctorate in geology at Stanford in 1939. When he began his teaching career in 1939, geochemistry was a new term. Over a span of five decades, Krauskopf has "provided scientists with the original defining texts in geochemistry and physical geology," says Gary Ernst of Stanford University.

Krauskopf's detailed studies have illuminated the parageneses of granitoids and basement terranes in the Pacific Northwest, the volcanic eruptions of the Parícutin, Transmexican Volcanic belt, and the regional petrologic evolution of coastal Norway. Beyond his military service as a geologist in World War II, Krauskopf has also served the nation as chair of the National Research Council Board on Radioactive Waste Management.

In 1994, Krauskopf received the Mineralogical Society of America Distinguished Public Service Medal. He is a member of the National Academy of Sciences and served as president of AGI in 1964.


Konrad Krauskopf,
life-long geochemist
Photo courtesy of Krauskopf.
---
Breaking new waves
On Oct. 5, Steven Bohlen, currently associate chief geologist at the U.S. Geological Survey, accepted the position as president of the Joint Oceanographic Institutions (JOI) and executive director of the Ocean Drilling Program (ODP). He will join JOI/ODP on Nov. 27.

With the future of ODP transitioning in two years to the Integrated Ocean Drilling Program (IODP), in close cooperation with Japan, "contributing to the development of IODP will be a very challenging part of the job," Bohlen says.

As president of JOI, he says, he will provide opportunities for scientists to contribute to the broader vision and program initiatives of the ocean sciences in the context of what he calls the Earth Science Century ahead.

At the USGS, Bohlen has been responsible for $240 million of the research funds in the federal budget to support the work of 1,800 scientists and scientific support personnel. He has overseen the International Programs Unit and also the peer review of USGS research through the National Research Council of the National Academy of Sciences.

Bohlen was born July 12, 1952, in Indianapolis, Ind. He graduated from Dartmouth College in 1974 and received a Ph.D. in geochemistry from the University of Michigan in 1979. He succeeds Adm. James Watkins (U.S. Navy, retired) who stepped down on Oct. 1.


Steven Bohlen heads up JOI/ODP
Image courtesy of the USGS.
---

AGI's 1998-1999 Congressional Science Fellow, David Wunsch, has headed east from the Kentucky Geological Survey to begin his new position in the "Granite State" as New Hampshire State Geologist. "I spent the last 15 years in Kentucky working in sedimentary basins, and it will be a nice change to work in New Hampshire, which is underlain by crystalline rocks and Pleistocene deposits," he says.
He is looking forward to working with geologists and other scientists from both the public and private sectors in order to meet the state goals concerning resource management and geologic enterprise. "This is the ideal job because you can still be involved in the political scene and on the other side still have your hands on the professional side of geology," he says.
He would like to see the state mapped at the 1:24,000 scale to obtain a better resolution of what has already been mapped at a larger scale. He also hopes to raise the profile of the Geological Unit of the Department of Environmental Services in New Hampshire.
Image courtesy of David Wunsch.

---
The Association for Women Geoscientists (AWG) will present this year's Outstanding Educator Award to Suzanne O'Connell on Nov. 5 during the annual meeting of the Geological Society of America. O'Connell, an executive committee member of AGI, is currently taking leave from Wesleyan University in Middletown, Conn., to work with high school programs in the Center for Interdisciplinary Science at Trinity College in Hartford, Conn.

She is writing a proposal for Hartford high school students and Trinity undergraduates to work together on restoring the south branch of the Park River. "We'll be cutting down trees and fences, cleaning up junk and monitoring for flow, temperature and macroinvertebrate studies with the Department of Environmental Protection," O'Connell says.

At Trinity, O'Connell also works with nonscience classes, introducing students to the geology at the mouth of the Connecticut River.


Suzanne O'Connell explores the minerals at
White Sands Beach and Griswold Point on
Connecticut's Long Island shore.
Image courtesy of Duarte Machado.
---
AGI will award this year's Ian Campbell Medal to Luna Leopold, a professor emeritus at the University of California, Berkeley. He was chief hydrologist of the U.S. Geological Survey's Water Resources Division from 1956 to 1966, converting the division from one that primarily collected data to one that also conducted research. He also established two observational networks on rivers that still provide benchmarks for the study of airborne contaminants of surface waters. With his numerous publications and public leadership, Leopold has "led a quiet but complete revolution in our understanding of streams and their landscapes, urban watersheds and environmental impact and planning," says Ernest Mancini, chair of the nominating committee.

---
Cultivating honors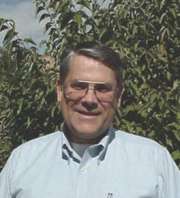 USDA soil scientist John Doran of the University of Nebraska-Lincoln will share the stage this month in Athens, Greece, with a former French president, Valery Giscard d'Estaing, and with Mikis Theodorakis, composer of the film score for "Zobra the Greek." Doran, who also joins the AGI Member Society Council in November, is the recipient of an Onassis Foundation Award. The late, Greek shipping magnate Aristotle Onassis established the foundation to recognize individuals and organizations in all fields who have made contributions to human interests.
The $240,000 award recognizes Doran's work developing accessible soil-quality indicators for farmers. He plans to give most of the money away to help scientists pursue sabbatical-like training missions with organizations dedicated to relieving global hunger and poverty. He points to the Land Institute in Kansas and Harvest the Hope in California as two examples of places scientists could study.
"My goal has always been to translate science into practice," he says. "We need to communicate with the urban sector of society the importance of soil not only for producing food, clothes and shelter but as a major interface in the planet." He also supports measures that will help farmers and other land managers receive adequate pay for their work.
Above: John Doran is sharing the wealth. Image courtesy of J. Doran.

---
Associate Editor Christina Reed compiles Society Page.