---
Web Extra
November 7, 2001
---
Paleontology
Fossil cockroach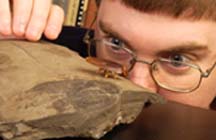 Scientists at Ohio State University discovered a 3.5 inch long, 300 million-year-old, fossil cockroach in a coal mine in northeastern Ohio. It is the most complete fossil of this ubiquitous insect ever found.
Cary Easterday, a geology graduate student at Ohio State, presented the fossil discovery at the meeting of the Geological Society of America in Boston this November. Aside from it being the largest, most complete fossil of its kind, the cockroach yields clues into the paleoenvironment of Carboniferous tropical swamps that covered the Midwest about 300 million years ago.
[Ohio State graduate student Cary Easterday compares a modern American cockroach to the 3.5-inch fossil cockroach. Courtesy of Joe McCulty, Ohio State University]
The unique conditions of these swamps preserved the cockroach and other organisms in fine detail. The antennae, legs, wings, as well as wing surface are visible in the fossil.
Easterday and Loren Babcock, his advisor and professor at Ohio State, hope to discover more fossils from the coal mine and to use them to understand the paleoclimate of the area.
Jann Vendetti
---