---
Energy & Resources
---
Coalbed Methane: The Future of U.S. Natural Gas?
Lisa M. Pinsker


---
Rising demand
Hydraulic fracturing
What's in a name?
Web links
---

Rising demand
Methane is a buzz word these days both in the energy community and on the Hill, where legislators are working to ensure the future security of energy resources in the United States. National demand for natural gas is increasing, with the resource now heating more than 50 percent of U.S. homes and fueling 95 percent of new power plants.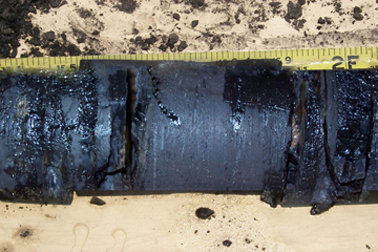 Speaking to congressional staffers at a briefing on Sept. 20, Rebecca Watson, assistant secretary for land and minerals management at the Department of the Interior, said that coalbed methane is the best source of energy to meet U.S. natural gas demand over the next five to six years. That projection was echoed at an energy and environment conference three days later held by the American Association of Petroleum Geologists (AAPG), where earth scientists referred to the new era of the "methane economy."

Hydraulic fracturing is necessary in order to extract natural gas from coalbeds. Shown here are fractures and cleats (joint systems along which the coal fractures) in a sample coal core. Photo courtesy of USGS.

Coalbed methane is the natural gas that lies trapped in coal seams at shallow depths. "It is different from other resources because it is both generated and stored within the coalbeds themselves. It also is an attractive resource because it occurs within coal, which is the most abundant fuel in the United States," said Patrick Leahy, associate director of geology for the U.S. Geological Survey, at the congressional briefing. Coal acts like a sponge, storing six times the volume of natural gas found in conventional reservoirs, Leahy explained.

Over the past 20 years, coalbed methane production has increased steadily due to its abundance and the relatively low cost of drilling at its shallow depths. As of 2000, coalbed methane accounted for 7 percent of the total U.S. natural gas production. Recent estimates put it at 9 percent of total U.S. natural gas production.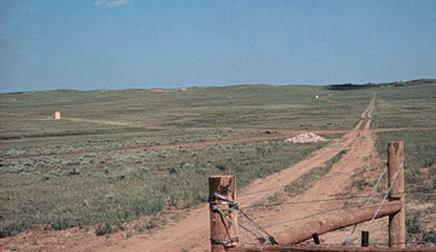 The San Juan Basin in Colorado is the world's most prolific coalbed play, but the Powder River Basin in Wyoming and Montana is the newest and most active coalbed play in the United States, Leahy said. Conservative estimates put about 700 trillion cubic feet of coalbed methane in place in the United States, of which 100 trillion cubic feet are economically recoverable with existing technology. Annual U.S. production now exceeds 1.25 trillion feet. According to the National Energy Technology Laboratory's Strategic Center for Natural Gas, the year 2001 saw 7,000 wells in the Powder River Basin producing 700 million cubic feet per day.

A coalbed methane wellhead dots the Powder River Basin. Extending over southern Montana and northern Wyoming, the Powder River Basin is the newest and most active U.S. coalbed play. Currently, the Bureau of Land Management is reviewing all 5,100 gas leases in the Powder River Basin. Photo courtesy of USGS.

Indeed, Peter Stark, of IHS Energy Group in Denver, told those attending the AAPG conference that the Rocky Mountain states hold the most potential for future gas supplies. However, he stresses that much of the federal land is out of bounds for natural gas development, and that various regulations make an estimated 43 percent of Rocky Mountain gas unavailable for drilling.

Citing current political tensions between the United States and foreign interests, AAPG speakers stressed the importance of developing domestic resources to ensure energy security. For natural gas, the United States is relying more and more on imports from outside the continent. However, Stark pointed out, North America has ample resources, just not proper access to those resources, creating what he called an urgent situation for domestic natural gas production.

With the rising natural gas demand, Stark said that the country will need to reach a target of 162 trillion cubic feet of natural gas by the year 2020. To do that, he says, the United States needs to develop 12 analogs to the Powder River Basin. "Unless there is continuous and sustained drilling, coalbed methane could peak as early as 2006."

Back to top

---
Hydraulic fracturing deemed safe

Hydraulic fracturing is a necessary step in extracting methane from coalbeds. But since 1997, when an Alabama Circuit Court of Appeals ruled that the state should regulate the hydraulic fracturing of coalbeds as an underground injection, citizens have expressed concerns that this extraction process may threaten the underground water supply. As a result, the Environmental Protection Agency (EPA) recently completed the first ever comprehensive assessment of the potential risks of hydraulic fracturing.

According to the EPA draft report released on Aug. 28, underground sources of drinking water are safe from fracturing in coalbed methane wells; the effects of hydraulic fracturing are small and do not merit further study. Despite the fracturing of thousands of coalbed methane wells each year, the report found no cases of drinking water wells contaminated by coalbed methane hydraulic fracturing.

To generate methane, coal must lie at least 200 feet below the surface and must be below the water table because the water acts to trap the gas. Therefore, the water must be released to allow the methane to migrate to the surface. In the absence of natural fractures, methane extractors themselves must fracture the coal seams — drilling a production well through the rock layers to intersect the coal seam that contains the gas, and then pumping water down the borehole to fracture the seam. A hydraulic fracture within the coal seam then acts as a conduit that allows the coalbed methane to travel up the well to the surface.

"In a million wells that have been hydraulically fractured over the years, not one has proven harmful to groundwater," said Christina Hansen of the Interstate Oil and Gas Compact Commission at a U.S. Geological Survey (USGS) congressional briefing in September. Hydraulic fracturing has been a common practice for 60 years, used on about 35,000 wells each year.

All that fracturing and extraction releases a lot of water — about 60 million gallons per day — that needs to be disposed of somehow. "The water varies in quantity and quality and from place to place," says Patrick Leahy, associate director of geology for USGS. In some places, the water is reusable for irrigation and livestock and in other cases, it goes back into the ground. Evaporation ponds are another common way to dispose of the water.

Although EPA, USGS and others have studied, and continue to study, the environmental impacts of the various water disposal techniques, the water issues surrounding coalbed methane continue to be contentious and stand at the heart of a legal and regulatory battle in Wyoming and Montana.

Responding to public environmental concerns and a pending lawsuit, the Bureau of Land Management decided in September to review all 5,100 gas leases in the Powder River Basin — scrutinizing the adequacy of the environmental impact statements for the region.

Back to top


---
What's in a name?

Not many people realize that coalbed methane is simply one form of natural gas. Now that coalbed methane is becoming more important in discussions of U.S. energy production, many people are calling for a name change to make the resource more recognizable to the public.

During a September meeting in West Virginia of industry and government representatives to discuss the growing demand for natural gas, West Virginia Gov. Bob Wise (D) suggested changing the fuel source's name to something more familiar. "Because this [fuel source] is now an important part of the total U.S. energy mix, the industry needs to move away from using its confusing short-hand term, 'coalbed methane.' The public understands the term 'natural gas' because they use it every day. That is why we are calling this resource 'natural gas' and identifying its source rock as coal seams," Wise said.

At a recent U.S. Geological Survey congressional briefing, Christine Hansen of the Interstate Oil and Gas Compact Commission (IOGCC) said IOGCC has adopted the phrase "natural gas from coal seams" to describe coalbed methane.

IOGCC, the Interstate Mining Compact Commission, the U.S. Department of Energy and the U.S. Environmental Protection Agency all co-sponsored the West Virginia conference. To learn more about the conference and name change, visit the IOGCC Web site.

Back to top


---
Links:

EPA report on hydraulic fracturing, now open for public comment
A Denver Post article on a recent ruling by the Bureau of Land Management about some leases in the Powder River Basin
Bureau of Land Management

Back to top
---