---
Travels in Geology November 2003
---
California cavernous treasures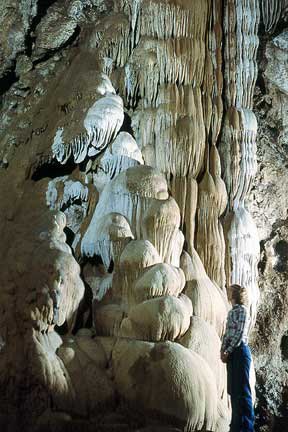 Take a trip to Middle Earth — no, not Tolkien's land of hobbits and elves, although the sites may not look too different from that fantasy world. Middle Earth is one area of the California Cavern in Calaveras County, Calif. And yes, that is the Calaveras County made famous by Mark Twain's jumping frogs. The cavern has also hosted such notable visitors as Bret Harte and John Muir.

California Cavern is imbedded in limestone beds beneath the Sierra Nevada foothills. Ten million years ago, hot brine pools formed, dissolving much of the limestone and leaving giant caverns, says Steve Fairchild, president and founder of Underground Adventures, which maintains the cavern and offers tours there. The limestone was then metamorphosed into marble with the emplacement of the immense Sierra Nevada batholith nearby. Speleothems began growing shortly after the caverns were formed, according to dating from stalactite and stalagmite growth rings.

Moaning Cavern's spectacular speleothems are other-worldly. Photo courtesy of Underground Adventures.
California Cavern first opened to the public after its discovery in 1850 by a miner, and is California's first cave on exhibit, according to Fairchild. A mining camp called Cave City was established around the cavern between 1859 and 1875, and early residents used the cavern for dances, religious services, town meetings and weddings; there was even a bar inside.
Now a popular tourist spot, California Cavern offers three walking tours, including the Middle Earth expedition.
The journey to Middle Earth is the longest tour, lasting three to four hours, and is more than a mile long. Tour operators warn visitors that they will get soaked to the skin and covered in mud on this expedition. The first hour of the trip is crawling and wiggling through passages that connect 13 chambers in the Mammoth Cave area. Explorers then pass into Middle Earth, a major cave that connects Mammoth Cave to another cave — the Cave of the Quills — that was found in the 1950s, Fairchild says. It is a large room filled with rare speleothems, such as beaded helictites (curved, twiglike deposits of calcite or aragonite). Here guides lead visitors through nearly knee-deep clay muck. The remainder of the journey consists of exploring horizontal fissures in the Cave of the Quills (named because of porcupine quills found at its mouth when it was first discovered) and an underground rafting trip across a 200-foot-deep lake in one of the caves.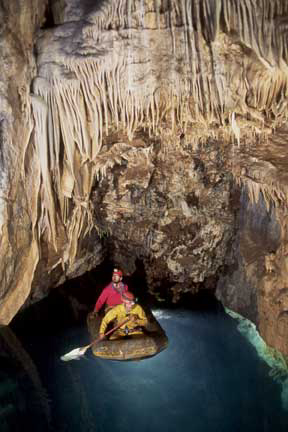 Underground rafting in California Cavern is certainly not an everyday experience. Photo courtesy of Underground Adventures.

Another tour, the Trail of Lights journey (aptly named because it is well-lit, in contrast to other trails), is more suitable for the entire family. The tour is a little more than an hour long and meanders over fairly level, lighted passages and walkways. Experienced guides lead groups into the recently discovered Jungle Room (named for the array of crystalline "vines" (stalactites) covering the ceiling), and they teach the history and geology of the cavern.

Winter and early spring are an interesting time to visit California Cavern, but you have to time it right, Fairchild says. The cave floods in the winter, usually around Jan. 1, and small clear pools cover the ground and provide an interesting glimpse into natural cave life. When the cave is completely flooded, the trails close so be sure to call ahead if visiting over the winter.

Moaning Cavern is not far from California Cavern and was discovered in 1851 by gold miners hoping to strike it rich. When the prospectors realized there was not significant gold, they abandoned the cave. Moaning Cavern was rediscovered in 1919, and legend has it that tourists were lowered into the cavern in ore buckets with only candles or whale oil lamps to light their way. The bones of about 100 humans were found at the bottom of the cavern, but don't worry, they weren't modern tourists — one skull was dated using uranium-thorium isotopes to be 13,000 years old!

Moaning Cavern is the largest single-chamber public cavern in California. The main room is large enough to fit the Statue of Liberty inside. The total depth of the cave is 410 feet, though family walking tours only descend 165 feet. The cavern was christened by early explorers who noticed a distant moaning sound emitting from the cave. The "moan" is created by echoes of drops of water, which falls into holes in a flowstone formation with a bottle-like shape, Fairchild says. The sound is similar to one you can make by blowing across the top of a partially full soda bottle, and the cave still moans today. "More like a booming echo," Fairchild says, "but still moaning."

As at California Cavern, Underground Adventures offers varying tours of Moaning Cavern. The Adventure Trip begins with a rappel 165 feet straight down into the main chamber of the cavern.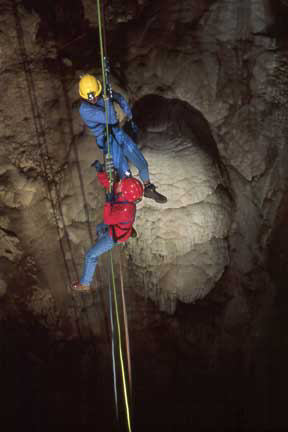 While visitors can stop there, it might be well worth spending a couple of hours exploring the deep chambers and passages that are mostly undeveloped — meaning there are no stairs, walkways or lights — with professional, experienced guides. At 310 feet below ground, explorers encounter the Pancake Room, Godzilla's Nostril, Roach Motel and Meat Grinder, among other interesting places, and will frequently be crawling on their bellies or wading through thick mud. The total trip is about three hours, and minors over the age of 12 must be accompanied by an adult (no one under 12 is admitted). All equipment is provided, and again, prepare to get dirty.

Beginning with a 165-foot rappel deep into the earth, a visit to Moaning Cavern is for the truly adventurous. Photo courtesy of Underground Adventures.

Moaning Cave is open to visitors every day of the year, and fall and winter are a great time to visit to avoid crowds, Fairchild says. November is also the month that offers the most exploration because the water table is at its lowest point, he adds. Moaning Cavern doesn't flood like California Cavern, but it does get wetter in the winter, and some treks will get very wet and muddy.
Both caverns also offer gemstone and gold mining, as well as aboveground nature trails with free trail guides to learn about the local flora and fauna, the Gold Rush, and the original human inhabitants of the area.
California Cavern and Moaning Cavern are about 150 miles from the San Francisco Bay Area, 70 miles from Sacramento and 100 miles from South Lake Tahoe. Nearby sites include Columbia State Historic Park, Big Trees State Park, Sutter Gold Mine and Bear Valley Ski Resort. What better way to begin — or end — an adventurous family weekend than by visiting the world's natural wonders?
Megan Sever
Links:

Underground Adventures in California

Back to top

---