---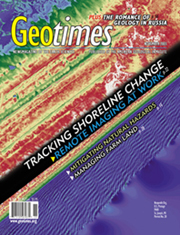 What's in the print version of Geotimes this month ...
---
November 2003
vol. 48, no. 11

FEATURES

14 SAR: A Versatile New Tool for Earth Science
Geoscientists are depending more and more on synthetic aperture radar's all-weather, day and night capability — using it to map digital topography, to study Earth as it moves and to detect and monitor floods, oil spills or storm damage as quickly as possible.
Rosalind T. Helz et al.



Click the image above to view a high-resolution version of the cover.

18 Snapshots from Space of the World's Continents
Mosaic images of entire continents can serve as benchmarks for monitoring global change.
Ahmed Mahmood et al.



22 LIDAR: Mapping a Shoreline by Laser Light
The days of collecting beach profile data solely in the field are gone. Now coastal geologists are looking to the skies, using a new radar tool to study changes to the shoreline over large areas.
James C. Gibeaut

28 Precision Agriculture: Changing the Face of Farming
Commercial farms around the world are changing, and remote sensing is beginning to play a large role. A new suite of technologies promises to help farmers better manage their crops at the scale of individual fields.
Doug Rickman et al.

---
NEWS & VIEWS


---

5 COMMENT
Civilian Agencies Implement the Bush Space Policy
In April, President Bush authorized a national policy establishing guidance for federal use of commercial satellite data. Civilian agencies must now examine their needs.
Ralph J. Thompson


6 NEWS NOTES
Tracing the Navajo sandstone * Tertiary is toast * Government peer review * Stuck between a rock and a cold place * Biosphere 2 bubble burst * Biblical tunnel timing * Turkish tectonics


13 POLITICAL SCENE
Our Public Lands
Managing public access and wilderness protection on federal lands is one of the most enduring policy-making challenges.
Larry Kennedy


32 GEOPHENOMENA
New pursuit of near-Earth asteroids * Finding faults in Washington

38 ENERGY & RESOURCES
Alaska's latest development stir * Mineral Resource of the Month: Silicon

40 GEOMEDIA
The Fossils of Florissant * Areal mapping applications

56 GEOLOGIC COLUMN
The Romance of Geology in Russia
In the 1960s, the Soviet Union was a vast expanse waiting to be explored. It was geologists who took the call, traveling to the farthest reaches of the country — inspiring a new generation of geological explorers.
Paul Belasky


DEPARTMENTS


---

2 From the Editor
4 Letters: Perspectives from readers
32 Where on Earth?
36 Profiles: Ed Roy
37 Benchmarks: Looking back in Geotimes
44 GeoMarketplace
45 Classified Ads: Career Opportunities
55 Contributors Page

Want to attend a geoscience meeting? Visit the online Calendar.


Tracing the Navajo sandstone, p. 6











---