---
News Notes
---
Environment
Fish advisories on the rise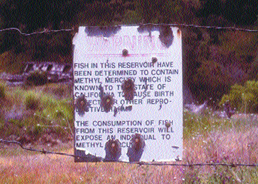 A new report from the Environmental Protection Agency (EPA) shows an all-time high in the number of fish advisories that warn of contamination from toxins, including PCBs and mercury, despite a simultaneous decrease in U.S. emissions. Nationwide, more than one-third of lake acres, one-quarter of river miles and almost three-quarters of coastlines are now under advisory. The report brings to the fore ongoing health concerns about the consumption of fish tainted with mercury, as well as the debate about the Bush administration's proposed rules to limit mercury emissions from coal-fired power plants.

Warnings against consumption of fish due to mercury contamination are increasing. Photo by David Krabbenhoft, courtesy of Sarah Gerould.

In August, EPA released the 2003 National Listing of Fish Advisories, the annual compilation of state and local warnings about contaminated fish in lakes, rivers and coastal waters. The District of Columbia, American Samoa and every state except Alaska and Wyoming issued 3,094 advisories, 280 more than in 2002 and 1,861 more than in 1993, the first year the advisories were compiled. Every year, the number of advisories has increased. At the same time, the National Oceanic and Atmospheric Administration has reported that fish consumption has also been on the rise in recent years.

Ninety-eight percent of the advisories dealt with just five persistent toxins that bioaccumulate, or increase in concentration up the food chain: PCBs (polychlorinated biphenyls), chlordane, dioxins, DDT and mercury. DDT has been banned since 1972, PCBs since 1977, and chlordane since 1988.

At a press conference and in a statement issued with the advisory report, EPA Administrator Michael Leavitt cited the bans, along with a 45-percent decrease in human-made mercury emissions between 1990 and 1999, as proof that increasing fish advisories are due not to rising pollution, but to increased monitoring. Additionally, he stated that no matter where states look, they would be likely to find mercury.

"EPA believes that the increase in advisories is primarily due to increased sampling of previously untested waters by states and tribes and not necessarily due to increased levels or frequency of contamination," the statement reads.

Karen Perry, deputy director of Physicians for Social Responsibility's Environment and Health Program, finds that notion disconcerting. "That's a problem: that there is so much mercury that it's going to be found everywhere, and that any fish anyone eats anywhere is going to be contaminated with it," Perry says.

Mercury occurs naturally in the environment and is emitted by coal-fired power plants, municipal waste combustion, medical waste incineration and chlorine production (see Geotimes, August 2003). It falls from the atmosphere into water bodies and is converted into methylmercury in the sediment. Fish take in the neurotoxin through their gills, whereupon it enters the food chain and bioaccumulates, resulting in larger fish having higher mercury levels than smaller fish.

According to the National Institutes of Health, the health effects of methylmercury exposure include damage to the nervous and digestive systems and to the kidneys. Mercury's negative impacts on brain development make exposure especially hazardous for infants, children, pregnant and nursing women, and women of childbearing age who may become pregnant.

Last March, EPA and the Food and Drug Administration (FDA) issued a combined fish consumption advisory for mercury. It recommended that people at risk not eat shark, swordfish, king mackerel or tilefish, which are known to have high mercury levels, and limit their consumption of low-mercury fish, such as shrimp, canned light tuna, salmon, pollock and catfish, to 12 ounces per week. It recommended no more than 6 ounces per week of albacore tuna, which can have mercury concentrations up to three times higher than chunk light tuna.

These guidelines, however, have come under criticism from both internal and external sources. EPA's own Children's Health Protection Advisory Committee recommended that the agencies consider not just mercury, but other pollutants as well. "While mercury is clearly a significant children's health problem, it is not the only contaminant of concern in fish," wrote Melanie A. Marty, the committee chair, to Michael Leavitt last June. The committee urged EPA and FDA to regroup and produce a joint fish consumption advisory that "addresses multiple contaminants."

That same month, Physicians for Social Responsibility joined with the Association of Reproductive Health Professionals to issue their own stricter guidelines — recommending no more than 6 ounces of low-mercury fish per week and only 1 to 2 servings per month of fatty fish that are high in PCBs, such as salmon, a low-mercury fish. Additionally, they recommend that children eat no albacore tuna at all.

These advisories come at a time of debate over the Clean Air Act (see Geotimes, October 2004). In 1990, amendments to the Clean Air Act addressed mercury emissions from combustion and incineration, resulting in the 45-percent decrease, but none addressed emissions from coal-fired power plants, which today produce 41 percent of human-made mercury emissions. EPA says it will promulgate a rule next March, using a cap-and-trade system to reduce emissions from coal-fired power plants by 29 percent by 2010, but will delay larger reductions of 69 percent until 2018. Opponents of the rule contend that a 90-percent decrease in mercury emissions from coal-fired plants could be achieved by 2008 with currently existing pollution-control technologies.

Sara Pratt
Geotimes contributing writer

Back to top

---