---
News Notes
---
Sedimentary geology
Earthly origin for desert formation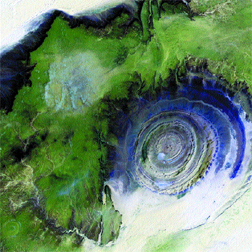 When humans first began to view Earth from the vantage point of space, a unique terrestrial formation started to gain fame. Resembling a bull's-eye measuring 40 kilometers across, the structure stands out in contrast to the backdrop of Africa's Maur Adrar Desert, and it has remained a popular photo opportunity for astronauts observing from space.

The Richat Structure in the Maur Adrar Desert, located in the Western Sahara in Mauritania, is frequently photographed from space. The formation resembles an impact crater, but researchers now say that the famous feature may be the result of magma fluids dissolving sedimentary rocks about 100 million years ago. Image courtesy of USGS EROS Data Center.

Ground observations, however, did not provide a consensus among researchers about the origin of the formation known as the Richat Structure. One hypothesis posited that it resembled an impact crater. Another said the concentric rings were the result of geologic uplift and erosion.
The uncertainty motivated Guillaume Matton, a geologist from the University of Quebec in Montreal, and colleagues to probe for clues beneath the surface. "When I first saw the pictures, I was intrigued by the unresolved mystery," Matton says. Now, researchers say that data collected from the expedition provides a more complete explanation for the Richat's origin.

As published in the August Geology, Matton combined analyses from new dates of rock types and structural features to craft a model that suggests that about 100 million years ago, magma deep below Earth's surface caused a dome-building event. Hot fluids from the magma made their way up through the structure where they dissolved and collapsed the sedimentary rock, leaving behind kilometric-scale fragmented and broken rocks.

According to Matton, the model provides a better understanding of the Richat, but "the origin of the magma at depth remains for a future debate." Future studies will focus on tectonic plate motion as a possible source of magma, he says, but getting below the sand poses a formidable challenge.

Kathryn Hansen


---