---
Geoscience Education
---
Students to Watch Fossil Discovery
Adam Rankin
At mid-morning on May 16, Barry Albright thought he knew exactly what he would find with his hammer and chisel in the stubborn Utah sandstone. Encased in the sedimentary rock were the fossilized bones of a hadrosaur, a large plant-eating, duck-billed dinosaur of the late Cretaceous.
Hard sandstone made digging difficult, and Albright anticipated that his labors would uncover only the hadrosaur skeleton. But, to his surprise, he also found dimpled blocks of fossilized skin impressions.
Schools with access to an analog C-band satellite dish will be able to tune in Oct. 25 and watch the scientists study the hadrosaur fossils. For download information and air times, visit www.blm.gov/education.
"I was just pounding on rock, really," says Albright, who is a curator of paleontology at the Museum of Northern Arizona. "We were using hammers, chisels and sledges to remove the matrix rock from around the main part of the bone so we could eventually get the bone back to the lab."

It was just a lucky hammer blow, he says, that revealed the hadrosaur's skin impressions within a chunk of rock. "It wasn't as if I saw this little horizon that looked interesting and started chipping away. We were just trying to move rock."

Albright's team was extracting the skeleton for closer examination this fall at the Museum of Northern Arizona's Flagstaff laboratory. On Oct. 25, the Bureau of Land Management (BLM), which funded the dig, and the Museum of Northern Arizona plan to broadcast live a portion of the lab work, giving upper-elementary and middle-school students a chance to interactively ask paleontologists questions as they prepare the bones.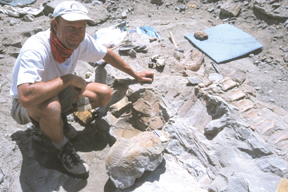 [Right: Barry Albright, curator of paleontology at the Museum of Northern Arizona, kneels beside part of a hadrosaur skeleton and in front of a patch of dinosaur skin impression. Courtesy David D. Gillette]
Finding dimpled blocks of fossilized skin impressions was completely unexpected, and these impressions will make October's live satellite broadcast more exciting because researchers believe more may be uncovered on the air.
The hadrosaur skeleton itself — which includes parts of the hip, a femur, part of a foot, and a 10-foot section of tail that is missing its tip — is already an uncommon discovery because it is the most complete dinosaur skeleton, and the first crested hadrosaur, ever discovered in southern Utah's Grand Staircase-Escalante National Monument, says Alan Titus, a BLM paleontologist with the monument. "Geology and paleontology were part of the reason this monument was established," Titus says.
This specimen is also special because many of the skin impressions were found in direct contact with the bone, so scientists can place with confidence the different scale patterns on particular parts of the dinosaur, Titus adds.
The specimen has two distinct skin patterns, says David Gillette, the dig's lead scientist and a curator of the Museum of Northern Arizona. A diamond-shaped pattern was found near the tail's tip, he says, while a more irregular and polygonal pattern was uncovered closer to the hip.
Fossilized skin impressions are a major discovery, says Paul Olsen of Columbia University's Lamont-Doherty Earth Observatory, because skin can provide more information about the biology of dinosaurs than bones alone, and skin impressions are rare finds. Gillette and his team, however, have not yet drawn any conclusions about the function of the hadrosaur's different skin types.
Located on Utah's Kaiparowits Plateau, the excavation site was already important, Titus says, because few articulated dinosaur skeletons (bones joined together) have been found in this region.
Titus was "soaring" from the discovery of the skeleton alone, he says. "And when they reported skin, I just couldn't believe it. I was blown away."
That's the reaction scientists and support staff from the Museum of Northern Arizona and the BLM are hoping students across the country will have when they tune into the live broadcast Oct. 25.
"Basically we are trying to give kids the idea that scientists don't know everything and they're doing inquiry all the time," says BLM education specialist Elizabeth Rieben, who is coordinating the broadcast. It is important for children to see that science can't always predict what it's going to find, she adds.
"This specimen provides a clear indication that indeed the monument does have important paleontological material, it is coming to the forefront now, and it provides a great opportunity for education and the scientific community," Titus says.
---
Rankin is a Geotimes contributing writer.
---