Society Page
---
News about people and
announcements from
AGI's 37 member societies
______________________
To post news in Society Page, send e-mail to geotimes@agiweb.org with the subject: Society Page.
Contents:
ODP welcomes a new leader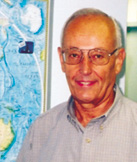 Daniel Weill, formerly a program director with the National Science Foundation (NSF), became director of the Ocean Drilling Program (ODP) in August.

Daniel Weill surveys a map of the globe. He is the new director of the Ocean Drilling Program. Photo by Kasey White

"I am delighted to be on board and looking forward to working closely with [Joint Oceanographic Institutions] colleagues and the ocean drilling science community and its sponsors to ensure a continuation of the splendid scientific contributions of the ODP and an efficient transition into the Integrated Ocean Drilling Program," Weill said.

Weill, who earned his Ph.D. in 1961 from the University of California-Berkeley in 1961, has spent the last 16 years directing the Instrumentation and Facilities Program in NSF's Division of Earth Sciences. Before he joined NSF, he managed the Geosciences Program in the Office of Basic Energy Sciences at the Department of Energy. He also served as a faculty member with the Scripps Institution of Oceanography and worked 20 years as a professor at the University of Oregon.

John Farrell, who has served as Acting Director of ODP for the past 18 months, will resume the position of U.S. Science Support Program Director and Associate Director for ODP.

Awards to professional geologists

The American Institute of Professional Geologists (AIPG) awarded John J. Dragonetti, senior advisor to the American Geological Institute's Government Affairs Program, its John T. Galey Sr. Memorial Public Service Award for 2001.

"John Dragonetti is noted for the attention and help he has given to state geological surveys across the nation and to his colleagues," says New York State Geologist Robert H. Fakundiny. The AIPG established its public service award in 1982 and later renamed it in posthumous honor of AIPG's fourth president, whose long professional career was one of service to both the geological and the general public.

Dragonetti, a native of New York City, was chief of the Bureau of Mineral Resources for the state's Department of Environmental Conservation Division. He served as associtate chief for the USGS Office of Earth Science Applications and then as assistant director for Intergovernmental Affairs. He joined AGI in 1995 upon his retirement.

AIPG also awarded its Ben H. Parker Memorial Medal to Susan M. Landon of Thomasson Partner Associates in Denver. "As President of AIPG in 1990, [Landon] naturally sought new challenges and innovative ways to serve the AIPG, innovative ways of operating in AIPG that now seem like standard procedure," says Susan Steele Weir, Past-President Association of Engineering Geologists. Landon was also the 1999 president of AGI.

William V. Knight, executive director of AIPG from 1989 to 1999, received the society's Honorary Membership Award. And Thomas G. Fails an independent petroleum geologist received AIPG's Martin Van Couvering Memorial Award, named in honor of the society's first president.


Accolades to a Maryland geologist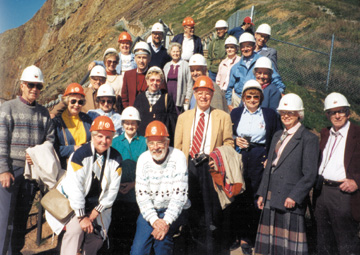 The American Geological Institute will award Kenneth Weaver of the Maryland Geological Survey its 2001 Ian Campbell Medal on Nov. 4 during the annual Geological Society of America meeting in Boston. Weaver retired from the survey in 1992 after serving as director and state geologist since 1963.
Ken Weaver, at front in a white sweater, leads a field trip to the Sideling Hill road cut in Maryland. Weaver oversaw construction of an exhibit at Sideling Hill. Photo courtesy of Weaver.
Weaver took his first geology course as a sophomore at Franklin and Marshall College in Lancaster, Pa., the same city where he was born in 1927. Weaver continued on, earning a doctorate in geology from The Johns Hopkins University. During the Korean War, he served two years in the U.S. Army's operations research office in Washington. Through his contacts at Johns Hopkins he found a job in 1956 working for a cement company in Cleveland, Ohio. But, following the death of state geologist Ernst Cloos, Maryland drew Weaver back.
In March Weaver finished 16 years as secretary of the Northeast Section of GSA. He has also served as chairman for committees with earth science societies, including the American Geological Institute, the Association of American State Geologists, GSA and the American Institute of Professional Geologists.
Before his retirement from the state survey, Weaver saw to completion an exposition center at a public rest stop along Interstate Route 68 in Maryland. "The state highway department was constructing an interstate road to western Maryland and, at Sideling Hill, this exposed a beautiful syncline with its axis right in the center of the cut," Weaver says. The center opened in 1991 and has since attracted an average of 500,000 travelers a year. "The syncline demonstrates folding of the Appalachians during a continent-submerging plate collision in the Permian. It's a good place to tell people about geology, people who don't know much about it from the word go," he says. "I'm really proud to have that kind of a thing in the state of Maryland and overjoyed that we could pull it off and had cooperation in the state to do that."
Weaver is the 20th recipient of the Ian Campbell Medal, which is given in recognition of distinguished individuals who have demonstrated a commitment to the geosciences.
"The medal is a memory of Ian Campbell, of his life and his work and given to people that exemplify his accomplishments," Weaver says. "He was one of the real leaders of geology."
The American Geological Institute (AGI) awarded four petroleum geoscience graduates from Azerbaijan one-year scholarships for study at Texas A&M University. This is the fifth year of the program, which also offers those who excel during the academic year a chance to participate in an active exploration team project as an intern in the offices of a sponsoring company. Funded by ExxonMobil and Chevron, the Azerbaijan Petroleum Geoscience Scholarship Program is meant to increase the supply of skilled technical personnel available to satisfy the growing needs in the Azerbaijan petroleum industry.

David Puls (center), an ExxonMobil geoscientist and the representative for the Azerbaijan Oil & Gas Academy, stands with Azerbaijan scholars, from left to right: Mekhti Yusifov, Khayyam Farzullayev, Farkhad Sadikhov and Kanan Aliyev.

Groat continues as USGS director
Secretary of the Interior Gale Norton announced Aug. 6 that Charles "Chip" Groat will continue to serve as director of the U.S. Geological Survey. "The President has accepted my recommendation that Dr. Groat continue to serve as USGS director," Secretary Norton said during a USGS employee meeting.
"Chip has an outstanding science management background and is the perfect director for USGS and for this administration." Groat has served as director of USGS since November 1998. Before joining the USGS, he served as associate vice president for research and sponsored projects at the University of Texas in El Paso, following three years as director of the Center for Environmental Resource Management. Prior to his time in Texas, Groat was executive director for the Center for Coastal Energy and Environmental Resources at Louisiana State University and was the Louisiana State Geologist. He was executive director of the American Geological Institute from 1990 to 1992. The second part of a two-part interview with Groat is online in the November 1999 Geotimes.
---
Associate Editor Christina Reed compiles the Society Page.