---
Travels in Geology October 2003
---
North Carolina's fossil gem

In a little-known town on the east coast of North Carolina hides a world class fossil collection. The Aurora Fossil Museum in Aurora, N.C., holds thousands of fossils found around the state over the past 30 years, including a one-million-year-old intact walrus skull and quite a few megalodon teeth and bones.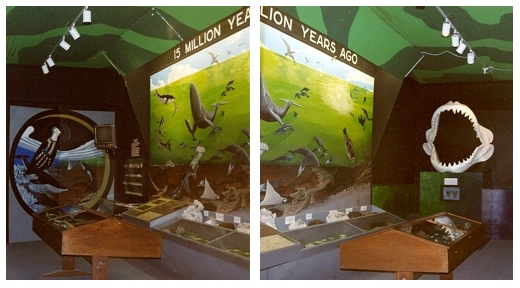 The museum houses a wide variety of exhibits, including a mastodon tusk, several shark teeth and shark jaws, mineral and gem displays, and a collection of Indian artifacts including arrowheads and primitive tools and weapons.

Part of the shark exhibit. Photo courtesy of the Aurora Fossil Museum.

"One of visitors' favorite aspects of the museum is the live dig site out back," says Curtis Ormond, the museum's executive director. The dig site is actually a pile of refuse from a nearby phosphate mine. Dump trucks bring in 15-18 loads of the "reject material" at least once a month, and visitors are encouraged to participate in their own discovery of the past by digging through the fossil-rich pile. Ormond and other staff members provide their own expertise and identification guides to aid hunters in identifying their finds. "And of course they get to keep whatever they find," Ormond says.

The museum has a geologist on staff, and several others who volunteer their time and expertise. Even the Smithsonian Institution pitches in occasionally, especially during the annual fossil festival.

Each Memorial Day weekend, the Aurora Museum hosts the fossil festival where numerous museums, including the Smithsonian, descend upon the town of 600 residents. The museums set up displays, and experts from around the world come to discuss recent fossil finds.

The museum, open since 1976, is dedicated to teaching the geology and geographical history of eastern North Carolina, which millions of years ago was undersea. Located on Main Street in downtown Aurora, the museum is looking to expand into a larger building. "We hope to have a live pit someday too," Ormond says. "One where visitors could see the actual formations from millions of years ago."

One recent expansion is the new learning center located across the street from the museum. Volunteer geologists teach classes — open to the public — on various topics near and dear to the heart of the museum, such as primitive weapons and fossils of eastern North Carolina during the Miocene, Pliocene and Pleistocene.

The fossil festival is the most exciting time to visit the museum, Ormond says. But he welcomes visitors any time of the year.

The museum is open Monday through Saturday, 9:00 a.m. through 4:30 p.m. Admission is free, and school groups are welcome anytime, though they should call ahead.

Megan Sever

Links:

Aurora Fossil Museum

Back to top

---