---
Web Extra Monday, October 20, 2003
---
Settlement reached on coal slurry spill

On Oct. 11, 2000, 250 million gallons of coal slurry poured out of an impoundment in southeast Kentucky near the border with West Virginia, gushing into nearby yards, roads, creeks and rivers and destroying life in 75 miles of waterways. Nearly three years later, to the date, the State of West Virginia settled a lawsuit against the coal company responsible for the spill.

Of the more than 700 coal impoundments in the United States — most of which are in West Virginia, Pennsylvania, Kentucky and Virginia — at least nine failures have occurred, according to the National Research Council. Those failures resulted in extensive property damage and environmental contamination, and in one case, loss of human life. Impoundments hold coal slurry, a thick, sludge-like mixture of water, coal waste particles, rock and clay generated from the process of cleaning coal.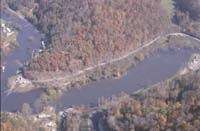 The Kentucky impoundment sat atop an abandoned underground coal mine, so when the floor collapsed, the sludge flowed into nearby creeks and tributaries of the Tug Fork of the Big Sandy River. The Big Sandy River, which divides Kentucky and West Virginia, supports fisheries in its upper reaches and heavy barge traffic downstream where it joins the Ohio River and provides electricity and water to residents in both states.

Aerial photo of Coldwater Creek less than 5 miles from the origin of the spill shows the width of the coal sludge overtaking the natural creekbed. Photo courtesy of the Southern Alliance for Clean Energy.

The trial was scheduled to begin Oct. 14 in Wayne County, W.Va., but on advice from legal counsel last week, the West Virginia Department of Environmental Protection (DEP) and Division of Natural Resources (DNR) settled the suit for $600,000. Martin County Coal Co., responsible for the impoundment, will pay $316,000 to the DEP for its Water Quality Management Fund and $284,000 to the DNR for its Aquatic Life Fund.

According to a press release from DEP, it and the DNR "were able to fully recover the costs of responding to the spill and to reimburse the state for the aquatic life killed by the slurry." At least 385,000 fish were lost due to the spill.

DEP also originally sought civil penalties for water pollution and negligence, as well as monetary damages for the lost opportunity to fish the Tug Fork while the river was recovering. But in separate rulings over the last year, Wayne County Circuit Judge Darrell Pratt ruled that the agencies could not recoup damage costs for water pollution that was caused by a company in another state. He also ruled that costs for the loss of anglers' time and yield could not be pursued in the lawsuit.

West Virginia DEP Secretary Stephanie Timmermeyer told Greenwire: "There was no way we could prevail in court." So a settlement was reached, though it was not the first choice of the agencies. Both DNR spokesman Hoy Murphy and DEP enforcement coordinator Mike Zeto said the reimbursements from the settlement for their agencies would fall short of their total costs.

Shortly after the spill, the Environmental Protection Agency (EPA) ordered Martin County Coal to"remove waste materials that had been discharged; restore the impacted rivers and streams and adjacent areas; and offset any temporary or permanent impacts to the environment." This included restoring the river beds and ecosystems after cleanup was completed. Massey Energy, the parent company of Martin County Coal, has reportedly spent at least $46 million in cleanup and has begun restoration efforts. Additionally, in a 2002 settlement, Massey agreed to pay the State of Kentucky $3.25 million in damages and penalties. The state is now reviewing the restoration plan.

Called one of the worst environmental disasters ever in the southeastern United States by EPA, the October 2000 spill prompted Congress to ask the National Research Council to examine ways to reduce the potential for similar accidents in the future.

The report, Coal Waste Impoundments: Risks, Responses, and Alternatives, published in 2002, examines engineering practices and standards applied to coal waste impoundments, and considers options for evaluating, improving and monitoring the barriers that retain coal waste impoundments. The report also details alternative technologies that could reduce the amount of coal waste generated or allow productive use of the waste, and alternative disposal options for coal slurry. These recommendations, the authoring committee said, could substantially reduce the potential for uncontrolled release of coal slurry from impoundments.

Megan Sever

Links:

"Storing Coal Slurry," Geotimes, December 2001
West Virginia Department of Environmental Protection
2002 NRC Report Coal Waste Impoundments: Risks, Responses, and Alternatives
Kentucky Department of Environmental Protection

Back to top

---