---
Web Extra Friday, October 1, 2004
---
Mount St. Helens could erupt in days to months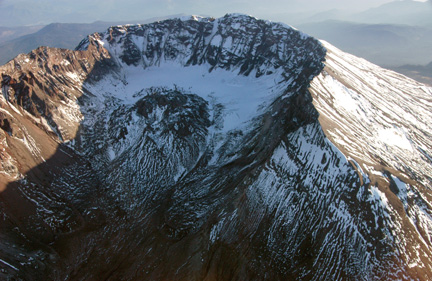 In the next few days to a month, there's a 70 percent chance that a small to moderate eruption event will happen at Mount St. Helens, site of the violent and deadly eruption of May 18, 1980, according to an announcement yesterday by researchers at the U.S. Geological Survey's (USGS) David A. Johnston Cascades Volcano Observatory (CVO), in Vancouver, Wash.

"But that also means there's a 1 in 3 chance that nothing is going to happen," said Cynthia Gardner, a CVO geologist, at Thursday's press conference. "That word has to get out too."

Scientists now say that Mount St. Helens in Washington State, the most active volcano in the Cascade Range, has a 70 percent chance of erupting in the next few days to a month. Shown here is an oblique aerial photograph of the north flank, crater, lava dome and new glacier (behind dome). U.S. Geological Survey photo taken on Sept. 26 by John S. Pallister.

Based on models of other volcanic events, researchers say that the event could possibly include any or all of the following: further build-up of the lava dome, which formed in the crater between 1980 and 1986; possible lava flows outside the crater, explosive eruption with ballistic rock fragments (from inch to fist-sized) that could be flung up to 3 miles outside the crater; and an ash plume ejected to an altitude of hundreds of feet to 20,000 or 30,000 feet. Researchers said that the latter is the main concern, as it would be hazardous for aircraft. Gardner said CVO is working with the National Weather Service regarding wind forecasts.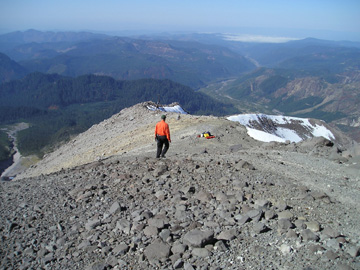 The Johnston Ridge Observatory Visitor's Center, 5 miles away, is the nearest structure to the volcano. It remains open and, according to Roger Peterson of the U.S. Forest Service, has been drawing crowds of 150 to 1,000 onlookers a day to gaze into the amphitheater-shaped breach of the northwest flank left by the devastating May 1980 eruption. All trails and backcountry campsites in Gifford Pinchot National Forest, which contains the mountain, however, have been closed, Peterson added.

Throughout the week seismicity has been "ramping up, and plateauing" repeatedly, Gardner said, at the highest level since 1998. It started last Thursday, Sept. 23, with an outbreak of small, shallow earthquakes. On Sunday, researchers set the alert level to level one — Notice of Volcanic Unrest. Activity then increased such that by Wednesday they raised the alert level to level two — a Volcano Advisory, which is issued when "monitoring and evaluation indicate that processes are underway that have significant likelihood of culminating in hazardous volcanic activity but when the evidence does not indicate that a life- or property-threatening event is imminent."

A U.S. Geological Survey scientist stands on the West Ridge of Mount St. Helens this past Tuesday — one of many volcanologists watching the volcano and trying to undertsand its current activity. USGS photo taken by Mike Poland and Dan Dzurisin.
As of Thursday afternoon, seismologists at CVO and the University of Washington's Pacific Northwest Seismograph Network were recording three to four small earthquakes per minute with magnitudes increasing, from less than 2.0 earlier in the week, to as large as a 3.3 on Thursday morning. Larger magnitude quakes in the range of 3.0 to 3.3 were happening every three to four minutes.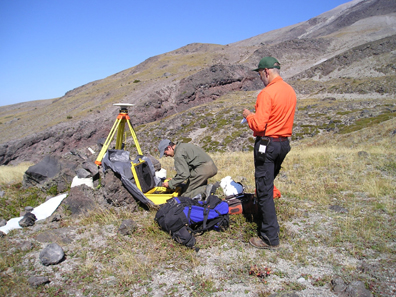 Researchers said that the increased frequency and magnitude of the seismicity indicates potential magma involvement under the lava dome. "Our hypothesis now is that there is some magma involved but that that magma is largely degassed," Gardner said.

According to Bill Steele, information director at the University of Washington's Pacific Northwest Seismograph Network, researchers previously suspected the movement of steam or water below the lava dome to be causing earthquakes. This idea was based on lower magnitude and frequency of the quakes, the absence of magmatic gases (such as carbon dioxide, sulfur dioxide and hydrogen sulfide) in the air above the crater, and the fact that the Northwest experienced an unusually rainy and wet August.

U.S. Geological Survey scientists set up a GPS unit on the flanks of Mount St. Helens, north of Butte Camp, to help better monitor its recent activity. USGS photo taken on Sept. 28 by Mike Poland and Dan Dzurisin.

"With steam, we would have expected fracturing and one to one and a half days of activity," Gardner said, "but certainly not five or six days. [Steam] may be part of the equation but not all."

Three flights this week over the crater have so far detected no magmatic gases. Degassed magma would create a much less explosive eruption, while gaseous, volatile magma would create a much more violent eruption. The scientists said that they plan to use thermal imaging technology today to determine the temperature of the lava dome, which will be a better indicator of the presence or absence of magma.

Early in the week, researchers detected about 1.5 inches of deformation on the lava dome using a GPS monitor. Additional monitors are on the lip of the crater and the flanks of the volcano. No deformation has yet been detected on the flanks, which would be an indication of deeper activity, Gardner said. Prior to the 1980 eruption, the north flank of the volcano bulged outward nearly 450 feet. For safety reasons, geologists are no longer hiking into the crater; however, data from the most critical GPS sensors can be collected remotely.

Researchers emphasized they expect nothing like the cataclysmic eruption of May 18, 1980, that blasted away the entire top and northwest face of the mountain releasing 24 megatons of thermal energy, ejecting ash and debris 80,000 feet into the air, and lowering the summit elevation by more than 1,300 feet. The resulting pyroclastic flows, landslides, and lahars (mudflows) were some of the largest in recorded history. The eruption claimed the lives of 57 people, including 30-year-old USGS volcanologist David A. Johnston, who was monitoring the volcano that morning from the ridge that now bears his name.
Sara Pratt
Geotimes contributing writer
Naomi Lubick contributed to this report.

Links:
Mount St. Helens VolcanoCam
U.S. Geological Survey Cascades Volcano Observatory

Past related Geotimes stories:
"Paths of Destruction: The Hidden Threat at Mount Rainier," April 2004
"Mount St. Helens 20 Years Later: What We've Learned," May 2000

---