---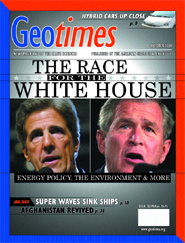 Click the image above to view a high-resolution version of the cover.
What's in the print version of Geotimes this month ...
---
October 2004
vol. 49, no. 10

FEATURES

18 The Geoscience Vote
As Americans take to the polls next month, the presidential candidates and Congress continue to debate policies on energy, the environment, and science education and funding.
Geotimes staff
28 Energy Issues Take Center Stage in Senate Races
Gas prices, oil drilling and alternative energy — all are major players in the races for 34 seats and majority control in the Senate.
Ashlee Dere, Bridget K. Martin and Emily Lehr Wallace
34 Afghanistan Redux: Better Late than Never?
As the war rubble clears, scientists are working to help the people of Afghanistan rebuild their country.
John F. Shroder Jr.
---
NEWS & VIEWS


---

7 COMMENT
Geologic Mapping for the Future
Geologic mapping data are useful in everything from homeland security to devising crop rotations.
Congressman Ron Kind (D-Wis.)

8 NEWS NOTES
Fuel economies, Part I * Tsunami story strikes again * Super waves sink ships * Traveling on Mars * T. rex hits puberty * Melting glaciers promote earthquakes * Sound data for seismic array * California's Moho * Botched prediction

17 POLITICAL SCENE
Petrology and Politics
An igneous petrologist leaves her research behind to pursue science policy in Washington, D.C.
Katie Donnelly

38 GEOPHENOMENA
An ashen threat to aviation safety
Volcano refuge ends


42 EDUCATION
Seeing No Child Left Behind in the Classroom
The new national education law is having unexpected consequences for teaching science in K-12.
Jay Chapman


48 TECHNOLOGY
Dynamo in a Box
A little sodium plus a steel ball and a lot of ingenuity may produce a lab-grown geodynamo for better understanding Earth's magnetic field.
Naomi Lubick


50 ENERGY & RESOURCES
Elizabethan gold riddle solved
Mineral of Month: Titanium


47 PROFILES
Heidi Tringe and Gene Whitney: View from the White House


48 GEOMEDIA
Television: Local TV makes learning geology fun
Books: Extinction realities: A review of Gorgon
Movies: Baffling flash-frozen science
On the Web: Volcanoes and dinosaurs


76 GEOLOGIC COLUMN
Platinum, Titanium and Lance Armstrong's Winning Ride
One metal helped save his life, the other helped make him a champion.
Elisabeth G. Newton

DEPARTMENTS
4 From the Editor
6 Letters: Perspectives from readers
38 Where on Earth?
53 In Memoriam: Philip Hauge Abelson and Thomas Gold
61 Benchmarks: Looking back in Geotimes
62 GeoMarketplace
63 Classifieds: Career Opportunities

Want to attend a geoscience meeting? Visit the online Calendar.



Click here to subscribe.

---