---
Feature
---
Developing a Scientific Workforce in Africa
Megan Sever

---
Helping Africa closer to home
---
More than half of all Africans live on less than $1 a day. Unlike the rest of the world, life expectancy in Africa, now at the age of 46, is falling. Twenty-five million people have HIV/AIDS; more than 13 million have already died of the disease. In Zambia, 1 in 3 children will be an orphan by 2010 due to the disease. Four million children under the age of five die every year primarily due to treatable and preventable diseases such as malaria.

While the developed world spends close to $1 billion a day on subsidizing unwanted food production, in Africa, hunger is a leading cause of more deaths than all of the continent's infectious diseases together.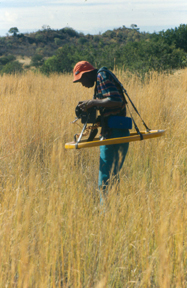 Forty million children are not able to attend primary school; a select few get a secondary or college education. Of those who are educated, some 70,000 skilled personnel a year leave Africa in favor of more wealthy parts of the world.

These chilling statistics have brought Africa's issues to the global table with more urgency than ever. Several new global initiatives are trying to turn around these trends and help African countries get on their feet. Educating more scientists in Africa could be a key step in this process.

A geophysics student takes a reading using the horizontal loop electromagnetic method in Africa, one of many geophysical instruments that the students will learn to use as part of AfricaArray. Through AfricaArray, students get hands-on experience with planning, collecting, processing and interpreting their data in practical geophysics courses. Courtesy of AfricaArray.

While the Group of 8 (G8) leaders were preparing to meet in Scotland last summer, in June, the science academies of the G8 countries issued a statement stressing the "fundamental importance of science, technology and innovation in tackling a wide range of problems facing Africa." They also urged the G8 leaders to help revitalize African universities, recognizing that "investment in a country's own science capabilities" is essential. In response, the G8 leaders issued a statement suggesting that they will work toward "investing in people," which involves a commitment to work with African governments to invest in better education.

The countries of Africa have come together with a program called the New Partnership for Africa's Development (NEPAD), in which the countries commit to setting and enforcing good governance, respecting human rights, and working for peace and reducing poverty. In return, the countries hope for increased aid, private investment and a reduction of trade barriers from rich countries. However, the program stresses that the countries are not looking for handouts — rather, they want to sustainably develop their own resources using the knowledge and assistance of the developed world.

For the countries of Africa to develop and become financially solvent, they will need to develop the continent's natural resources, says Andrew Nyblade, a geophysicist at Pennsylvania State University (Penn State) in State College. From petroleum to minerals to water, those resources are going to be "a major driving force for economic development," he says. But to exploit the natural resources, scientists must be available to work in the industries finding, developing and managing them. And for that to happen, a good education system to train students in specialized fields such as geophysics must be in place, he says.

To that end, Nyblade and colleagues in South Africa recently launched AfricaArray, a 20-year initiative to train and educate Africans in scientific fields to build and maintain a scientific workforce for Africa's natural resources sector. Like NEPAD, AfricaArray is designed to help Africans help other Africans. "AfricaArray" refers to an array of shared training programs, shared scientific observatories and equipment, and a shared vision that Africa retain capacity in diverse scientific fields vital to the development of its natural resources.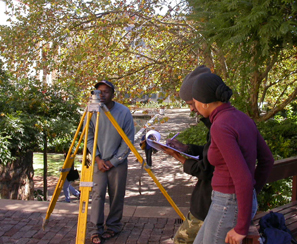 "The primary goal of AfricaArray is education," Nyblade says. Initially, AfricaArray will focus on developing and maintaining the geophysics program at the University of the Witwatersrand (Wits) in Johannesburg, South Africa, which is a founding partner alongside Penn State and the South African Council for Geoscience, and then expanding educational programs to other universities throughout the continent. Part of the education expansion will include promoting research opportunities, which means expanding the science too, he says.

A primary component of AfricaArray is educating a new generation of geophysicists in Africa. Here, geophysics students Vincent Thulo, Leslie Mmako and Fatheela Kaldine learn how to take measurements with an automatic level, a fundamental geophysical surveying technique. Courtesy of AfricaArray.

Geophysicists are in high demand in several strategically important fields, says Paul Dirks, head of the school of geosciences at Wits, including oil and gas exploration, mineral exploration, geothermal energy development, water-resource development and earthquake-hazard mitigation (including mitigating mining-triggered tremors). Wits used to have a world-renowned geophysics program that readily supplied geophysics graduates to South Africa's booming mining industry, Dirks says. When the mining industry restructured in the 1990s, however, many geophysics positions in the companies were cut, with the educational and research programs then suffering as well, he says.

Today, at least five to 10 new jobs for geophysicists are created every year in South Africa, "and that number could scale up by a factor of 10 in oil-rich nations," such as Angola and Nigeria, Dirks says. "The African market needs educated students," he says, and they need to be educated in Africa, because if the students leave, they rarely come back. (Case in point: According to the International Organization for Migration in Geneva, Switzerland, there are more Ethiopian doctors practicing in Chicago than in all of Ethiopia.) Furthermore, many countries have recently passed legislation that requires companies to hire local staff, including scientists, and there are not enough scientists to go around. To provide students with a high quality education in geophysics, however, good research opportunities need to be available, which gets at the second major component of AfricaArray: the science.

AfricaArray aims to build on the existing seismic network throughout Africa, which currently consists of mostly outdated sensors scattered through eastern, southern and northern Africa, where much of the seismic activity occurs. The researchers hope to upgrade the sensors and build a network of shared observatories that eventually may include many other kinds of geophysical and environmental sensors, Nyblade says.

For several years, the Council for Geoscience has been helping to develop a seismic network throughout southern Africa, says Michelle Smith, a seismologist with the government agency. "We had been wanting to expand the network and train people in the participating countries to use the hardware themselves," she says, so the idea of AfricaArray is "perfect." Although earthquakes are not a major hazard in many parts of Africa, human-induced mining earthquakes cause hundreds of deaths annually in South Africa, Smith says. Knowing more about the subsurface could help prevent such deaths.

A seismic network will not only help with earthquake hazard mitigation, however. It will also help with the more general geophysics theme of AfricaArray, Nyblade says, which includes investigating questions about the African crust and mantle, such as the nature of the African superplume, a large hotspot in Earth's mantle beneath eastern and southern Africa. To investigate and answer "exciting big science questions" like these, "we need to train people," Dirks says. "And we need improved seismic coverage," Nyblade adds.

The idea of AfricaArray was conceived of in late 2003 and came online in January 2005. The geophysics program at Wits already has 10 undergraduate students and three graduate students working under the auspices of AfricaArray, and co-directors Nyblade and Dirks hope to expand the program significantly in coming years.

In the near future, the co-directors hope to increase the funding and partnership base for AfricaArray, especially with industries, Dirks says. He and Nyblade have traversed the globe, meeting with government officials in the United States and throughout Africa, and industry leaders in oil and gas such as ExxonMobil and Chevron, as well as mineral exploration, including DeBeers and AngloAmerican. Core funding comes from the U.S. National Science Foundation and the South African National Research Foundation.

Although AfricaArray needs more industry "buy-in," Dirks says, it is also going to need more widespread governmental support. As the primary focus of the program is "training Africans in Africa using African problems and African datasets," Nyblade says, governmental support throughout the continent will hopefully expand. For example, AfricaArray may become sponsored by NEPAD, "which would certainly help our credibility," Dirks says. "AfricaArray is a young program — I guess what's next is that we have to establish a proven track record" of training students.

"Economic growth is the only way to lift the poor out of their dire situations, and the building blocks of a growth strategy begin with natural resources," said Jim Harmon, chairman of the Board of Directors at the World Resources Institute in Washington, D.C., at an Aug. 31 press conference to announce the publication of World Resources 2005: The Wealth of the Poor: Managing Ecosystems to Fight Poverty. The report focuses on the importance of sustainably developing natural resources in poverty-stricken nations, especially for helping the rural poor in those areas. "This is a critical moment" in time, Harmon said, to focus on poverty reduction and natural resource development in Africa.
Helping Africa closer to home
AfricaArray is a long-term initiative aimed at educating and training a scientific workforce for Africa's natural resources sector. Although the program is centered in Africa, two aspects are a little bit closer to home — first, African students enrolled in geophysics programs will be allowed to study in the United States and Europe with researchers involved with AfricaArray, and second, African-American students studying physics or geosciences at Historically Black Colleges and Universities (HBCUs) will be encouraged to participate in AfricaArray in Africa.

"In order to grow our research programs in Africa, we need to go well beyond Africa," says Paul Dirks, a geophysicist at the University of the Witwatersrand in Johannesburg, South Africa, and co-director of AfricaArray. "We need to get folks from all over involved in these 'sandwich' programs," he says, in which students in master's and Ph.D. programs in Africa will spend up to six months each year doing research with a professor at an AfricaArray-affiliated university.

The goal is to increase the program's training capacity, Dirks says. Bringing together so many universities and organizations, he says, will hopefully help students and researchers answer the "big science" questions within AfricaArray.

Getting African Americans involved is also a "big push" of AfricaArray, says Andrew Nyblade, a geophysicist at Pennsylvania State University in State College and co-director with Dirks. "It's no secret that the geosciences, and geophysics in particular, lack diversity," Nyblade says. Few HBCUs have geoscience programs, he says, but African-American students can be introduced to geophysics and the geosciences through physics departments at the schools, says Solomon Bililign, a physics professor at North Carolina A&T State University in Greensboro (an HBCU that is participating in AfricaArray). The directors of AfricaArray hope then to turn that introduction into an interest in the geosciences, by enticing African-American students to work on geophysical issues in Africa.

Part of Nyblade's funding from the National Science Foundation is for sending HBCU undergraduate students to Africa to do their research. "We'd be using AfricaArray to make progress there [in Africa] and here" in the United States, he says. Bililign says that the students' interest in the geosciences is being piqued largely because of the prospect of going to Africa.

Internationalization and partnerships are imperative if science programs in Africa are going to develop, Dirks says. Indeed, says Isaac Crumbly, founder of the Cooperative Developmental Energy Program at Fort Valley State University in Georgia (an HBCU), cooperative relationships are the best way to develop science at minority institutions in the United States as well. The Fort Valley program is similar to AfricaArray in principle: In a world where resources are limited, "you have to be realistic," Crumbly says, "and that means sharing resources and sharing programs."

MS

Back to top
---
Sever is a staff writer for Geotimes.
Link:
AfricaArray
Back to top

---