---
Feature
---
A Victory for Earth Science
Mary E. Watson and William Tucci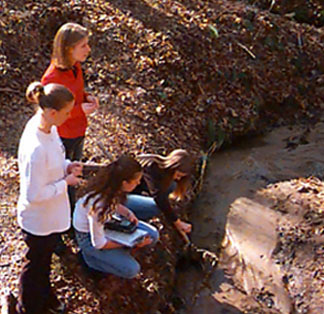 The students could tell something was wrong in the stream on the grounds of East Lincoln High School in Denver, N.C.

The level of nitrate had shot up in the stream they were watching last spring. As part of their earth and environmental science class, the students had been monitoring the water quality. The stream was talking to them and the message was familiar: nutrients.

They had been testing the stream's water chemistry. When they found that the level of nitrates had dramatically increased, they were intrigued. Through scientific detective work, they found a possible answer. They hypothesized that seepage from sewage systems was causing the nitrate level to spike.

The students' excitement about the scientific process is one of the rewards of the hard work of a group of determined people. It is the end of a story about how these people brought the study of earth sciences into North Carolina's high schools.
Rallying the troops
In 1985, Charles "C.Q" Brown discovered that North Carolina was going to take earth science out of eighth-grade classrooms. And its education administrators weren't planning to put it back in any of the other grade levels.

"This startling move seemed to come out of the blue, with no advance warning," says Brown, then chair of the geology program at East Carolina University. "My first thought was, 'What can we do to get it put back? We must change that decision.'"

Brown began to assemble a group of geologists that would grow to include hundreds of teachers, scientists and representatives from business and government. It would, after 15 years of persistence, win a victory for earth science education. In 1997, the State Board of Education approved making earth and environmental science one of the three science courses the state's high school students must take before they graduate.

Reaction to the Board's 1985 decision was not only swift but also echoed from many academic and industry corners. Early brainstorming brought Brown together with Fred Beyer, a public school system administrator; Floyd Mattheis, a science educator at East Carolina University; and Fred Allen, director of the North Carolina Aggregates Association, an industry group that has since actively worked with the North Carolina Science Teachers Association and North Carolina educators. They were the core of a pressure group, the Education and Industry Committee for Earth Science in North Carolina, that became the foundation and source of energy for the effort to initially restore earth science into the state's curriculum at all grade levels, and then to go further and make earth science a graduation requirement.

"We needed to get some support to show that there is interest, not just vested interest of geologists, but also to show why environmental science was sound according to the principles of science instruction," Brown says.

"We asked simply: 'Why is earth science essential for the education of the youth of North Carolina?' In doing that, we got a broad spectrum background to support the concept."

The major players of the Committee were a diverse coalition of earth science professionals and educators from industry, the North Carolina public school system, the North Carolina Department of Public Instruction (NCDPI), the North Carolina Aggregates Association, the North Carolina Geological Survey, the state Department of Environment and Natural Resources, and North Carolina State University.

Other principal movers came from the federal agencies: the National Oceanic and Atmospheric Administration, the National Weather Service and the Environmental Protection Agency, and also state government agencies and the earth science consulting community.

"You've just got to rally the troops and get as many people together as you can to make a good, solid, active working group and a broad-based group, so that you're not trying to do it yourself," Allen says. "There were a number of organizations that were already working closely with the educational system. It gave us some entry into being able to work with them."
A strategic compromise
The Committee became strong and active. Its members wrote letters to the State Board of Education, local school boards, superintendents, principals and chairs of science instruction. They attended state and local school board meetings. More importantly, its members spoke with school superintendents as often as possible, even at 4H events. They continued to spread the same message: Students need to know earth science to become good citizens.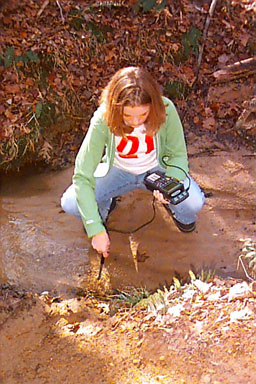 "We're missionaries out there, trying to spread the word and involve others in our cause," Allen says. "Marketing is probably the best way to describe it, because it's like selling any other product. I think we have to market earth science in very much the same way."

In 1992, it was time for the School Board to make a curriculum change, which happens every four years. The Committee — by this time led by Alex Glover, then a chief scientist for Vulcan Minerals Co. — saw its opportunity. They would lobby for earth science to be a graduation requirement for high school students.

The key to the committee's success was also one of its compromises. They decided to lobby not for just an earth science class, but for an earth and environmental science class. This strategy garnered the support not only of earth scientists, but also of environmental, marine, space and atmospheric scientists. The Committee showed that a solid understanding of earth science is a key element for a solid understanding of environmental science — that in fact earth science is a stronger component of environmental science than even life science or physical science, the two other graduation requirements.

East Lincoln High School students in Debbie Michael's earth and environmental science class spent a semester monitoring the water quality of a stream on their school grounds. Photo courtesy of Debbie Michael.

"I remember coming out of a meeting and thinking, 'This is what's going to work for us,'" says Jake Brown, then High School Science Consultant for the NCDPI.

"The reality of it is that when we talk about the environment, we talk about the atmospheric sciences, the weather, the Earth, different kinds of soil and rocks, weathering and erosion. When you get right down to it, the Earth is part of environmental sciences. So, we decided to call this course earth and environmental science."

In this context, the Committee members emphasized that students need to know earth science not only to be good citizens, but also to protect themselves from the effects of natural disasters.

At a critical time, a key player entered the scene: meteorologist Rod Gonski of the National Weather Service, who wrote letters to the School Board.

"In helping to push for the earth and environmental curriculum for high school students, I would think back to findings from previous weather disasters in North Carolina," Gonski says. "One major tornado outbreak struck central North Carolina and blew through heavily populated regions. The tornado struck without warning in the middle of the night. More than 1,000 homes were destroyed or heavily damaged. Yet, fatalities were limited to four. Later, interviews with people in the path of the tornado found that people quickly recognized what was happening and took prompt action to protect their lives. The difference was education. For us to ignore those perils in the general education of our young citizens would be to invite disaster once again."
Point and counterpoint
In arguing for an earth and environmental science requirement, one objection the Committee faced came from parents who thought requiring an earth science course would make it harder for students to take Advanced Placement classes and earn college credit.

"They said kids are only in high school for four years, and now you want them to take three required science units. There's no room for Advanced Placement courses or electives, such as chemistry,'" Jake Brown recalls.

The Committee members argued that it wasn't the job of the high school just to give students courses for college credit. It is the schools' job to produce the best prepared kids in science education possible. Therefore, it's important for these children to have physical science, earth science and life science.
Another argument was that the state didn't have enough certified earth science teachers to require an earth science course.

"Our counter was that those teachers will be there only when it's mandated they be," Glover says. "Unless the law changes, there will never be enough earth science teachers. When that is mandated, the availability of the teachers will change."

The third battle came from the heads of local school districts, who were reluctant to relinquish control. In talking with superintendents, the Committee emphasized again that students must learn earth science to be good citizens. "We made the point, especially through the National Weather Service, that this knowledge and lack of ignorance would save lives by people knowing about earth science," Glover says.

A success for earth science, for students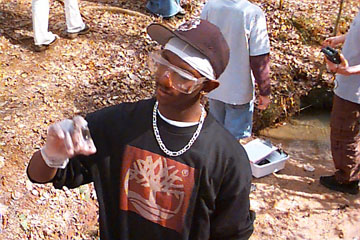 In 1998, the opposition was crumbling. Neither group would claim all it sought, but the deal was done. The State Board of Education directed that the earth and environmental science curriculum would be part of a graduation requirement that would go into effect students entering the ninth grade in 2000. Implementation was deferred until the 2000-2001 school year, when earth science was also woven throughout the curriculum of grades K-12. North Carolina is the first state to require earth science in its standard course of study.

The new graduation requirement moved North Carolina toward a truly comprehensive high school science curriculum. Educators and earth science professionals are determined that students will acquire the knowledge and skills to deal with the ever-increasing litany of environmental problems they will face.

One of Debbi Michael's students conducts a water quality test at a North Carolina stream. Photo courtesy of Debbie Michael.

"I think we prevailed because we showed it was not in our self interest. We showed that it was in the public's interest," Glover says.

For the earth science community, North Carolina is a success story that shows how a group of earth scientists can influence their state's science curriculum. Giving students a chance to pursue outdoor science investigations of real-life conditions in their own neighborhood — that is what the issue is all about.

"This fall the nitrates were extremely high, the kids wanted very much to find out why," teacher Debbie Michael says of her earth and environmental science students. "Those kids were excited! … The creek now is their creek, no question about that! Now they just beg to go down there and work that stream."
---
Watson works with the North Carolina Geological Survey and Tucci works with the North Carolina Department of Public Instruction. E-mail
---