---
Feature
---
Reaching Out to Communities and Kids with Science
Lisa D. White, Karen Grove, David Dempsey, Oswaldo Garcia, Newell Garfield, Tara Kheradyar, Matthew J. La Force, Raymond Pestrong and Britt Thorpe


Students need better training at the K-12 level if they are to pursue geoscience degrees in college. Therefore, in September 2001, with a five-year grant from the National Science Foundation, we decided to create a program that would engage K-12 educators and students in the geosciences, while also introducing a more ethnically mixed student population to the field.
"Reaching Out to Communities and Kids with Science in San Francisco" (SF-ROCKS) is a partnership between the geosciences department at San Francisco State University (SFSU), the City College of San Francisco (CCSF) and the San Francisco Unified School District. Part of the NSF Geosciences Directorate's "Opportunities to Enhance Diversity in the Geosciences" program, the partnership aims to introduce diverse groups of high school students to the earth sciences and increase the number of traditionally underrepresented students who enter college as geoscience majors.

Our long-term goal is to recruit more geoscience majors to SFSU so that our department more accurately reflects the diverse demographics of the San Francisco Bay Area. Shifting trends in geoscience careers, with a greater emphasis on environmental and applied geosciences, have led us to select SF-ROCKS topics that are relevant to the community.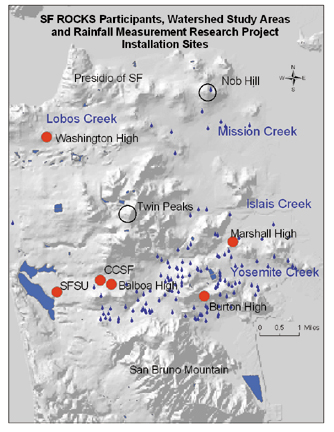 We started with the students and faculty at Phillip and Sala Burton Academic High School (Burton High School) in southeast San Francisco and designed a community-centered, multifaceted education and research program to study four watershed sites that are adjacent to the school: the Islais, Yosemite, Mission, and Lobos creek watersheds.

This map of San Francisco shows the locations of watersheds, the SF-ROCKS participating high schools, San Francisco State University (SFSU) and the City College of San Francisco (CCSF), and the rain-gauge installations sites (rain drops). The SF-ROCKS program aims to engage educators and students in science while encouraging participation among ethnic minority groups. Courtesy of Lisa White.

"Why a watershed?" is a question we often hear when describing the contextual focus for the SF-ROCKS program. Watersheds, we reply, provide an integrated framework to investigate geoscience subdisciplines with environmental implications. In the Islais Creek and Yosemite Creek watersheds, in particular, a history of environmental problems stemming from industrial misuse form an important context for studying the geosciences.

The geoscience department at SFSU offers degrees in geology, meteorology and oceanography. Faculty members in the department work across their disciplines and are involved in a variety of inquiry-driven, active-learning strategies to improve geoscience education.

The program seeks to enhance student curricula and provide teacher training, and also encourages tiers of mentoring relationships between high school students, college students, high school educators and university professors.
Creating a community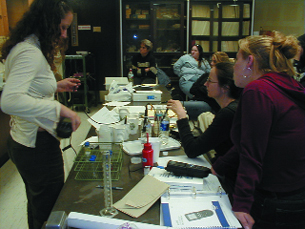 A core component of SF-ROCKS is a series of 15 lesson plans, tied to California's state science standards, that encourage teachers to supplement their existing 9th-grade interdisciplinary science course curriculum with the educational materials and activities that we have developed. By focusing on the unique watershed environments that surround their school, students learn how earth science concepts apply to their own neighborhood. Lesson plans include elements such as constructing watershed and topographic models, studying the plate tectonic setting of San Francisco, and investigating the hydrogeology of watersheds and the meteorology of the Bay Area.

Teachers and interns explore the use of probes and other equipment to test water quality, as part of the SF-ROCKS program. Photo courtesy of Lisa D. White.

The SF-ROCKS faculty at SFSU introduce science teachers to the lesson plans during a summer workshop. Additional content and pedagogy training takes place during Saturday workshops held throughout the academic year. Teachers receive an annual stipend for their participation and a generous supply of teaching materials to carry out the lesson plans and activities.

The SF-ROCKS Web site (sf-rocks.sfsu.edu) and lesson plans have three purposes: to provide the SF-ROCKS high-school teachers with information and resources from the summer and Saturday workshops, including access to the SF-ROCKS lesson plans, maps and other digital materials; to introduce the SF-ROCKS interns to the lesson plans and acquaint them with their role in facilitating the activities; and to provide the general geoscience educational community with teaching resources and information about the SF-ROCKS project.

Britt Thorpe, a geography graduate student at SFSU, is the project Web manager and curriculum specialist. A credentialed middle-school teacher, she has been instrumental in guiding the SF-ROCKS faculty in developing lesson plans appropriate for 9th-grade students. Working with the project's GIS consultant, Thorpe has begun to use ArcINFO and ArcIMS software on the project server to compile data and display maps. We plan to develop more Web-accessible GIS tools and to incorporate interactive map layers showing rainfall, water quality and rock and soil data.

During the 2002-2003 academic year at Burton High School, for example, more than 100 students participated in the rain-gauge project by collecting and reporting rainfall from simple rain gauges installed in the backyards of their homes (http://sf-rocks.sfsu.edu/ozlp_1.htm). SF-ROCKS meteorology professors Oswaldo Garcia and David Dempsey will analyze data from the rain gauges and incorporate it into future lesson plans about tracking rainfall associated with mid-latitude storms.

The 15 lesson plans were developed by SF-ROCKS and the geosciences faculty in consultation with the Burton High School integrated science teachers. Assessment and revision of the lesson plans and associated activities are ongoing, and the teachers and interns have provided valuable feedback about their effectiveness. Although teachers can use the existing lesson plans in any order, the plans are most logically grouped into three unit sequences: Watersheds; Rocks, Plate Tectonics, and Geologic Maps; and Weather and the Rain Gauge Project.
Mentoring
During each year of the program, we select six to eight undergraduate students from SFSU and CCSF to help the science teachers implement SF-ROCKS lesson plans in the classroom. Most of these interns are geoscience majors. They serve as mentors to the 9th-grade students and assist the teachers on a weekly basis in the classrooms. Interns train with the teachers during summer and Saturday workshops, where SFSU geoscience faculty members provide instruction about earth science content and pedagogical approaches. The interns also have opportunities to work directly with the SF-ROCKS faculty on research projects in the watershed. During the 2002-2003 academic year, for example, they participated in water-quality testing of creeks surrounding Burton High.
Summer Institute
During a two-week summer research institute last month, SF-ROCKS faculty worked closely with 14 students who are entering 10th grade at Burton High School this fall. These students were the first group that we introduced last year to the SF-ROCKS project in their science classes. Our goal was to teach them, via supervised research projects, about their neighborhood watersheds in ways that would inspire them to learn more about the application of geoscience to the study of environmental problems. Southeast San Francisco is heavily industrialized, with a long history of environmental problems. We trained these young people to evaluate and understand how industrialization has changed the area where they live and attend school. The high-school students who participated in the summer institute will present scientific posters highlighting their work at the American Geophysical Union meeting in December.
Expanding the program's scope
We have invited three more high schools and five additional teachers to join the program for academic year 2003-2004. This expansion moves us beyond the initial focus of watersheds in southeast San Francisco to other parts of the city. It also brings us closer to the long-term goal of involving at least five San Francisco high schools in the SF-ROCKS program during the NSF funding period (2001-2006).

Last year at Burton High School, more than 400 freshmen from a wide range of ethnic backgrounds became engaged in many different active-learning modules from the SF-ROCKS program curriculum. We are starting to analyze the student responses to our assessment instruments and plan to use them to improve the design and effectiveness of the student learning experience. Expansion of the SF-ROCKS lesson plans and Web site provides more high-school teachers with information and resources to improve their integrated-science curricula. Instead of replacing the existing course of study, we continue to apply a model that complements the curriculum and builds on the strengths of the teachers and the geologic settings of the schools.

Because earth science is a mandate of national and California state science education standards for middle schools, we are also exploring ways to expand the SF-ROCKS program to middle schools in the San Francisco Unified School District.

---
White is a professor of geology at SFSU and the principal investigator of the SF-ROCKS project. E-mail: lwhite@sfsu.edu.

Co-PIs in the SFSU Department of Geosciences are Karen Grove, David Dempsey, Oswaldo Garcia, Newell Garfield, Matthew J. La Force, Raymond Pestrong and Tara Kheradyar. Britt Thorpe is a graduate student in the Department of Geography and Human Environmental Studies at SFSU.

Back to top
---