---
Feature
---
Building Geology for the Future: Cui bono?
Lisa A. Rossbacher and Dallas D. Rhodes

---
Sidebar:
The numbers
---
"The support of the geologist depends on public appreciation of the value of his services."
-Charles D. Walcott
1901 GSA Presidential Address:
"Outlook of the Geologist in America"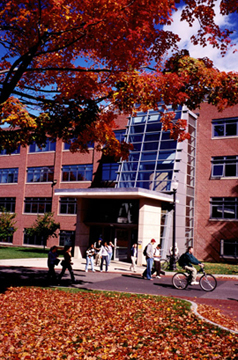 We've been warned more than once already. Academic geology departments are under attack and have been for more than a decade. In a 1995 Geological Society of America (GSA) newsletter, Geoff Feiss, then geology department chair at University of North Carolina, Chapel Hill, wrote: "We all need to care about the stability of academic geology programs in perilous times." We should have listened.

In the spring, the University of Connecticut (shown here), citing budget problems among other concerns, announced it was going to dissolve its geology and geophysics department. Geology departments are facing increasing challenges to survive. Photo by Peter Marinas, University of Connecticut.

Feiss, a geologist, noted that seven schools in the Southeastern Section of the Geological Society of America (GSA) alone had each "either disappeared or been given the fright of its life." Since 1996, the numbers have only become worse. Between 1989 and 2002, the number of "geo-" departments (geology, geological sciences or geosciences) in the United States decreased by 16 percent and "earth science" departments dropped by 22 percent. Over this same period, 19 colleges and universities stopped offering any bachelor's degree that could be listed in the American Geological Institute's (AGI) Directory of Geoscience Departments (see sidebar for additional statistics).

The trend for geology departments is clear. The first step is elimination of the geology department, replaced by a broader, fuzzier (and perhaps "friendlier") name. The next step is to add other disciplines, probably reflecting administrative mergers. Then, oblivion.

Our two recent Geotimes Geologic Columns (see April and May 2004) have considered the reasons why geoscience programs are the targets of program reductions and suggested what departments themselves can do to avoid the chopping block. Our subject here — in what could be considered the third installment of the series "The Department You Save May Be Your Own" — is what can and should be done outside the threatened programs to provide support. Geology departments cannot save themselves alone. The geological and scientific communities must be engaged, too.
What do we need?

A carefully constructed and broadly supported statement of what geology has to offer to society and a set of standards for reference.
Geology departments don't exist — or cease to exist — in a vacuum. Having a broader context in which to make the case can make an enormous difference. Professional programs ranging from engineering to fashion design have nationally recognized programmatic standards to reference. Among the physical sciences, however, only chemistry has the benefit of broader standards, through the American Chemical Society. Although earth science has a presence in the National Science Education Standards, it is not enough. Instead, geologists should emulate what our colleagues in geography have done.

In 1994, the American Geographical Society, the Association of American Geographers, the National Council for Geographic Education and the National Geographic Society developed the National Geography Standards, called Geography for Life. These standards provide a clear description of "what every young American should know and be able to do in geography." The original motivation for creating this statement was the inclusion of geography in the K-12 core curriculum outlined by the "Goals 2000: Educate America Act" (Public Law 103-227). However, the geography standards work equally well for undergraduate programs responding to demands for institutional effectiveness plans, program assessment and review, and strategic planning. A number of undergraduate geography programs refer to the standards on their Web sites and use them to demonstrate that their programs are providing the education the national standards describe. Such standards are also important for reaffirmation by accrediting bodies.

Deans and other campus decision-makers understand the importance of program accreditation. In fact, they often list successful accreditation reviews as accomplishments during their tenure. Furthermore, accreditation standards are sometimes enforced by laws that require graduation from an accredited program before candidates can sit for certain license or registration examinations. We are not proposing that the geosciences create an accreditation program, but we can learn and borrow from programs that have accreditation standards.

The American Geophysical Union (AGU), AGI, GSA, the National Association of Geoscience Teachers (NAGT) and any other professional organization that cares about the future of geology should mount a major effort to produce and publicize a set of "national geology standards." The process of developing these standards will require cooperation among these organizations to focus their energy on fostering the future of our science.
Accurate, useful, comprehensive data about geology programs collected and maintained by a central site.
Currently every department chair trying to promote or defend her or his program has few information resources that can help. The AGI Directory is one valuable resource but it is only updated annually and does not provide all the metrics that departments may need. Without a comprehensive, up-to-date central data warehouse, the information available to geology departments is ad hoc, incomplete, outdated or anecdotal. Every academic department lives and dies by comparative data, such as student-credit-hour production, numbers of undergraduate and graduate degrees, enrollment, faculty composition, external funding and budgetary information. Departments desperately need a frame of reference for their own quantitative measurements.

Most geology programs belong to one of three kinds of institutions: research universities, predominately undergraduate state-sponsored universities or liberal arts colleges. Worthwhile data for comparisons must come from institutions within the same group. Any one of the professional geoscience societies could take the lead in gathering, organizing and distributing these data. Organizing and implementing this effort will take resources, but a central source of accurate data will also save incalculable resources that are currently being wasted, as every department has to collect its own comparative data from scratch. Every geoscience program in the country could benefit, and therefore the profession would benefit as well. No one else is going to do this for us.
Systematic, centralized support for planning efforts.
Finally, we can save ourselves a great deal of time, which we could spend on improving our programs, by helping departments produce the kinds of planning documents all institutions now require. Anyone who has not recently delved into the world of assessment in higher education cannot imagine what is expected now. As with data collection, individual departments are on their own to develop plans and strategies for survival. This, like individualized data collection, is not only wasteful of time and energy, it potentially hurts the profession.

A first encounter with the language of assessment provides about as much insight as a volume of IRS regulations written in ancient Phoenician. Professional societies can provide help by making the assessment process understandable and valuable. Today, every academic course must have a set of explicitly stated objectives and outcomes, a detailed plan for assessing the degree of success in achieving the objectives, and a plan for how this information will be used to make improvements in the course. The same idea applies for an individual degree program, the academic department, its college and the institution as a whole. No one escapes this.

As in the case of a centralized clearinghouse for accurate data, a group of professional societies can provide a central repository for strategic plans, assessment programs, evaluation instruments and outcomes reports that can be shared with interested programs. Departments should not have to start from scratch when they undertake outcomes reviews or assessment studies, and the results will be far stronger if geoscience models can be shared broadly. This effort could build on current community-sharing efforts, such as AGU's Heads and Chairs program and AGI's Associates program, but include the information that department chairs need to ensure their survival. A geology department that is able to use a strong example from another geology department arguably will have a better final result than if they start with a model from an English department.

As Carl Drummond of NAGT pointed out in 2001: "Programmatic survival in the face of the complexities of the modern university demands thoughtfulness on the part of all faculty." Today, this demand is the responsibility of geoscientists as a group, whether they hold faculty positions or not. Professional societies can and should play a leadership role in the effort to protect departments. These organizations have experience and a structure for political action and for organized responses. They have access to data that can help everyone. They have the resources to undertake studies that demonstrate the value of geology, and they have the credibility to issue the results in reports that will command attention.

A former president of GSA described the responsibility of that professional society to all geologists: "To retain the respect of the community and to retain influence for good, we must be able to justify the existence of a society devoted to investigation … The question 'Cui bono?' [to whose benefit] will be asked, and the answer cannot be avoided. … the Society must have more to do with the outside world if the outcome for science is to be what it should be." The president was John J. Stevenson and the year was 1898. How much longer can we afford to ignore the warning?


The numbers
Recent closures of geology programs at U.S. colleges and universities reflect a continuing decrease in the number of bachelor degree-granting geoscience programs. Geology programs are becoming the province of well-endowed smaller colleges and large universities. Schools with smaller enrollments and scarcer resources are eliminating geology departments or broadening their scope, sometimes beyond recognition. Most closures start with a simple name change or merger and then continue on to dissolution. Longitudinal data from the American Geological Institute's Directory of Geoscience Departments support this trend (see feature above).

A quarter of all the schools listed in the 1989 AGI Directory had changed their "geo-" department's names by 2002 to expand the areas included, either by appending other academic disciplines to the name or with a completely new title. Sixteen departments of geology or geological sciences became "earth and environmental science [or studies]." Fifteen departments changed to either "environmental science [or studies]" or "earth science[s]."

Overall, 48 "geo-" departments added new disciplines to their names, including geography, geophysics, ecology, anthropology, physics, chemistry, biology, astronomy, planning, natural resource management, and atmospheric, marine, planetary, physical and space sciences.

Of the 89 "earth science" programs that were listed in the AGI Directory in 1989, 24 of them had the same title in 2002. Five have become "geoscience" departments; three have, in fact, become geology departments. Six have morphed into departments with new, unique names: "earth and atmospheric science," "civil engineering and geological science," "earth and environmental science," "environmental geology," "biological and earth sciences," and "environment, earth, and atmospheric sciences." Four have been eliminated completely.

The recent elimination of the geology department at the University of Connecticut provides a type section for this process (see Geotimes, March 2004). The University of Connecticut's student newspaper quoted Associate Dean Veronica Mackowsky supporting the "broader is better" perspective: "You have to have knowledge in other sciences," she said. "In the real world you are going to find that one science is not enough. This will give students an edge in an interdisciplinary program." Her logic is flawed in at least two ways: (1) geology is already interdisciplinary and (2) the strength of an interdisciplinary program relies on the rigor of the individual disciplines.

In 1996, all of the top 10 liberal arts colleges in the U.S. News and World Report rankings had strong geology programs. Today, seven do. Among the top 40 liberal arts colleges in 1996, 75 percent had geology programs, with about half of the second tier, a quarter of third tier colleges and almost none of the fourth-tier schools.
In 2003, only 65 percent of the top 50 liberal arts colleges offered a bachelor's degree in a field that had either "earth" or "geo" in its name. In the second tier of colleges, this percentage fell to 25 percent, and then to 12 and 11 percent for the third- and fourth-tier colleges, respectively.

For nationally ranked research universities, the percentages offering these bachelor's degrees were 84 percent (top 50), 75 percent (second tier), 72 percent (third tier) and 64 percent (fourth tier). Out of more than 100 historically black colleges and universities in the United States, only two offer a degree in geology or earth science.

A discipline that is suffering a similar fate is Classics. Graduate programs in the Classics correspond closely to the U.S. News & World Report's rankings. The Web site for the Classics department at the University of Saskatchewan has an eerie similarity to geology sites: "The Department of Classics has been disbanded. Classics faculty have been reassigned to other units, but programs in Classics will continue to be supported."

Reversing the trends for geoscience departments will require proactive efforts to increase public understanding of the importance of geology to the nation's intellectual and economic future. The outraged reaction of the geological community when faced with departmental elimination is not enough. The campaign needs to be broad and public, and the impacts on the college or university need to be both political and economic.

LAR and DDR

See this month's Geotimes in print for a map of geoscience departments that have closed or requested removal from the American Geological Institute Directory of Geoscience Departments since 1998.
---
Rossbacher, a geologist, is president of the Southern Polytechnic State University in Marietta, Ga. Rhodes is professor and chair of the Department of Geology and Geography at Georgia Southern University in Statesboro, Ga. For additional reading, see below.

Links:
"The Department You Save May Be Your Own, Part I," Geotimes, April 2004
"The Department You Save May Be Your Own, Part II: Steps for Saving Your Department," Geotimes, May 2004
"University losses at home and abroad," Geotimes, March 2004

References cited in text:


Drummond, Carl N., 2001, Ten common principles of geoscience departments - Part I: Journal of Geoscience Education, v. 49, n.2, p. 108.

Feiss, P. Geoffrey, 1996, The survival of academic geology programs: GSA Today, v. 6, p. 16-17.


Back to top
---