---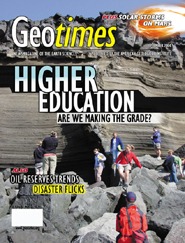 Click the image above to view a high-resolution version of the cover.
What's in the print version of Geotimes this month ...
---
September 2004
vol. 49, no. 9

FEATURES

18 Assessing University Research, the British Way
An invasive review system by the U.K. government makes the call on who gets research dollars and who's on the chopping block.
David Rickard
24 Building Geology for the Future: Cui Bono?
Developing an engaged scientific community is the only way to strengthen and save university geology departments.
Lisa A. Rossbacher and Dallas D. Rhodes
28 Broadening Horizons for Students
Some geology departments are taking a growth tactic for survival: opening their doors to a wide breadth of complementary geoscience subjects.
Naomi Lubick
32 Undergrad Forums: It's All About the Process
Who says that serious research and presentation are only for graduate students? Undergrads have more opportunities than you might think.
Megan Sever
---
NEWS & VIEWS


---

7 COMMENT
Transforming Teachers into Designers
A new program is asking teachers to think big when planning their earth science curriculum.
Harold McWilliams

8 NEWS NOTES
Solar storms strip water off Mars * A mistaken link in human history * Ediacaran fossil up close * Warming up to rock falls * Measuring sea-level rise * Magnetic murals * Global science standings * Hurricanes' green thumb * Slower cooling in Oregon * Illegal uranium mining in the Congo

17 POLITICAL SCENE
Mr. Smith in Washington: Fighting for Science
In the cynical world of Capitol Hill politics, there are still some people who inspire optimism among science advocates.
Dan Byers

38 GEOPHENOMENA
Vostok's complicated ridge
Gauging The Geysers with quakes


42 TRENDS
Breaking down dams
Across the United States, people are increasingly removing dams for both safety and environmental reasons.
Naomi Lubick


44 ENERGY & RESOURCES
Booking and rebooking oil reserves
Since Shell downgraded its petroleum reserves earlier this year, several companies have made similar plays, creating more controversy and discussion within the oil industry.
Megan Sever


47 PROFILES
Lucy Jones: The calm after the quake


48 GEOMEDIA
Movies: Earthquakes, climate change and reel disasters
Books: How did we lose Glen?: A review of Glen Canyon Dammed
On the Web: Earthquakes and the biogeosciences
Maps: Mapping mining impacts in Missouri


64 GEOLOGIC COLUMN
Hit the Ground Running: Freshman Seminars
A rock, a van, some books and a microscope: Geology gets back to the basics in a university class designed for freshmen.
Warren Huff

DEPARTMENTS
4 From the Editor
6 Letters: Perspectives from readers
36 Where on Earth?
52 Benchmarks: Looking back in Geotimes
54 GeoMarketplace
55 Classifieds: Career Opportunities

Want to attend a geoscience meeting? Visit the online Calendar.



Click here to subscribe.

---