---
News Notes
---
Medical Geology
Rocks pose cancer concerns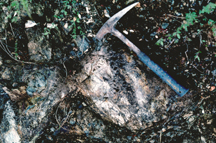 Contracts, permits and building codes aside, developers in California now have an additional consideration before excavating for a new tract of homes: carcinogenic rocks. Researchers say that residents living close to the state's natural asbestos-containing rocks face an increased risk for cancer.

Tremolite asbestos ranges in color from white to grayish-green and occurs naturally in California. According to new research, residents living close to asbestos-containing rock deposits may face health risks if the asbestos particles are freed from the rocks. Image courtesy of the California Geological Survey.

For up to 5,000 years, people have taken advantage of the fire-resistant and strengthening properties of asbestos minerals. Throughout the 20th century, however, the mineral started gaining recognition as an occupational hazard in the air around sites such as mines, renovated and demolished buildings, landfills and shipyards. But asbestos also affects some unsuspecting residents living in California, says Marc Schenker, professor and chair of the Department of Public Health Sciences at the University of California, Davis. When particles are freed and swept into the air from specific asbestos-harboring rocks via erosion, development or some other means, populations in close proximity breathe in the harmful fibers.

"It is something that should be paid attention to," says Schenker, who, with colleagues, is publishing a study this fall in American Journal of Respiratory and Critical Care Medicine on the connection between naturally occurring asbestos and cancer. "It is a real hazard and does cause a malignant and untreatable cancer."

Once inside the body, asbestos can become stuck in the protective lining of the lungs or other parts of the respiratory tract. And continued exposure may lead to mesothelioma, a rare and often fatal form of cancer that affects the lungs, abdomen and heart, researchers say. Specific cases of the disease, however, are often difficult to link to an asbestos source because almost all of the cases take 20 or more years after the initial exposure to arise, says Catherine Skinner, a research affiliate in the Department of Geology and Geophysics at Yale University. "The cancer is not the sort of one that turns up the day after you've been exposed."

To identify a link, Schenker and co-authors looked to ultramafic rocks that they knew produce tremolite, one of the six fibrous minerals that fall under the term asbestos. Dark-colored rock that formed from molten material deep in the planet, ultramafic rocks can be exposed at Earth's surface following uplift or erosion processes.

Using a state map created by the California Department of Conservation, Division of Mines and Geology, the researchers identified sites of surface ultramafic rocks likely to contain asbestos (most of which can be found in the mountain ranges of Northern and Central California) and the locations of nearly 3,000 patients diagnosed with mesothelioma over nine years. The patients' addresses came from the California Cancer Registry, Schenker says, which holds cancer incidence and mortality statistics on close to 99 percent of all mesothelioma cases diagnosed in the state.

The relatively large sample, when adjusted for gender, age and occupational exposure, allowed Schenker's team to see a trend that agreed with his hypothesis that proximity to ultramafic rocks could be linked to mesothelioma. Their results show that the chance of developing the cancer dropped by about 6 percent for every 10 kilometers farther from an ultramafic rock source that a person lived.

Instances of mesothelioma remain rare, with only about 2,500 people per year dying from the disease, which is slightly fewer than the number of people killed from secondhand smoke during the same time, according to the National Institute of Occupational Safety and Health. But some geologists are alarmed by the health risk posed by tremolite, including Bruce Hilton, a senior engineering geologist for Kleinfelder, Inc., in Sacramento, Calif. "I have felt that there is building evidence that the risk is very real, but to what extent, we cannot say," Hilton says.

Skinner, however, cautions against drawing conclusions without an analysis of the types and levels of asbestos particles that become airborne, and the mechanisms involved that trigger the onset of mesothelioma. "I think it is hard to relate mesothelioma, a very rare cancer, to only one hazardous source, asbestos," Skinner says. "Further, only a very small amount of these California ultramafic deposits would have asbestos."

"Recent studies by forensics and pathology experts such as Dr. Schenker may resolve many questions and allow us to do good science," Hilton says. Schenker says that more field studies are needed to find answers to the remaining uncertainties. In the end, he hopes that additional research will provide data for developing public policies to reduce the risk of mesothelioma to California residents.
Kathryn Hansen


---