---
Web Extra Monday, September 26, 2005 Updated at 2:00 p.m., Sept. 27
---
Rita: Could have been worse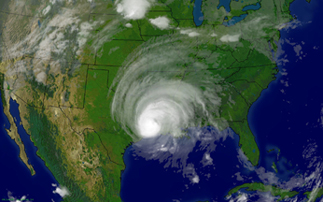 Hurricane Rita moved ashore Saturday near the border of Texas and Louisiana as a Category-3 storm. Rita was not nearly as devastating as Hurricane Katrina, but damages from wind, fire and flooding still prevent some residents from returning to their homes and businesses. And, Rita dealt the Gulf offshore oil industry another big blow.

This image captured Hurricane Rita Saturday after it was downgraded to a Category-2 storm. Rita lost speed after making landfall as a Category 3 and became a tropical depression by evening. Image courtesy of NOAA.

Labeled a Category-5 storm over the Gulf of Mexico, Rita made landfall at about 4 a.m. on Saturday as a Category 3 near Sabine Pass, Texas, with wind speeds of about 195 kilometers per hour, according to the National Oceanic and Atmospheric Administration (NOAA). By 10 p.m., Rita had traveled to a location 60 kilometers north of Shreveport, La., and had weakened to a tropical depression with heavy rains.

At least seven deaths were attributed to Rita, an Associated Press (AP) story reported; by contrast, Katrina resulted in roughly 1,000 lives lost. Winds from Rita toppled a tree that killed a man in east Texas, and a tornado likely spawned by Rita killed another in Mississippi. An additional five people were found dead today in their Beaumont, Texas, apartment. About two dozen more elderly people lost their lives in a bus fire, during evacuation from a Houston nursing home prior to the storm.

Heavily populated regions such as Houston were spared substantial damage. Smaller communities, however, were not as lucky; portions of the fishing town of Cameron Parish, La., were reduced to rubble by the eastern side of the storm, and the refinery towns of Beaumont and Port Arthur, Texas, saw substantial damages.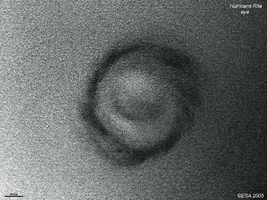 The European Space Agency (ESA) Envisat satellite captured this image of the sea surface churned up by Rita on Thursday as the hurricane entered the Gulf of Mexico. At this time, Rita was a Category-5 storm with wind speeds in excess of 200 kilometers per hour. Image courtesy of ESA.

The energy industry fared relatively well through Rita compared with Katrina. After a briefing with the Department of Energy, however, Bush announced that the energy industry took a harder hit from Rita than officials originally estimated. The Seattle Times reported that damage to offshore rigs from Hurricane Katrina had cut 56 percent of Gulf oil production. Additional damage from Rita has shut down offshore production from the entire Gulf of Mexico, which accounts for one-fifth of the total oil production in the United States. Gasoline prices rose this week for the first time in three weeks, and President Bush urged Americans to reduce unnecessary travel and, if possible, to carpool or take mass transit.

Rita is already the 17th named storm of this hurricane season, which began in June. The elevated number of storms this year is part of the tropics-wide multi-decadal signal — a 30-year cycle that controls water temperature and wind patterns capable of producing strong hurricanes (see Geotimes Web Extra, Aug. 8, 2005). Only four of the total 21 names remain for the rest of the storms in the 2005 hurricane season, which runs through November, and officials say if names run out they will move to the Greek alphabet, beginning with Hurricane Alpha.
Kathryn Hansen

Links:
NOAA National Hurricane Center
"Hurricane outlook updated," Geotimes Web Extra, Aug. 8, 2005
"Hurricane Katrina hits hard," Geotimes Web Extra, Aug. 30, 2005
"Katrina strikes the energy sector," Geotimes Web Extra, Sept. 9, 2005
Associated Press report
Seattle Times story

---