---
Education & Outreach
---
Online news for kids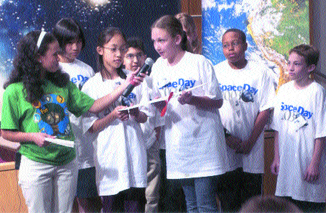 As NASA prepared to launch the space shuttle Discovery last July, the first planned trip to space for the program since the Columbia disaster in February 2003, kids could log on to a trusted news source to find out more about the mission. If they were wondering exactly how the space shuttle takes off, for example, they could find out from Bianca Baker, a 16-year-old who explains in simple terms how the liftoff is basically a reaction to an action: the pushing of the booster rockets against the earth.

Bianca Baker (far left), who hosts KSNN and NASA's SciFiles news shorts, helped kids in the audience ask questions at NASA's Space Day 2003. Held in Washington, D.C., the event's speakers included co-chair John Glenn, former astronaut and senator, and was broadcast live on the Web, with Baker as a co-host. Courtesy of A. Baker.

Baker is one of the hosts of 30-second news spots from the NASA's Kids Science News Network (KSNN), produced at NASA Langley Research Center in Hampton, Va. KSNN addresses the kinds of questions that students from kindergarten to fifth grade might ask, from how the space shuttle was made safer after Columbia to what makes bubbles round and lightning flash. As online and distance learning techniques are increasingly adopted across the nation, the year-and-a-half-old program uses online animations, news broadcasts and other resources, while working to get kids teaching kids.
"I see the KSNN [newsbreaks] as educational hooks," says Sharon Bowers, a school teacher in residence who currently manages the program. The 30-second spots might not seem long enough, but that tiny bite can give students the taste of exciting science, Bowers says. "If you just keep kids asking questions, that leads them onto the path of science," she says; a student that generates a question is going to work harder for the answer and pay more attention.

The other key to the program, Bowers says, is that it uses students to talk to students. Being taught by a peer provides a role model for the student learner and reinforces the lessons taught for the student teacher.
The programs are part of a cohesive classroom package that fits the National Science Education Standards, says Thomas Pinelli, head of NASA's Center for Distance Learning, based at Langley. For the space shuttle takeoff, for example, an accompanying activities worksheet with a teacher's guide lays out the multimedia lesson: Students in a classroom can watch the news bite, then set up their own experiments to illustrate the concepts of Newton's third law of motion, using oblong balloons with tape and straws. Teachers can then guide students to think through their own research question, hypothesis, experimental structure, observations and — hopefully — conclusions. The exercise fits a variety of national standards' requirements, from learning about technology to the history of science, in addition to learning the basic physical science behind the experiment.

Mark Jackson, a senior researcher at Eduventures, a nonprofit organization that follows online and distance learning trends, says that such applications, where schools can buy DVDs attached to textbooks or students can go online for their lessons, have been growing, taking up about one-quarter of the $1.5 to $2 billion that schools spend on digital products nationwide. Adoption of such tools is occurring "across the curriculum," Jackson says. "The challenge of course is aligning that material to the standards" that vary at the state level.

Science news shorts created for kids by kids represent a burgeoning trend in online and long-distance learning.
KSNN materials are free from NASA, and Jackson says that the network is "a great concept," particularly useful for teachers. Although the Web sites may not be intuitive for a young student to use, the "most important part" — downloadable lesson plans — "are clearly targeted for where a teacher with little background" in the subject matter could easily use them, he says.

Local schools such as Cooper Elementary-Middle School, a technology magnet school in Hampton, Va., show KSNN newsbreaks at the end of the school's morning broadcast, Pinelli says, which is on a closed circuit and is produced by its students. And the programming also gets a broader showing, not only online.

Starting last year, audiences of all ages could see the videos in lobbies at Regal Cinemas movie theaters, along with the ads that normally run in such venues. For the NASA Return to Flight segments, about 1,200 DVDs went out to science centers, museums and schools across the nation, as well as to almost 400 TV stations as public service announcements.

To make each segment, Bowers works with a team of video producers, along with kids and teachers from across the nation, to write the scripts and the online packages, as well as to shoot the videos. Some of the student hosts are selected through talent agencies, but a project recently under way took the team to Houston, for an open casting call of more than 100 children, says Jason Russell, a producer with Crewestone Technologies, the video production unit for NASA Langley.

Russell, who had produced the KSNN shorts on the NASA Return to Flight mission, also works on news videos for college students. The Houston program, called the 21st Century Explorers series, in collaboration with Johnson Space Center, will focus on why NASA is returning to the moon among other topics. Its purpose is also to bring science to the Latino student population there. Currently, the KSNN programs have "twins" in Spanish — Noticiencias NASA.

Being a student host of KSNN programs, says Baker, who is African-American, has allowed her to be a role model, for other African-American students and girls in the sciences — and for her friends, who are taking harder classes with her and listening to her talk about committing to going to college. Baker plans to get a Ph.D. in biology, while also pursuing the performing arts, with the dream of someday being an astronaut, she says.

NASA has always been good at incorporating diversity into its programming, Jackson says. The message promoted is that "anyone and everyone is capable of doing great things," he says. "Anyone who works hard can be an astronaut — the key is working hard."

Bowers says that with an aging population of scientists, "we need to get kids, to kind of grab them and excite them" about science, and to "get them to see themselves in that career as well."

Naomi Lubick

Link:
KSNN

Back to top

---