A New Look at Natural Disasters
A partnership between government agencies and businesses seeks to foster a new attitude about natural hazards to make them less catastrophic.

Timothy A. Cohn
and Kathleen K. Gohn
News Notes
Web Extra: ODP director resigns
More jobs with higher oil prices?
Energy in brief
Rapid warming buried ancient forests
Buckyballs hunt down space dust
Volcanoes' hidden hazards
Galileo reports the weather ... on Jupiter
Field Notes
Political Scene
Reflections on the President's Budget Request

For Students
Why Study Geology?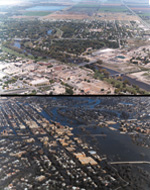 Top: looking north at Grand Forks, N.D., before the Red River of the North overflowed its banks April 18, 1997. Bottom: looking north at the same scene from a slightly different angle on April 24, 1997. The river has flowed over the bridge and into the town streets. By Vern Whitten Photography, Fargo, N.D.
From the Editor
The Society Page
Calendar
Classifieds
Where on Earth? Answer for the March issue.
Apply for the Geotimes summer internship!