---
The Society Page
---
News about people and
announcements from
AGI's 35 member societies
______________________
To post news in the Society Page, send email to geotimes@agiweb.org with the subject: Society Page.
Contents:

President awards 1999 National Medal of Science
Lynn Margulis of the department of geosciences at the University of Massachusetts, Amherst, was honored with a medal in biology. She has provided outstanding contributions to the understanding of the structure and evolution of living cells and demonstrated extraordinary abilities as a teacher and communicator of science to the public.
Professor of Physiology Jared Diamond of the UCLA School of Medicine was awarded a medal in biology for seminal research in applying Darwinian evolutionary approaches to the disparate fields of physiology, ecology, conservation biology and human history, and for outstanding efforts in communicating science.
Senior scientist Susan Solomon of the National Oceanic and Atmospheric Administration's Aeronomy Laboratory in Boulder, Colo., was awarded a medal in chemistry. Solomon revealed key insights into the cause of the Antarctic ozone "hole" that changed the direction of ozone research. She has also provided exemplary service to worldwide public policy on ozone research.
John D. MacArthur Distinguished Service Professor Leo P. Kadanoff of the James Franck Institute at the University of Chicago was honored a medal in physical sciences for leadership in fundamental theoretical research in statistical, solid state and nonlinear physics. Kadanoff's research has led to numerous and important applications in engineering, urban planning, computer science, hydrodynamics, biology, applied mathematics and geophysics.

The Fulbright Scholar Program's annual competition opens March 1 for lecturing and research grants in some 130 countries. Opportunities are open not only to college and university faculty and administrators, but also to professionals from the business community and government, as well as to artists, journalists, lawyers, independent scholars and many others. Grants are available to faculty and administrators from two-year, four-year and graduate institutions.
Fulbright awards vary from two months to an academic year or longer. While foreign language skills are needed in some countries, most lecturing assignments are in English. Some 80 percent of the awards are for lecturing.
Application deadlines for 2001-2002 grants are: May 1 for Fulbright distinguished chairs awards in Europe, Canada and Russia; Aug. 1 for Fulbright lecturing and research grants worldwide; and Nov. 1 for spring/summer seminars in Germany, Korea and Japan for international education and academic administrators as well as for the summer German studies seminar.
For information, contact the Council for International Exchange of Scholars (CIES) at 3007 Tilden Street, NW, Suite 5L, Washington, D.C. 20008-3009. Call: (202)686-7877 or send e-mail to: apprequest@cies.iie.org. Information and an application are available on the Web at www.cies.org.

Muessig, life member to mining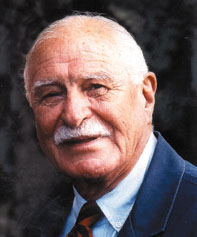 Siegfried Muessig, who was president of the Society of Economic Geologists in 1978, became a life-long member of the Board of Governors for the National Mining Hall of Fame in Leadville, Colo., earlier this year. Muessig has worked in the mining industry since graduating from Ohio State University in 1951 with a doctorate in geology. "In my retired years I will have a chance to help people in mining become recognized nationally," he said. The eight members of the board induct individuals into the Hall of Fame who have played an important role in the U.S. mining industry. Muessig spent his first eight years in the profession with the U.S. Geological Survey. In 1959, he began his own exploration group and discovered significant uranium and copper deposits and substantial coal reserves. He worked for 18 years with Getty Oil beginning in the late 60s and through the gas crisis during the Middle East oil embargo in the early 70s. He is a distinguished member of the Society for Mining, Metallurgy and Exploration and a fellow of the Geological Society of America. Photo courtesy of Muessig.
Nominations for outstanding educators
The Association for Women Geoscientists (AWG) Foundation established the Outstanding Educator Award in 1988 to honor well established college or university teachers who have played a significant role in the education and support of women geoscientists both within and outside the classroom.
Examples of support include encouraging women to enter and continue in a geoscience career, providing opportunities for field and laboratory experience, and serving as a positive role model. Awardees are also recognized for participating in professional societies and in science education programs in their communities.
The nomination deadline is April 30. Nominations must include the nominator's supporting letter, a summary of the nominee's academic and professional accomplishments, and at least six letters of recommendation. Send nominations to Carolyn Rindosh Miller, 14214 Withersdale Drive, Houston, TX 77077-1436. For questions, call: (281)531-4151 or send e-mail to: cedar31@aol.com.
The AWG Foundation presents the award at the annual meeting of the Geological Society of America. Previous recipients are Lisa Pratt, Linda Abriola, Mary Savina, B. Charlotte Schreiber, Margaret Delaney, Marie Morisawa, Laurie Brown, Sharon Mosher, Maria Luisa Crawford, Jan Tullis and Pamela Hallock Muller.
Scott W. Tinker, excited to lead the Texas Bureau of Economic Geology as its new director, declared the 21st century "the century of geology." Formerly an advanced senior geologist at Marathon Oil in Littleton, Colo., Tinker began his job as the eighth director of the bureau in February.
He holds a bachelor's degree in geology and business administration from Trinity University, a master's degree in geology from the University of Michigan and a doctorate in geology from the University of Colorado. Tinker has been a distinguished lecturer for the American Association of Petroleum Geologists (AAPG) and won AAPG's prestigious J.C. "Cam" Sproule Memorial Award.

The Houston Geological Society recently started a "Geology Letters" page on its Web site, www.hgs.org. The site provides a forum for sharing the knowledge and "untold history" of the geology profession. Send a 500- to 1,500-word narrative of experiences and observations to the Web manager at web_manager@hgs.org. Stories can include how a particular field was discovered or what kind of technique worked in a particular area. Visit the society's Web site for more details. Experiences from all geoscience professions are welcome.

Abstracts are due May 1 for the Society of Vertebrate Paleontology (SVP) 60th Annual Meeting, October 25-28, at the Fiesta Americana, Reforma Hotel in Mexico City, Mexico. In North America, visit www.museum.state.il.us/svp/ for online submission and abstract submission guidelines.
In Europe, visit http://alnus.uel.ac.uk/svp/. Send submissions to SVP Program Officer Donald Prothero. For general SVP conference questions regarding registration, exhibiting and sponsorship, contact Sean Allen or Debbie Pederson at (847) 480-9095 or svp@sherwood-group.com.

Perry L. Ehlig, professor emeritus of geology at California State University at Los Angeles, died suddenly at the age of 72 on Dec. 26, 1999, after a brief illness.
A World War II veteran who served in the U.S. Army Air Corps, Ehlig was renowned for his expertise and as an authority on the Pacific Coast's San Andreas Fault system and coastal deformation.
Ehlig graduated from UCLA in 1958 with his Ph.D. thesis on the Pelona Schist in the San Gabriel Mountains, providing the start for his research career. Continued mapping made him the foremost authority on the complex geology of the basement terranes of the San Gabriel Mountains.
Ehlig had an intense interest in engineering geology. His voluntary work on the Portuguese Bend Landslide in the City of Ranchos Palos Verdes began in 1956 and probably stands as the longest continuous study of an active landslide by any geologist on Earth.
His career at California State University at Los Angeles began in 1956 and he rose rapidly through the academic ranks to become chair of his department from 1967 to 1970. He also served a brief period as assistant to the vice president for academic affairs and acting dean for instructional affairs.
After retiring in 1992, he became professor emeritus and continued teaching on a voluntary basis. The Perry Ehlig Scholarship was established at that time to honor and carry on his personal tradition of paying the tuition for all students attending the summer field course.
Ehlig belonged to the following member societies of the American Geological Institute: the American Association of Petroleum Geologists, the American Geophysical Union, the Association of Engineering Geologists and the National Association of Geoscience Teachers. He was also a fellow of the Geological Society of America.
Obituary provided courtesy of Dana Carl Ehlig and Robert Stull of the California State University of Los Angeles.
---

Associate Editor Christina Reed compiles the Society Page.

back to Geotimes home page