---
Web Feature — Link to feature: Geology in the National Park Service
---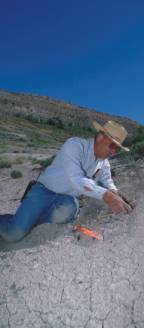 Geoscientists on America's Public Lands
Katie KellerLynn
GeoCorps AmericaTM gives geoscientists new opportunities and brings these scientists' knowledge to the public lands in the United States. Every year, millions of visitors enter our national parks and forests, often drawn by their geology. These areas are ideal classrooms for educating the public about earth science. Public lands also have resource-management and research needs requiring geoscience expertise that may not be readily available to land managers. GeoCorps America aims to ensure that more public lands have the scientific resources they need.
[At right: High school science teacher and geologist Bob Lorkowski spent a summer in the Geologist-in-the-Parks program, mapping the stratigraphy of six sandstone layers at Hagerman Fossil Beds National Monument. He now uses his fieldwork experience in his classroom to teach students about science. Photo courtesy of the National Park Service.]
GeoCorps America grew out of a partnership between the Geological Society of America (GSA) and the National Park Services Geologist-in-the-Parks Program. When it began in 1996, the program sent two geoscientists to national parks. Now, GSA also collaborates with the U.S. Forest Service and will send 32 geoscientists to different national parks and forests this year. Starting next year, the number of positions is anticipated to double every year for the next five years. GeoCorps America gives opportunities to geoscientists at all levels — from undergraduates to retired geologists — and is incorporating projects that last beyond the summer.
Through GeoCorps America, GSA strives to gradually increase the presence of geoscientists on public lands, thereby increasing the permanent hiring of geoscientists, enhancing the transfer of geoscience knowledge to land managers and the public, and raising public awareness of the geosciences.
KellerLynn is program officer in the Science and Outreach group at the Geological Society of America.
E-mail: KKellerlynn@geosociety.org
---