---
Travels in Geology April 2004
---
A Midwest glacial retreat

Giant potholes carved by glacial melt during the last ice age, basalt flows from the mid-continental rift and deep chasms from glaciers offer a great lesson in geology during a hike, rock-climb or canoe trip in Minnesota and Wisconsin Interstate State Parks, two parks that share a common name and boundary.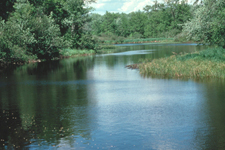 In the late 1800s, officials from both states designated the nation's first interstate park in order to preserve the region from mining. The two parks cover more than 1,500 acres in northeastern Minnesota and northwestern Wisconsin. Miles of hiking trails and cliffs make these parks a great place to visit, whether for a day or a week. A short 45-mile drive from Minneapolis and St. Paul, Interstate is also very close to several other state parks in both states.

The St. Croix River, which flows through Interstate State Parks in Minnesota and Wisconsin, is a National Park Service National Scenic Riverway and a favorite spot for kayaking and canoeing in the Midwest. Courtesy of NPS/National Scenic Riverways.
The Interstate parks' geologic history goes back roughly 1.1 billion years ago, when volcanic activity related to mid-continental rifting was actively spilling sheets of lava across broad areas, says Carrie Jennings, a geologist with the Minnesota Geological Survey. Ancient porphyritic basalt lava flows poured out of Earth and cooled. Today, visitors can see the remnants of several different flows. They can climb the basalt cliffs and walk on ropey lava pillows that closely resemble those seen in Hawaii, Jennings says.
From 530 to 70 million years ago, shallow seas blanketed the region. In their advances and recessions, the seas deposited layer upon layer of sedimentary rock, complete with marine and terrestrial fossils, which are viewable in many of the park's outcrops. These rocks lie directly on top of the basalts and represent a 500-million-year unconformity, Jennings says — "a mind-boggling span of time."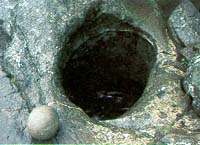 Perhaps the most stunning display of nature at work in the parks is the magnificent series of potholes formed by glacial meltwater 10,000 years ago. As the last glaciers retreated, glacial Lakes Nemadji and Duluth (much larger than, but in the basin of, present-day Lake Superior) melted and released a tremendous amount of water, which gushed southward carving out deep gorges, Jennings explains. Only very resistant basalts were able to withstand the torrent, which left the sharp basaltic cliffs that line the St. Croix River. As the water poured through the valley, gravel carried by the water swirled in turbulent eddies, which bore their way down through the bedrock to create the potholes, she says.

Visitors to the parks can explore giant potholes (up to nearly 70 feet deep) carved by turbulent eddies from glacial meltwater 10,000 years ago. Courtesy of NPS/Ice Age National Scientific Reserve.

More than 100 large glacial potholes mark the landscape in the parks. The only other place in the world with this kind of pothole display is in Switzerland, says Larry Buchholz, who works at the Minnesota park. Some potholes are at least 40 feet deep, and the largest is 68 feet deep. While most of the potholes can only be viewed from the top looking down, visitors can walk into and explore one of the potholes on foot, he says.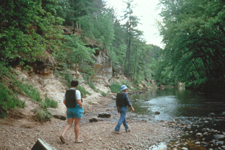 Besides exploring the potholes on foot, Interstate offers an abundance of geological wonders to explore via kayak, canoe or rappel. Each year, thousands of people canoe or kayak the St. Croix River, a National Scenic Riverway that even offers a short (100 yards) flow of white water rapids — a good place to practice white water skills, Buchholz says. Fishing is also a popular activity in the park, both in the river and on Lake O'the Dalles on the Wisconsin side.

Camping, hiking and rockclimbing are very popular activities at Interstate State Parks, where visitors can explore an environment marked with glacial remains from the last ice age and basalt cliffs from 1.1 billion years ago. Courtesy of NPS/National Scenic Riverways.
Camping is also popular at the parks, with campsites (with and without electricity) and picnic grounds available in both Wisconsin and Minnesota. But, Buchholz cautions, if you're planning on camping from May through October, plan ahead and call for a reservation because the campsites fill up quickly.
Both parks also offer visitors centers complete with a lot of geological information including trail maps marking interesting sites. The Ice Age Center (in Wisconsin) also provides interpretative sessions several times a day that explain the ice age history of Wisconsin and Minnesota. Part of the Ice Age National Scientific Reserve (which was established as part of the National Park system in 1971 to preserve glacial landforms and landscapes), the parks provide plenty of opportunities to learn about the effect glaciers had on this early environment.
Megan Sever
Links:
Interstate State Park (Minnesota)
Interstate State Park (Wisconsin)
NPS/Ice Age National Scientific Reserve
NPS/National Scenic Riverways

Read more Travels in Geology
---